Perjudian Online: Kajian Pidana atas Putusan Nomor 1033/PID.B/2014/PN.BDG
Muhammad Fajrul Falah

Universitas Jember

Fanny Tanuwijaya

Universitas Jember

Samuel SM Samosir

Universitas Jember
Abstract
Law Number 11 / 2008 on Information and Electronic Transaction (UU ITE) is the regulation concerning on criminal law in addition to the Criminal Code (KUHP). UU ITE is commonly regarded additional regulation of the Criminal Code as a special law (lex specialis) in which Penal Code is deemed as lex generalis. It is based on the principle
of lex specialis derogate legi generalis. This article uses legal research to review the decision of District Court in Bandung Number 1033/PID.B/2014/PN.BDG where it comprises legislation and cases. It concludes that the judge is not frugal in applying the principle lex specialis derogat legi generalis in the consideration. This is associated with the indictment of public prosecutor which only prejudges with article 303 paragraph (1) to 2. In contrast, the indictment which does not meet the requirement of a careful, clear, and complete description
asserts to become void by law.
Keywords: Online Gambling, Criminal Principle, Indictment
References
Adami Chazawi dan Ardi Ferdian, Tindak Pidana Informasi dan Transaksi Elektronik Penyerangan Terhadap kepentingan Hukum Pemanfaatan Teknologi Informasi dan Transaksi Elektronik, (Malang: Bayumedia publishing, 2011).
Adami Chazawi, Stelsel Pidana, Tindak Pidana, Teori-Teori Pemidanaan dan Batas-Batas Berlakunya Hukum Pidana, (Jakarta: Raja Grafindo Persada, 2010).
Adami Chazawi, Kemahiran & Ketrampilan Praktik Hukum Pidana, (Malang: Media Nusa Creative, 2011).
Eddy O.S Hiariej, Prinsip-Prinsip Hukum Pidana, (Yogyakarta: Cahaya Atma Pustaka, 2014).
Emi Zul dan Ratu Aprilia Senja, Kamus Lengkap Bahasa Indonesia, (Jakarta: Penerbit Difa Publisher, tth).
Harun M. Husain, Surat Dakwaan Teknik Penyusunan, Fungsi dan Permasalahannya, (Jakarta: Rineka Cipta, 1994).
HMA Kuffal, Penerapan KUHAP dalam Praktik Hukum, (Malang: UMM Press, 2008).
Keny Wiston, The Internet: Issues of Jurisdictio and Controversies Surounding Domain Names, (Bandung: Citra Aditya, 2002).
Kamus Besar Bahasa Indonesia Pusat Bahasa, (Jakarta: Gramedia Pustaka Utama, 2008).
Lilik Mulyadi, Hukum Acara Pidana Normatif, Teoretis, Praktik dan Permasalahannya, (Bandung: P.T. Alumni, 2012).
Maskun, Kejahatan Siber (Cyber Crime) Suatu Pengantar, (Jakarta: Kencana Prenada Media Group, 2013).
Maskun, Kedudukan Hukum Cyber Crime Dalam Perkembangan Hukum Internasional Kontemporer, (2013) 4:2 J Mas Huk,
Maskun, Kejahatan Siber (Cyber Crime) Suatu Pengantar, (Jakarta: Kencana Prenada Media Group, 2013).
Masruchin Ruba'i, dkk, Buku Ajar Hukum Pidana, (Malang: Banyumedia Publishing, 2014).
Marwan, Kamus Hukum (Dictionary of Law Complete Edition), (Surabaya: Reality Publisher, 2009).
Moeljatno, Asas-Asas Hukum Pidana, (Jakarta: Rineka Cipta, 2008).
Mustofa Hasan, Pengantar Hukum Keluarga, (Bandung: Pustaka Setia, 2011).
Naskah Akademis Kejahatan Internet (Cybercrimes), (Jakarta: Puslitbang Hukum dan Peradilan Mahkamah Agung RI, 2004).
Peter Mahmud Marzuki, Penelitian Hukum, (Jakarta: Kencana Prenada Media Group, 2014).
Putusan Negeri Bandung nomor 1033/Pid.B/2014/PN.Bdg, Mahkamah Agung.
R. Soesilo, Kitab Undang-Undang Hukum Acara Pidana (KUHP) (Bogor: Politeia, 1988).
Widyopramono Hadi Widjojo, Cyber crimes dan Pencegahannya, Fakultas Hukum Universitas Indonesia, (2005), 2:2 J Huk Tek.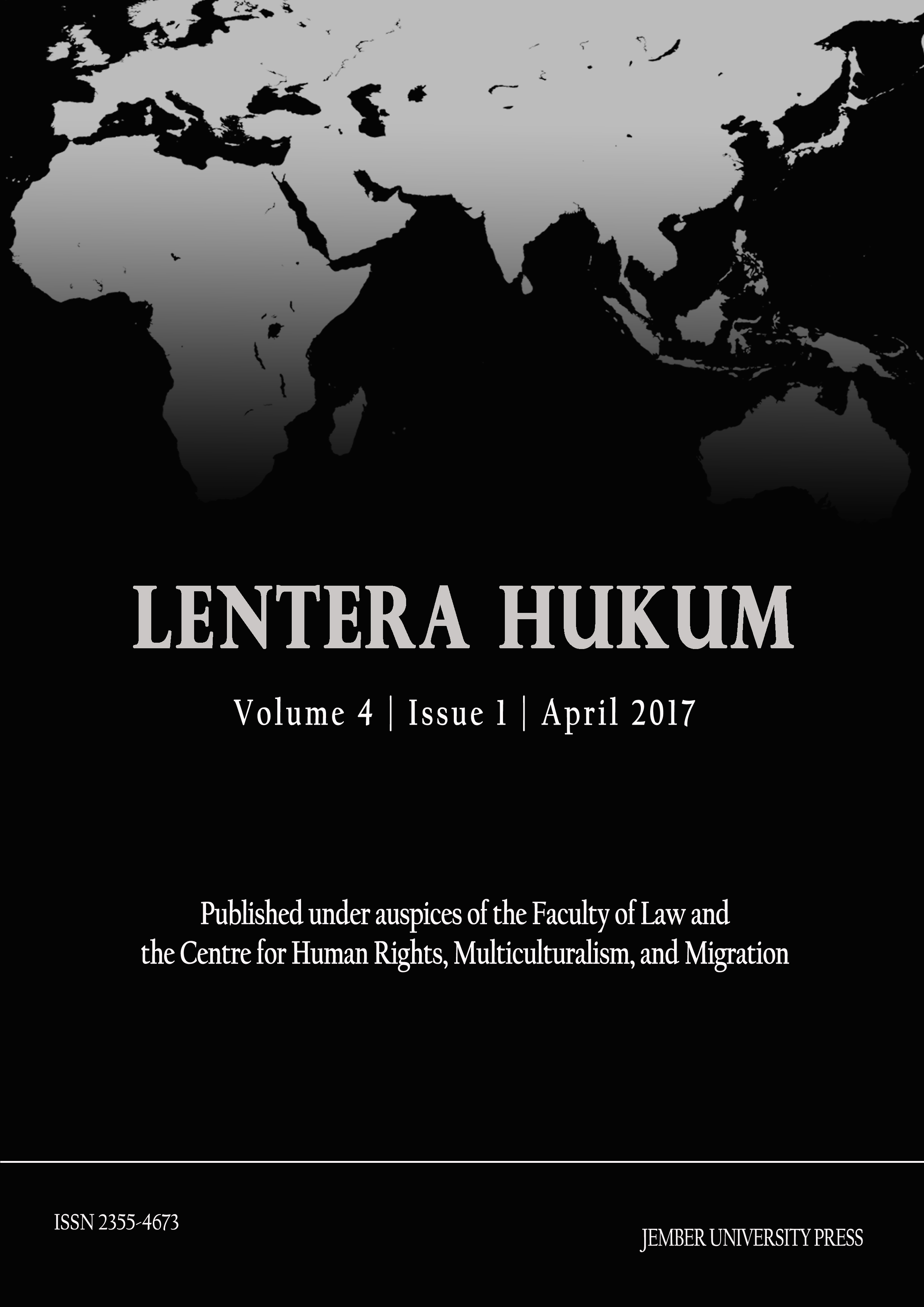 All articles published in this Journal are personal views of the authors and do not represent the views of this journal and the author's affiliated institutions. Article copyrights are with the Author(s), the publishing copyright is with the Publisher. This work licensed under a Creative Commons Attribution-ShareAlike 4.0 International (CC BY-SA 4.0), Under the following terms:
* Attribution — You must give appropriate credit, provide a link to the license, and indicate if changes were made. You may do so in any reasonable manner, but not in any way that suggests the licensor endorses you or your use.
* ShareAlike — If you remix, transform, or build upon the material, you must distribute your contributions under the same license as the original.