Current Issue
Vol 9 No 2 (2022): LENTERA HUKUM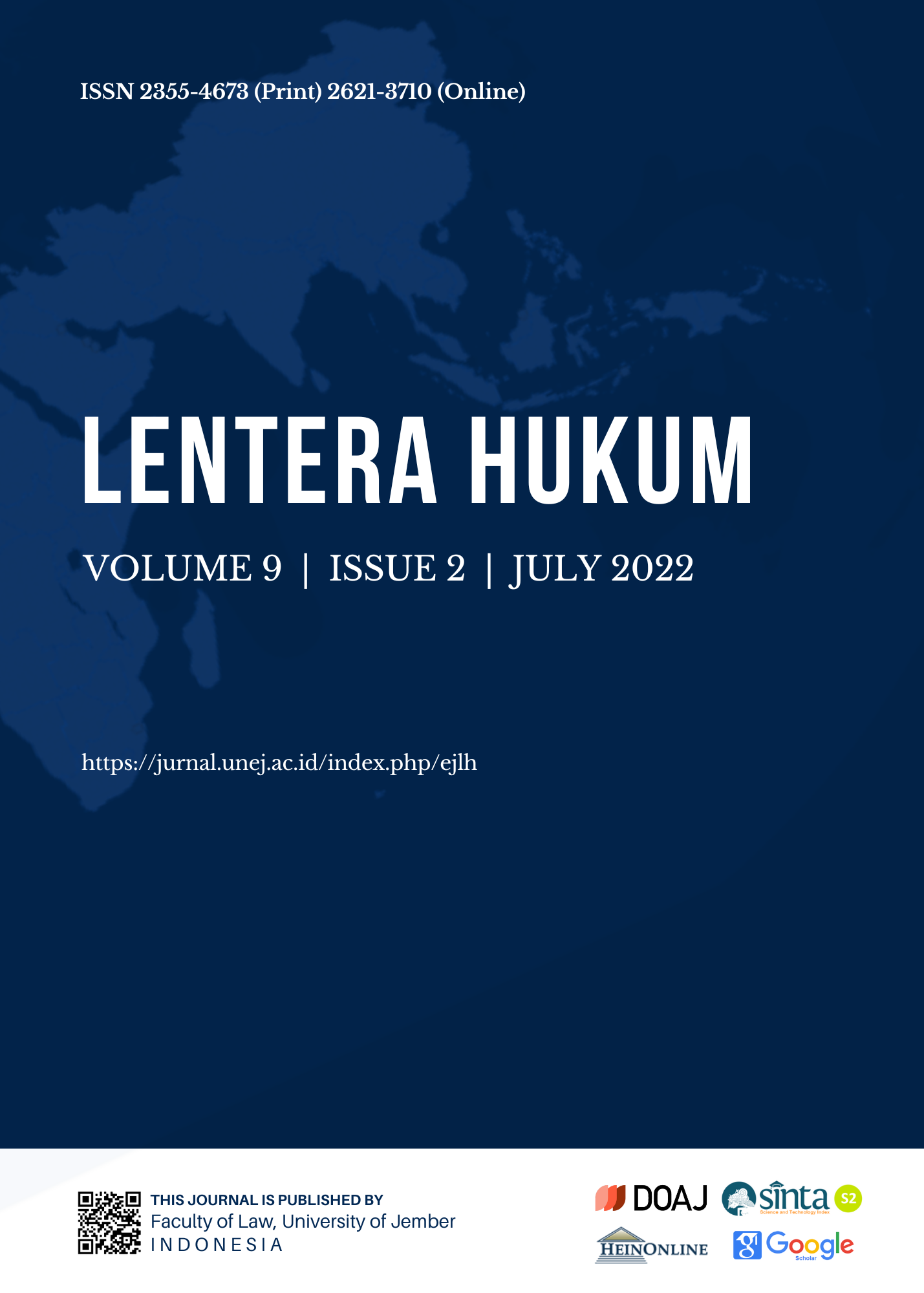 ISSN: 2621-3710 (Online) 2355-4673 (Print)
First Publication: 2014
Full English Language: 2020 - present
Publisher: Faculty of Law, University of Jember, Indonesia
Duration: Approx. 30 days to first decision
Acceptance Rate: 18% of the total submissions
Frequency: 3 issues per year
DOI: 10.19184/ejlh by 
 
Geographical Diversity: Hungary, India, Indonesia, Nigeria, USA
View All Issues
LENTERA HUKUM (Journal of Legal Studies) is a fully open access peer-reviewed scholarly journal that addresses legal issues and questions arising in Indonesia and the Global South countries. This journal aspires to provide a comparative and interdisciplinary forum to disseminate up-to-date analysis on constitutionalism, human rights law, environmental law, technology law, and legal pluralism within the Global South perspective. The journal is managed by the Faculty of Law, University of Jember, and the publisher is the University of Jember.
All submissions from socio-legal to theoretical will be considered for review and publication. However, preference will be given to manuscripts with comparative and cross-disciplinary approaches. The authors are advised to submit a manuscript that:
● discusses law and its social, economic, and political contexts in Indonesia and the Global South countries;
● brings Indonesia and the Global South perspectives to socio-legal issues of international concerns; or
● uses Indonesia and the Global South countries as a starting point for a comparative exploration of legal conversation.
Manuscript submissions should be written between 8,000 and 14,000 words in length. The published papers were subject to a rigorous double-blind peer-review process by at least two experts. The Editor's final decision considered relevance to the journal's aims and scope, the quality of research and writing, and geographical diversity. The novelty of academic contribution was also an essential requirement. For further information regarding the submission, please read the call for new submissions. If you require further information, help, or consultation on a potential submission, you can contact us by visiting our Support Center.