Hidrolis Kulit Buah Kopi Oleh Kapang Pestalotiopsis sp. VM 9 Serta Pemanfaatan Hidrolisatnya Sebagai Medium Produksi Protein Sel Tunggal Saccharomyces cerevisiae
Zunairoh Nidaan Khofiya

Jurusan Biologi, Fakultas Matematika dan Ilmu Pengetahuan Alam, Universitas Jember (UNEJ)

Rudju Winarsa

Jurusan Biologi, Fakultas Matematika dan Ilmu Pengetahuan Alam, Universitas Jember (UNEJ)

Kahar Muzakhar

Jurusan Biologi, Fakultas Matematika dan Ilmu Pengetahuan Alam, Universitas Jember (UNEJ)
Abstract
Hidrolisis limbah kulit buah kopi oleh enzim ekstraseluler Pestalotiopsis sp. VM 9 telah dilakukan. Hasil hidrolisis menunjukkan bahwa dalam hidrolisat mengandung gula reduksi 392,35μg/ml setelah masa inkubasi hari ke-6. Analisis lanjutan menunjukkan bahwa hidrolisat dapat digunakan sebagai medium pertumbuhan Protein Sel Tunggal (PST) S. cerevisiae dengan tingkat pertumbuhan hingga mencapai kepadatan sel 8,5x10 6 sel/ml selama 72 jam kultivasi. Selama pertumbuhannya S. cerevisiae terbukti mengkonsumsi sumber karbon dari gula reduksi sebanyak 211,91 μg/ml.
References
[1] Amini, Rasoul S. 2011. Single Cell Protein : Production and Process,(May2014). https://doi.org/10.3923/ajft.2011.103.116.
[2] Anjarsari, B., & Effendi, S. 2005. Pembuatan Protein Sel Tunggal dari Limbah Cair Pulp Kakao Oleh Saccharomyces cerevisiae. Jurnal Infomatek, 7(2), 93-105.
[3] Arroyo López F. N, Sandi Orlić, Amparo Querol, Eladio Barrio. 2009. Effects of temperature, pH and sugar concentration on the growth parameters of Saccharomyces cerevisiae, S. kudriavzevii and their interspecific hybrid. International Journal of Food Microbiology. 131, 120–127.
[4] Chubey B.B and Dorrell D. C. 1977. Total Reducing Sugar, Fructose And Glucose Concentrations And Root Yield Of Two Chicory Cultivars As Affected By Irrigation, Fertilizer And Harvest Dates. can. J. plant Sci. 5g: 7g9-793.
[5] Ernawati, & Raudah. 2012. Pemanfaatan Kulit Kopi Arabika dari Proses Pulping untuk Pembuatan Bioetanol. Journal of Science and Technology, 10(21), 12–21.
[6] Guava, O. F., Canker, S., & Governorate, I. N. E. 2015. Available Online at ESci Journals, 04(03), 121–136.
[7] Held P.Monitoring growth of beer brewing strains of Saccharomyces cerevisiae. Applicatio Note,Monitoring of Cell Suspensions by Kinetic Absorbance Measurements, 2010.
[8] Hermiati, E., Mangunwidjaja, D., Sunarti, T.C., Suparno, O., & Prasetyo, B. 2010. Pemanfaatn Biomassa Lignusellulosa Ampas Tebu untuk Produksi Bioetanol. Jurnal Litbang Pertanian, 29(4), 121 – 130
[9] Khusna, D. ' J. S. 2015. Pemanfaatan Limbah Padat Kopi Sebagai Bahan Bakar Alternatif Dalam Bentuk Bricket Berbasis Biomass. Seminar Nasional Sains Dan Teknologi Terapan III, 247–260.
[10] Mandels M, Andreotti R & Roche C. Measurement ofsaccharifying cellulase. Biotechnol. Bioeng. Symp. 6:21-33. 1976.
[11] Miranti, A. K., Rukmi, I., & Suprihadi, A. 2009. Keanekaragaman Kapang Aspergillus pada Serasah Daun Talok ( Muntingia calabura L .) di Kawasan Desa Sukolilo Barat , Kecamatan Labang , Kabupaten Bangkalan , Madura The Diversity of Aspergillus Mold in Talok Leaf Litter ( Muntingia calabura L .) in West S, 98–104
[12] Pelczar, Michael J. ECS. Chan. 2008. Dasar-Dasar Mikrobiologi. Jakarta. UI Press.
[13] Penaloza WM, Molina MR, Brenes RG, Bressani R. 1985. Solid Substrate Fermentation: an Alternative to Improve the Nutritive Value of Coffee Pulp. Applied and Environmental Microbiology 49 : 388-393.
[14] Petrik M, Kappeli O, Fiechter A. 1982. An expanded concept for the glucose effect in the yeast Saccharomyces uvarum: Involvement of short and long-term regulation. Journal of General Microbiology. 129: 43-49.
[15] Pujiyanto. 2007. Pemanfaatan Kulit Buah Kopi dan Bahan Mineral Sebagai Amelioran Tanah Alami. Pelita Perkebunan, 23(2)(90), 159–172.
[16] Saraswati, R., & Sumarno. 2008. Pemanfaatan Mikroba Penyubur Tanah sebagai Komponen Teknologi Pertanian. Iptek Tanaman Pangan, 3, 41–58. Retrievedfrom.
[17] Sena, A. R. De, Rodrigues, M., Mello, F. De, Cley, T., Leite, C., Moreira, K. A., & Assis, S. A. De. 2014. Production , Characterization and Application of a Thermostable Tannase from Pestalotiopsis guepinii URM 7114, 52(4), 459–467.
[18] Solehah, S.H. 2017. Hidrolisis Tandan Kosong Kelapa Sawit Oleh Trichoderma viridae dan Pestalotiopsis sp. (VM 9) Sebagai Media Pertumbuhan Protein Sel Tunggal Saccharomyces cerevisiae. Jurnal Skripsi. Vol (1)
[19] Vieira, É. D., Stupiello, G., & Andrietta, S. R. 2013. Yeast biomass production : a new approach in glucose-limited feeding strategy, 558, 551–558.
[20] Yuniar, W. 2013. Skrining dan Identifikasi Kapang Selulolitik pada Proses Vermikomposting Tandan Kosong Kelapa Sawit (TKKS). Jurnal skripsi (Vol. 1).
[21] Zhang, P. 2006. Involvement of Lignocellulolytic Enzymes in the Decomposition of Leaf Litter in a Subtropical Forest, 53(3), 193–198. https://doi.org/10.1111/j.1550-7408.2006.00093.x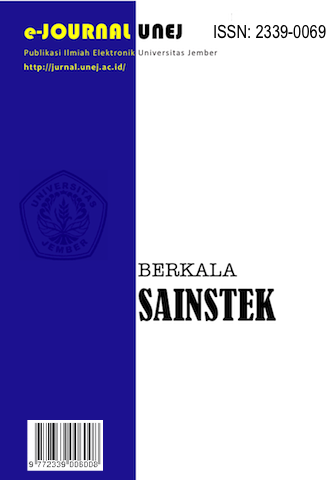 This work is licensed under a Creative Commons Attribution-NonCommercial 4.0 International License.