KARAKTERISASI SIFAT KIMIA, PROFIL AMILOGRAFI (RVA) DAN MORFOLOGI GRANULA (SEM) PATI SINGKONG TERMODIFIKASI SECARA BIOLOGI
Subekah Nawa Kartikasari

Magister Teknologi Agroindustri - Fakultas Teknologi Pertanian, Universitas Jember

Puspita Sari

Magister Teknologi Agroindustri - Fakultas Teknologi Pertanian, Universitas Jember

Achmad Subagio

Magister Teknologi Agroindustri - Fakultas Teknologi Pertanian, Universitas Jember
Abstract
MOCAF (modified cassava flour) is a product derived from cassava flour that uses the principles of fermented cassava cell modification (Subagio, 2006). During the production of MOCAF, side product in the form of starch has been produced but has not been utilized. This study aimed to assess fermentation lengths using BAL toward chemical characteristics, granule amylography and morphology. The method used was completely randomized design (CRD) with one factor, consisting of fermentation lengths of 0, 24, 48 and 72 hours, and control which were replicated (3) three times. The results of chemical characteristics showed that the longer the value of amylopectin content, total acid, total sugar, the higher the fermentation, while the pH value of reducing sugar, amylose decreased, the granular form was pockmarked and had bigger and bigger size. Amylography of pasta showed the increase in time, temperature, (PV), (TV), (FV) and decrease in (SB) and (BD). By recognizing the amylographic characteristic, the application is easier as an improver ingredient in food products associated with characteristics such as viscosity, shelf life, retrogradation and syneresis. The results showed that the length of fermentation affected the chemical characteristics, granular amylography and morphology of biologically modified starch.
Keywords: lactic acid bacteria, modified starch, cassava, improver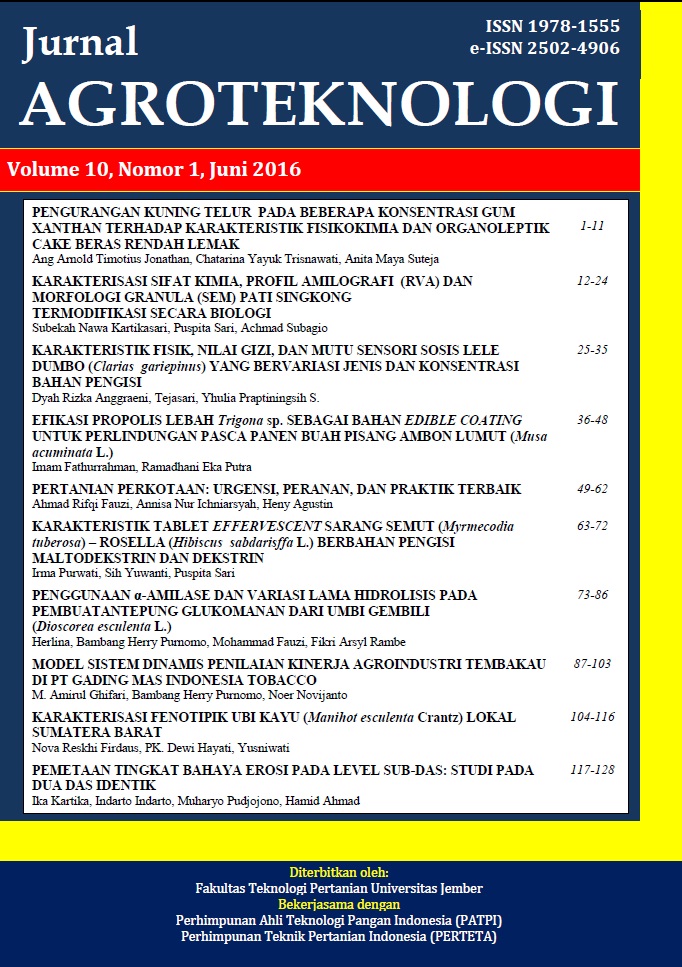 How to Cite
KARTIKASARI, Subekah Nawa; SARI, Puspita; SUBAGIO, Achmad. KARAKTERISASI SIFAT KIMIA, PROFIL AMILOGRAFI (RVA) DAN MORFOLOGI GRANULA (SEM) PATI SINGKONG TERMODIFIKASI SECARA BIOLOGI.
JURNAL AGROTEKNOLOGI
, [S.l.], v. 10, n. 01, p. 12-24, june 2016. ISSN 2502-4906. Available at: <
https://jurnal.unej.ac.id/index.php/JAGT/article/view/4472
>. Date accessed: 02 apr. 2020.

Under Liscense of Creative Commons Attribution - ShareAlike 2.0 Generic (CC BY-SA 2.0)