ANALISIS NILAI TAMBAH PENGOLAHAN BIJI KOPI ARABIKA (STUDI KASUS: RUMAH KOPI BANJARSENGON, JEMBER)
Yuli Wibowo

Program Studi Teknologi Industri Pertanian, Fakultas Teknologi Pertanian, Universitas Jember

Cita Bella Palupi

Program Studi Teknologi Industri Pertanian, Fakultas Teknologi Pertanian, Universitas Jember
Abstract
This study aims to analyze the value-added of Arabica coffee beans produced from three coffee processing methods, namely fully washed, honey, and natural. The calculation of value-added uses the Hayami method, while the design of recommendations for increasing value-added uses the ISM method which is integrated with the Pugh method. This research is a case study at the Rumah Kopi Banjarsengon which is one of the coffee processing SMEs in Jember Regency. The results showed that there were differences in the amount of value-added resulting from the use of three different processing methods. The highest value-added was produced in the natural processing of Rp. 10,158/kg (54.40%), followed by fully washed processing of Rp. 9,380/kg (52.58%), and honey processing of Rp. 9,709/kg (52.96%). The results of the value-added analysis can provide guidance for companies to determine production priorities. To increase the value-added in Arabica coffee bean processing, the recommendation of strategies can be done is by controlling production facilities and controlling the quality of the workforce.
Keywords: coffee processing methods, green bean coffee, Rumah Kopi Banjarsengon, value-added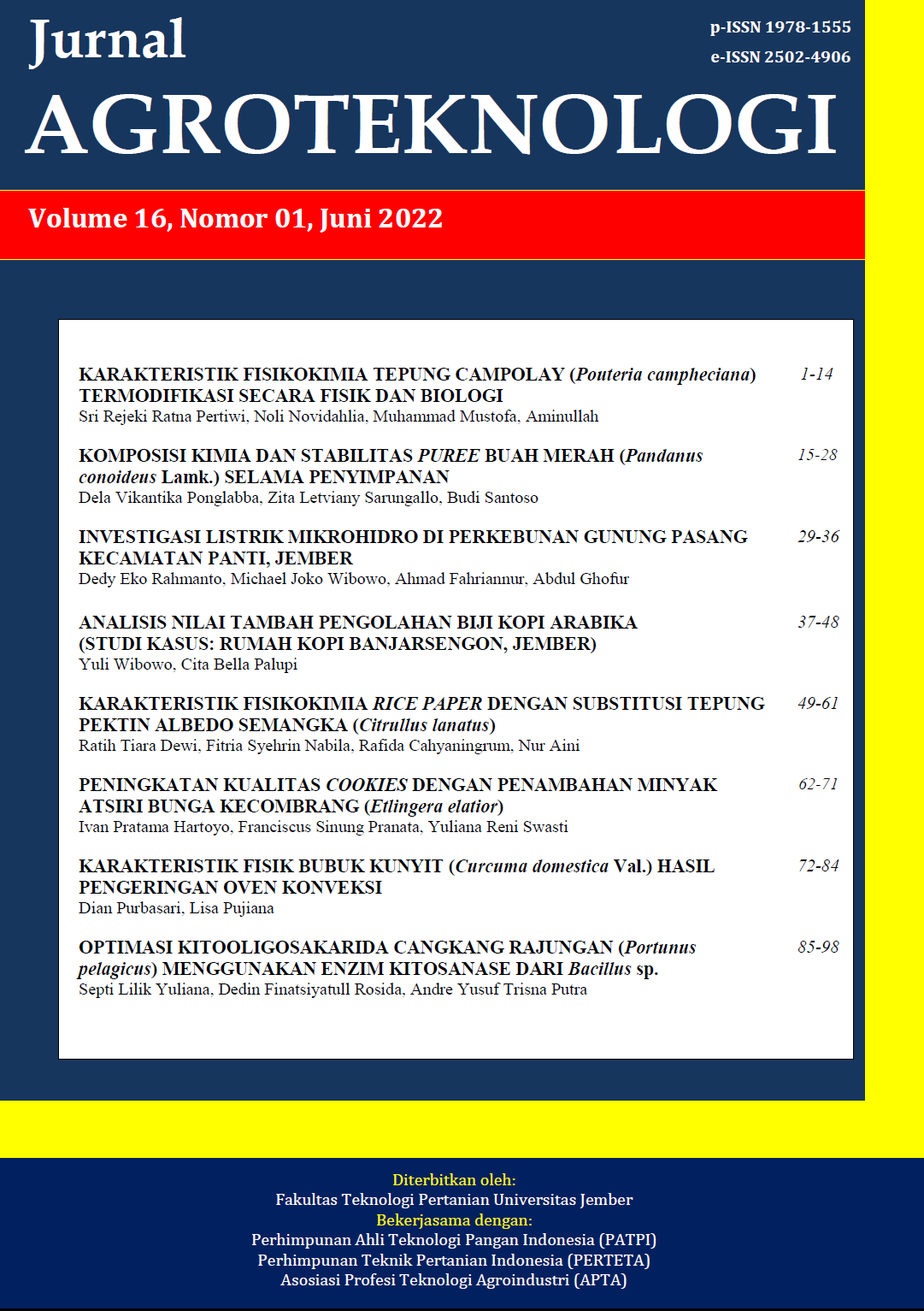 This work is licensed under a Creative Commons Attribution-ShareAlike 4.0 International License.
Jurnal Agroteknologi has CC-BY-SA or an equivalent license as the optimal license for the publication, distribution, use, and reuse of scholarly work. Authors who publish with this journal retain copyright and grant the journal the right of first publication with the work simultaneously licensed under a Creative Commons Attribution-ShareAlike 4.0 International License that allows others to share the work with an acknowledgment of the work's authorship and initial publication in this journal.