PENINGKATAN KUALITAS COOKIES DENGAN PENAMBAHAN MINYAK ATSIRI BUNGA KECOMBRANG (Etlingera elatior)
Ivan Pratama Hartoyo

Fakultas Teknobiologi, Universitas Atma Jaya Yogyakarta

Franciscus Sinung Pranata

Fakultas Teknobiologi, Universitas Atma Jaya Yogyakarta

Yuliana Reni Swasti

Fakultas Teknobiologi, Universitas Atma Jaya Yogyakarta
Abstract
Antioxidants are compounds that can inhibit or slow down oxidative damage due to free radicals. Torch ginger flower (also known as kecombrang flower in Indonesia) essential oil has antioxidant activity values ranging from 61.61-83.17%. This study aim to determine the concentration of torch ginger flower essential oil (Etlingera elatior) in cookies and to improve the chemical and microbiological qualities of cookies. Torch ginger flowers are cut into pieces and then distilled. The stage of adding torch ginger flowers essential oil was carried out according to the experimental design namely P (100: 0), Q (100: 0.1), R (100: 0.2), S (100: 0.3). The observation parameters in this study were proximate, antioxidant activity, and microbiological (total plate count) parameters. Data processing was carried out in a completely randomized design (CRD) based on data from observations of the test parameters with three repetitions. The result of study showed that the cookies with the addition of torch ginger flower essential oil had moisture content of 4.50-5.11%, ash content of 0.80-1.05%, fat content of 20.68-22.45%, protein content of 6.88-7.95%, carbohydrate content of 63.85-65.30%, antioxidant activity of 55.45-70.78%, the total plate count (bacteria, mold, and yeast) about <10 colonies/g.
Keywords: antioxidants, cookies, torch ginger flower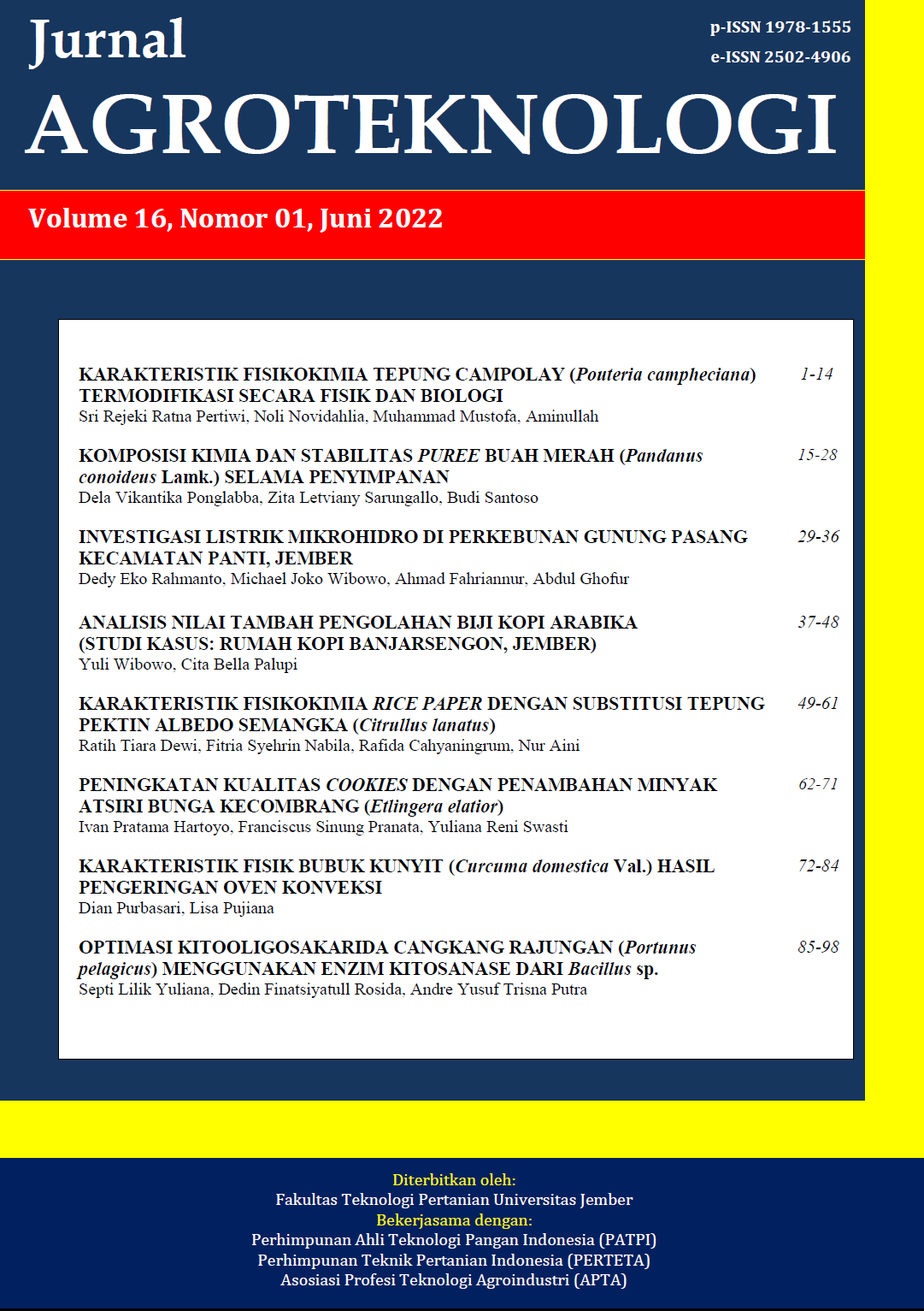 This work is licensed under a Creative Commons Attribution-ShareAlike 4.0 International License.
Jurnal Agroteknologi has CC-BY-SA or an equivalent license as the optimal license for the publication, distribution, use, and reuse of scholarly work. Authors who publish with this journal retain copyright and grant the journal the right of first publication with the work simultaneously licensed under a Creative Commons Attribution-ShareAlike 4.0 International License that allows others to share the work with an acknowledgment of the work's authorship and initial publication in this journal.