Peralihan Hak Atas Tanah dengan Kuitansi Jual Beli
Citra Adityana Setyawan

University of Jember

Antiko Wati

University of Jember
Abstract
The transfer of land rights is more often done through buying and selling. In this study, the sale and purchase in question is the sale and purchase of land, with the aim that the buyer can use the land legally. Since the enactment of Law Number 5 of 1960 concerning Basic Regulations on Agrarian Principles (UUPA), the sale and purchase of land, which is further regulated in Government Regulation Number 24 of 1997 concerning Land Registration, stipulates that the sale and purchase of land must be proven by a deed made by the land before the PPAT. However, buying and selling land without a PPAT deed or an authorized official is still carried out. The objectives to be achieved in this study are as follows to determine the legal force of the transfer of land rights with payment receipts in accordance with applicable legal provisions, namely from the point of view of agrarian law. to find out the form of dispute resolution due to the sale and purchase of land with receipts. The research method in writing this thesis uses normative juridical, which finds conformity between legal regulations or orders with the reality on the ground. The approach used is a statutory approach, a conceptual approach, and a case approach. The legal materials used in this study consisted of primary legal materials and secondary legal materials. The results explain that the receipt is categorized as an underhand deed that does not have binding legal force so the buyer does not get legal certainty on his land. The government through has a role in assisting the resolution of land disputes based regulations.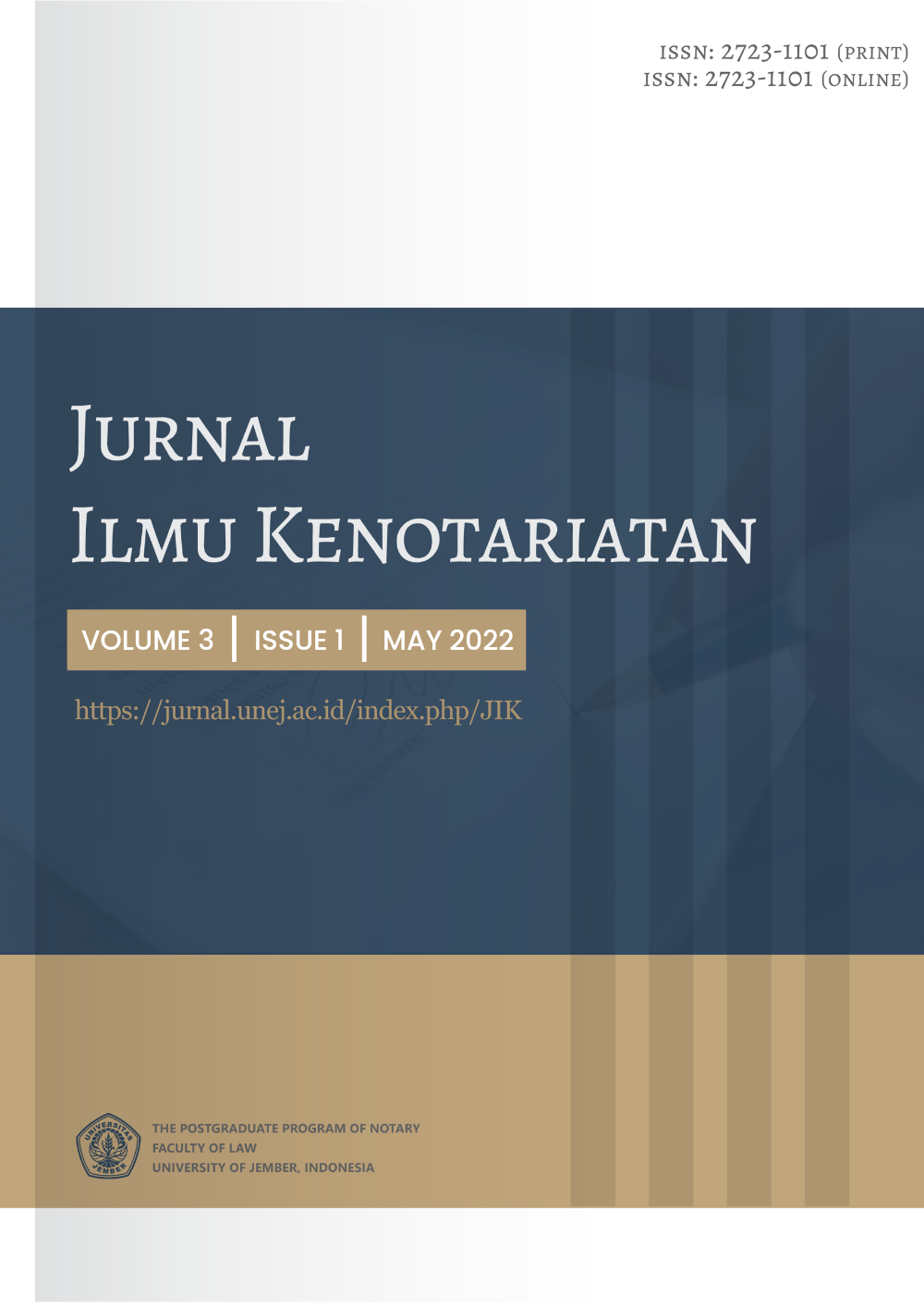 This work is licensed under a Creative Commons Attribution-NonCommercial-ShareAlike 4.0 International License.
The copyright to this article is then transferred to Jurnal Ilmu Kenotariatan (JIK) if the article is accepted for publication. Therefore, JIK has the non-exclusive right to reproduce, reprint, translation, provide articles in all forms of publication such as photographs, microfilm and any other similar activities of reproductions.
Permission
Authors still has the right to duplicate, download and distribute of the published material as long as the author and source are cited. Any violation found in future of any copyright come in notice, then the author will be responsible for getting sanction in accordance with prevailing regulations.
The licensor cannot revoke these freedoms as long as you follow the license terms.