APLIKASI QUALITY FUNGTION DEPLOYMENT (QFD) PADA PENINGKATAN MUTU SUWAR SUWIR TAPE HANDAYANI 82 DI KABUPATEN BONDOWOSO
Ade Galuh Rakhmadevi

Magister Teknologi Agroindustri, Fakultas Teknologi Pertanian, Universitas Jember

Sih Yuwanti

Fakultas Teknologi Pertanian, Universitas Jember

Bambang Herry Purnomo
Abstract
The intensity industrial competition required Tape Handayani 82 factory to develop its quality to compete in the market. The development of quality could be done by searching information about quality attribute of suwar suwir as costumer expectation. The purpose of this research was to identify quality attribute of suwar suwir and technical response requiring improvement, which could fulfill costumer expectation. Data was taken by distributing questionnaire to 65 respondents with non probability sampling method at 4 subdistrict in Bondowoso Regency, and interview to the producer of suwar suwir "Tape Handayani 82". The research result showed that the quality attributs that needed to be improved were the fixed composition, the self life of the product, the fixed texture, the label of composition, the suitability of the product with the label, the taste variation and packaging form. The technical responses which improved in relation to quality improvement were the composition of the additional materials, the composition of the raw material, the maturity of the tape, the heating temperature, the heating time, the acidity level the tape, the stirring technique, the mixing time, the primary packaging type, smoothing technique, chilling time and fiber removal. The target value to the technical response of the Handayani 82 factory was less than the bencmark. This mean that suwar suwir of Tape Handayani 82 has not met the target in fulfilling the quality of suwar suwir as costumer expectation.
Keywords: quality, suwar suwir, quality function deploment (QFD), customer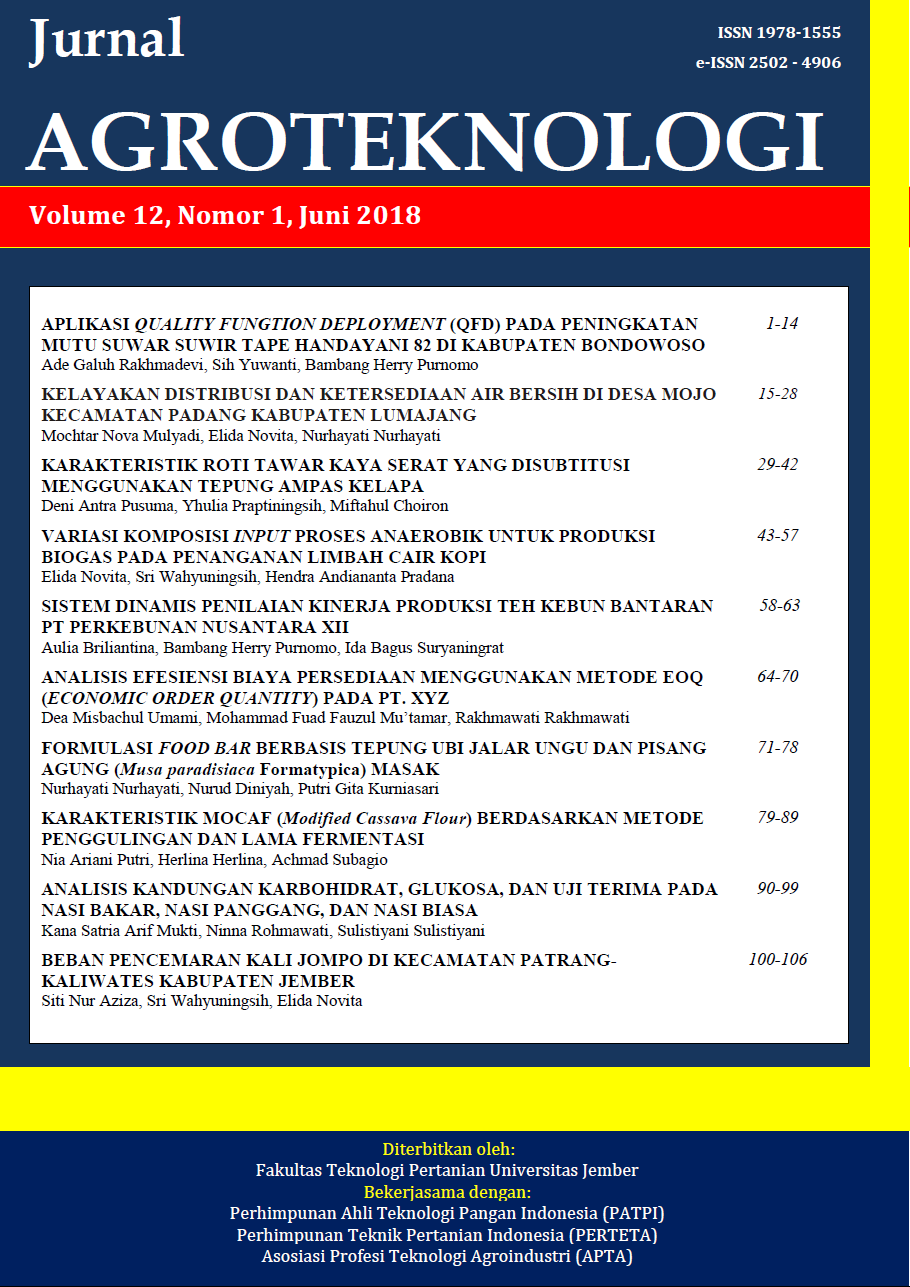 This work is licensed under a Creative Commons Attribution-ShareAlike 4.0 International License.

Under Liscense of Creative Commons Attribution - ShareAlike 2.0 Generic (CC BY-SA 2.0)