Rights to Access of Public Facilities in Health Services for People with Disabilities
Muhammad Dahlan

Brawijaya University, Indonesia

Prischa Listiningrum

Brawijaya University, Indonesia

http://orcid.org/0000-0003-3350-9607

Dio Priagung Wicaksana

Brawijaya University, Indonesia
Abstract
In Indonesia, the rights of people with disabilities (PwD) have not been fully fulfilled despite vigorous attempts to accommodate human rights for decades. Indeed, the Government has a commitment to fulfill the PwD rights in PwD Law 4/1997 and ratified the Convention on the Rights of Persons with Disabilities. In practice, the Government could not fully fulfill the PwD rights by providing facilities in the health sector. In this context, the Regency of Tulungagung has not set any regulations governing the fulfillment of the PwD rights. This study aimed to assess the PwD rights to access public facilities in health sectors in the Regency of Tulungagung, following factors that impeded the fulfillment of these rights. In doing so, the empirical method and socio-legal analysis probed a gap between law in book and context, elucidated in three main findings. First, the PwD rights in the Regency of Tulungagung to public facilities in health service sectors have not been fully fulfilled since public facilities are not PwD-friendly. Second, most health cares in this region have no staff capable of communicating and handling PwD. Third, the absence of the regulations governing the PwD rights becomes another factor leading to discrimination, coupled with the paucity of knowledge of how to interact with the PwD properly. Human resources and economic issues served as problems in this case. Most PwD in Tulungagung Regency lived in poor economic conditions due to a lack of available jobs that could be accessed. Therefore, the local government should take a more specific measure to fulfill public health access for PwD by allocating more budget, training the health care personnel, and enacting local regulations.
KEYWORDS: Human Rights, People with Disabilities, Public Facilities, Health Services.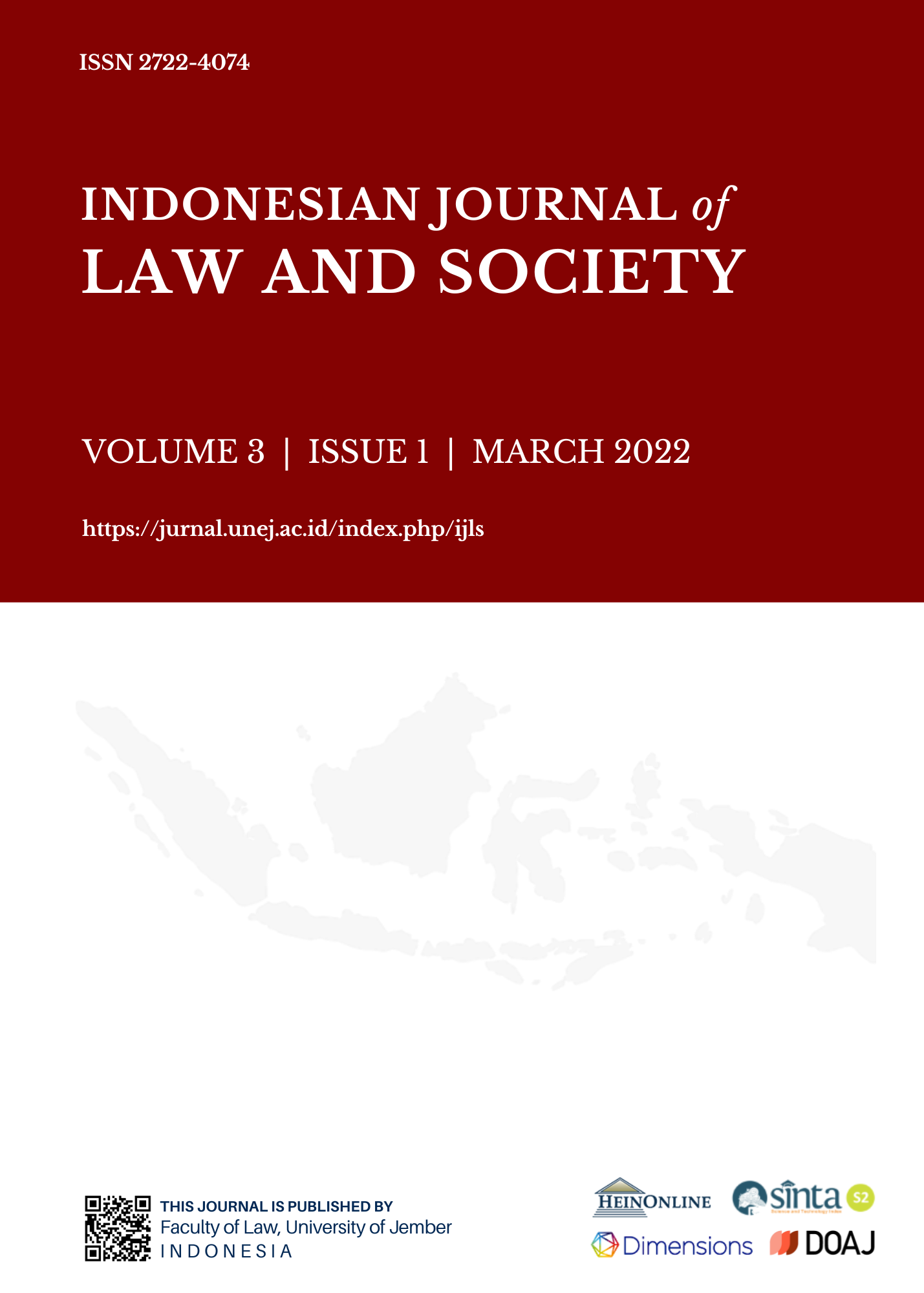 This work is licensed under a Creative Commons Attribution-ShareAlike 4.0 International License.
The Indonesian Journal of Law and Society has CC-BY-SA or an equivalent license as the optimal license for the publication, distribution, use, and reuse of scholarly work. Authors who publish with this journal retain copyright and grant the journal right of first publication with the work simultaneously licensed under a Creative Commons Attribution-ShareAlike 4.0 International License that allows others to share the work with an acknowledgment of the work's authorship and initial publication in this journal.