Optimasi Zink Oksida Dan Asam Malat dalam Krim Tabir Surya Kombinasi Avobenzone dan Octyl Methoxycinnamate dengan Desain Faktorial (Optimization of Zinc Oxide and Malic Acid in Sunscreen Cream Combination of Avobenzone and Octyl Methoxycinnamate with Fac
Viddy Agustian Rosyidi

Lisanul Ummah

Nia Kristiningrum
Abstract
Ultraviolet rays (UV) has an adverse effect on the skin, which is epidermis damage. One way to prevent the adverse effects of UV rays on the skin can be done by using sunscreen. The sunscreen mechanism of action was divided into chemical absorber and physical blocker. Chemical absorber will be degradated when exposed to UV rays, while ZnO as physical blocker can increase pH value of the sunscreen. The effectiveness of sunscreen was affected by pH value, so malic acid was added into the sunscreen formula to decrease pH value. This study was aimed to determine the optimum composition of ZnO and malic acid on pH, viscosity, SPF, transmission of erythema and transmission of pigmentation using factorial design method. 0,5% ZnO was set as the lowest level and 3% ZnO was set as the highest level; 0,5% malic acid was set as the lowest level and 0,8% malic acid was set as the highest level. Selected optimum formula was 0,5% ZnO and 0,8% malic acid with the predicted SPF value of 21,242; TE of 0,000; TP of 0,000; pH of 4,820; and viscosity of 80,333 dPa.s
Keywords: sunscreen, Zinc Oxide, malic acid, Sun Protector Factor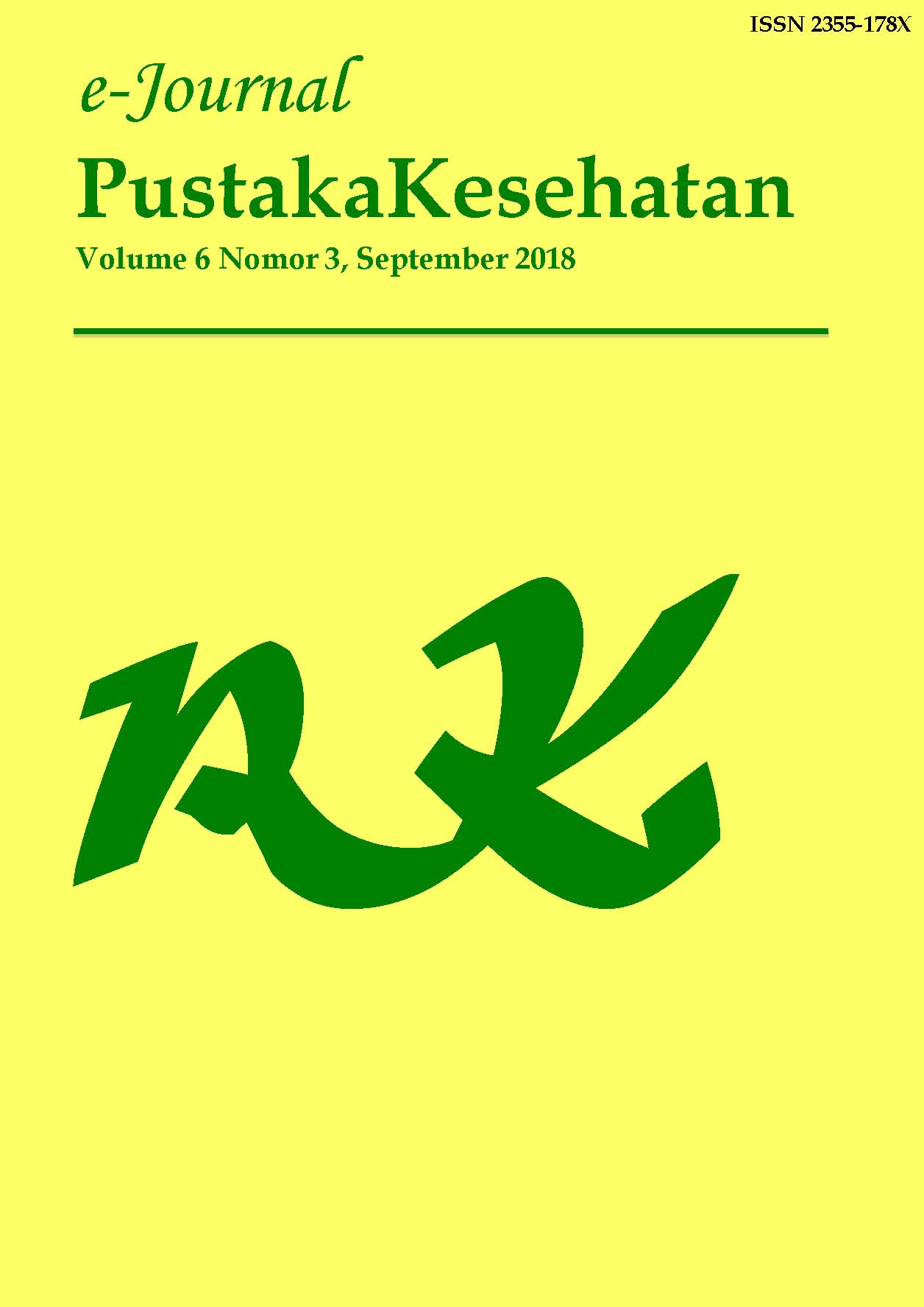 How to Cite
ROSYIDI, Viddy Agustian; UMMAH, Lisanul; KRISTININGRUM, Nia. Optimasi Zink Oksida Dan Asam Malat dalam Krim Tabir Surya Kombinasi Avobenzone dan Octyl Methoxycinnamate dengan Desain Faktorial (Optimization of Zinc Oxide and Malic Acid in Sunscreen Cream Combination of Avobenzone and Octyl Methoxycinnamate with Fac.
Pustaka Kesehatan
, [S.l.], v. 6, n. 3, p. 426-432, sep. 2018. ISSN 2355-178X. Available at: <
https://jurnal.unej.ac.id/index.php/JPK/article/view/9871
>. Date accessed: 30 nov. 2020.
Penulis yang mengusulkan naskahnya untuk dapat diproses penerbitannya pada Pustaka Kesehatan dianggap telah menyetujui beberapa hal sebagai berikut:
1. Penulis tidak dapat menarik naskah yang telah usulkan untuk diproses hingga mendapat jawaban dari Ketua Dewan Penyunting atas status naskah artikel ilmiahnya (diterima atau ditolak untuk diterbitkan).
2. Penerbit tidak bertanggung jawab terhadap kasus plagiasi atas artikel yang terbit pada Berkala Ilmiah Pertanian.
3. Penerbit tidak bertanggung jawab atas data dan isi dari artikel yang diterbitkan pada Pustaka Kesehatan, dan sepenuhnya merupakan tanggung jawab penulis.