Pengembangan Strip Tes Berbasis Pararosanilina untuk Deteksi Formalin pada Sampel Tahu (Development of Strip Test Based on Pararosaniline for Detection of Formaldehyde in Tofu)
Alni Riskyna

Bambang Kuswandi

Indah Purnama Sary
Abstract
Test strip based on pararosaniline has been developed for formaldehyde detection in tofu samples. The test strip as a formaldehyde sensors has been fabricated by immobilizing pararosaniline on whatman filter paper. The test strip was characterized for liniearity, detection limit, quantitation limit, selectivity, accuracy and precision. It has response time at 4 minutes and good liniearity was achieved in the concentration range of 2-80 ppm with correlation coefficient of (r) 0.999. The detection limit and quantitation limit were 0.048 ppm and 0.161 ppm, respectively. The RSD of reproducibility was found 8.04%, where recovery was 80-110%. The life time of the test strip was 14 days when it was stored at 40C. The test strip has been successfully applied to detect formaldehyde in tofu samples. The result also shown in agreement with spectrophotometry uv-vis method.
Keywords: formalin, pararosaniline, tofu, immobilization, strip test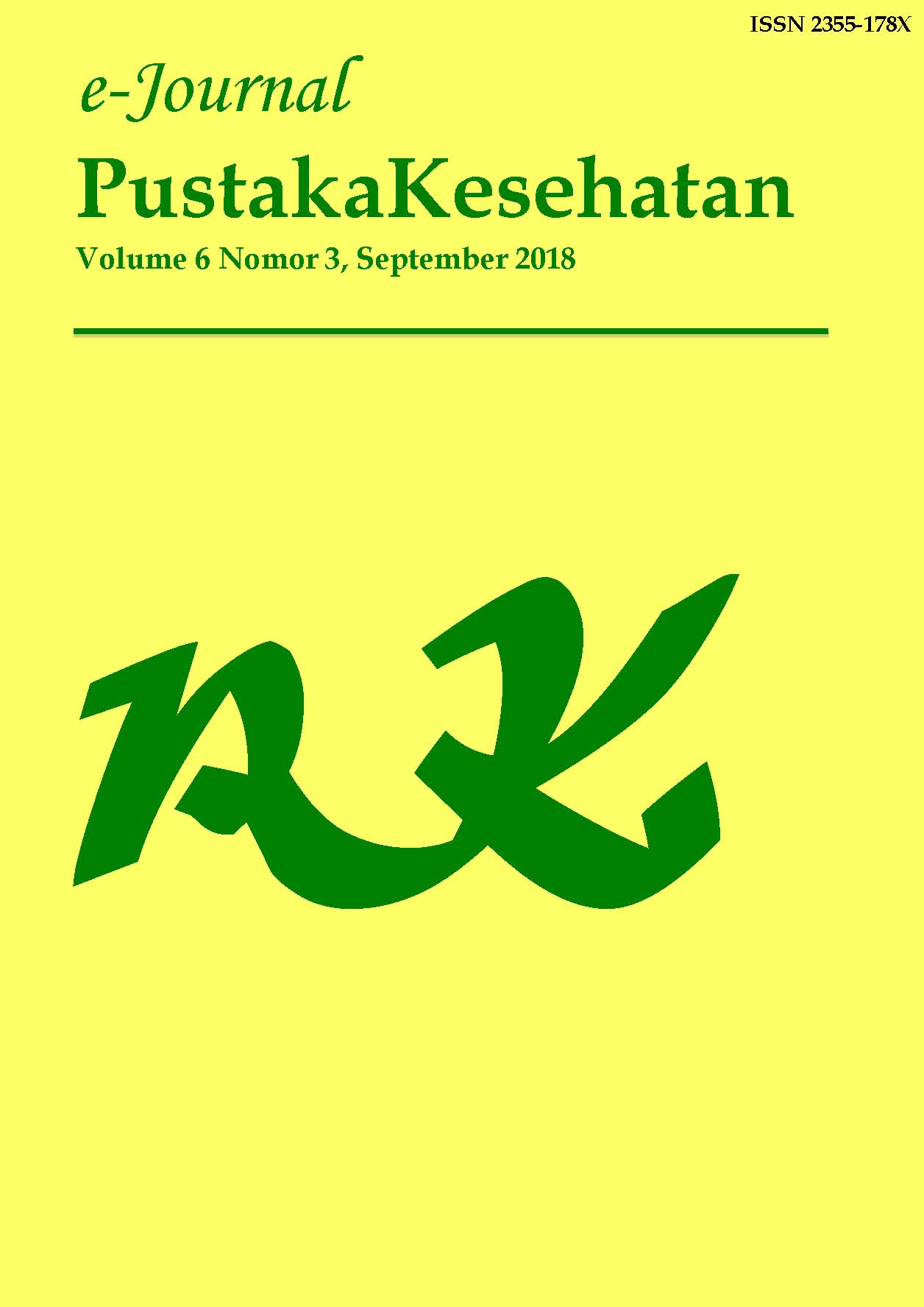 How to Cite
RISKYNA, Alni; KUSWANDI, Bambang; SARY, Indah Purnama. Pengembangan Strip Tes Berbasis Pararosanilina untuk Deteksi Formalin pada Sampel Tahu (Development of Strip Test Based on Pararosaniline for Detection of Formaldehyde in Tofu).
Pustaka Kesehatan
, [S.l.], v. 6, n. 3, p. 416-420, sep. 2018. ISSN 2355-178X. Available at: <
https://jurnal.unej.ac.id/index.php/JPK/article/view/9869
>. Date accessed: 25 sep. 2020.
Penulis yang mengusulkan naskahnya untuk dapat diproses penerbitannya pada Pustaka Kesehatan dianggap telah menyetujui beberapa hal sebagai berikut:
1. Penulis tidak dapat menarik naskah yang telah usulkan untuk diproses hingga mendapat jawaban dari Ketua Dewan Penyunting atas status naskah artikel ilmiahnya (diterima atau ditolak untuk diterbitkan).
2. Penerbit tidak bertanggung jawab terhadap kasus plagiasi atas artikel yang terbit pada Berkala Ilmiah Pertanian.
3. Penerbit tidak bertanggung jawab atas data dan isi dari artikel yang diterbitkan pada Pustaka Kesehatan, dan sepenuhnya merupakan tanggung jawab penulis.