Studi Penggunaan Obat pada Pasien Osteoartritis Usia Lanjut di Instalasi Rawat Jalan Rumah Sakit dr. H Koesnadi Bondowoso Tahun 2013 (Drug Use Study on Geriatric Osteoarthritis Outpatients in dr. H Koesnadi Hospital Bondowoso in 2013)
Ema Rachmawati

Fakultas Farmasi, Universitas Jember

Putu Setia Pratama

Afifah Machlaurin
Abstract
Osteoarthritis (OA) is a degenerative bone disease that begin by loss of articulary cartilage (joint). The disease most commonly affects the elder or adult people. Elderly people experiencing degenerative processes in which decreasing organ function. The organ degeneration causes several diseases resulting the patients to receive multi drug for the treatment and causing polypharmacy, thus will increase the risk of drug interactions. This study was conducted to determine the treatment for osteoarthritis and drug interactions that occur in patients with osteoarthritis. The method used was total sampling using the descriptive-retrospective approach. The sample was elderly osteoarthritis patients in outpatient installation which were treated in RSD dr. H Koesnadi Bondowoso during January to December 2013. In this study we found that the main treatment for osteoarthritis was non steroidal anti inflammatory drug (NSAID) that use to relief pain. From 108 samples of elderly osteoarthritis patients, we found that 17 patients (15.74%) indicating the potential for drug interactions.
Keywords: osteoarthritis, outpatient age above 60 years, NSAID, drug interaction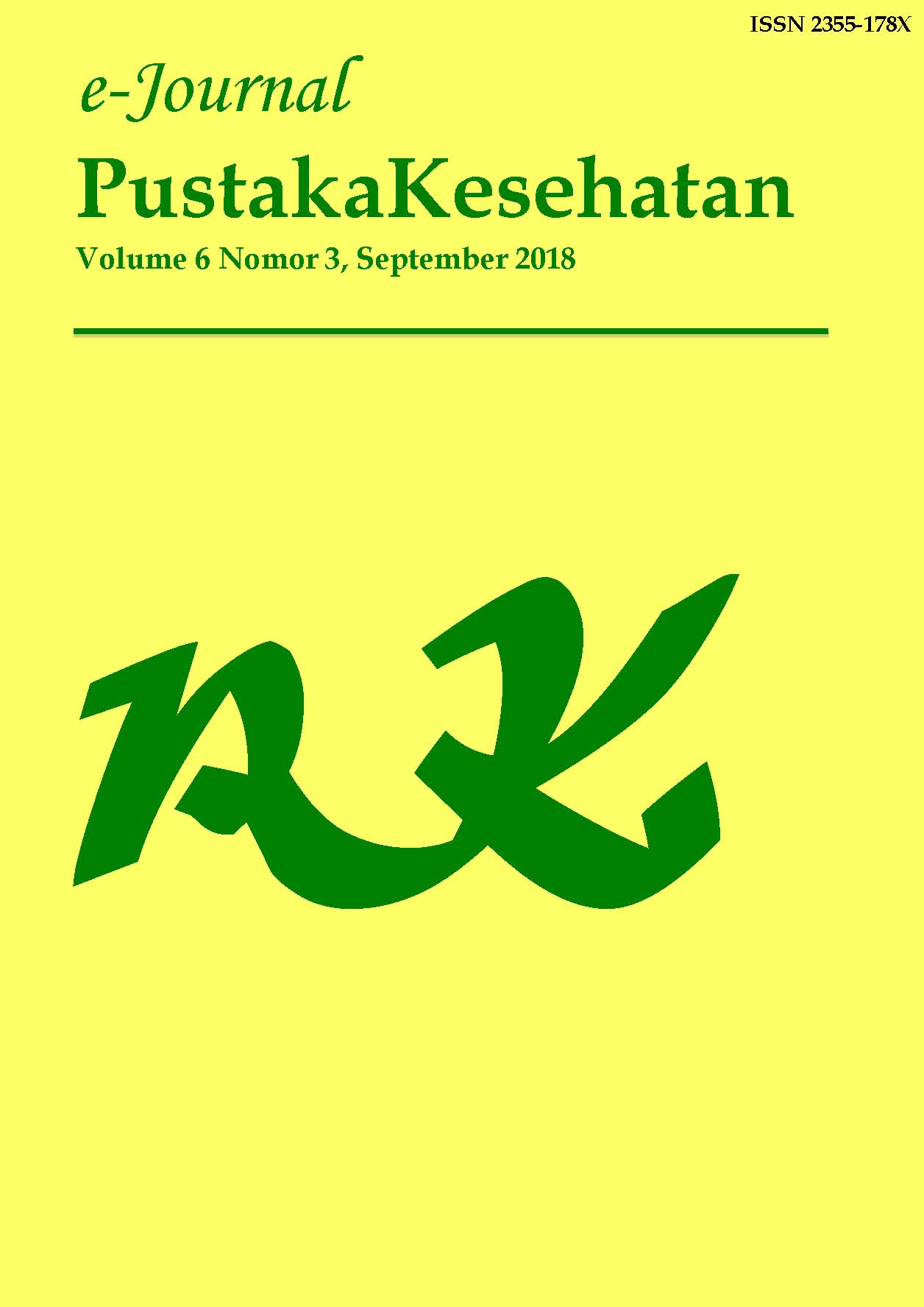 How to Cite
RACHMAWATI, Ema; PRATAMA, Putu Setia; MACHLAURIN, Afifah. Studi Penggunaan Obat pada Pasien Osteoartritis Usia Lanjut di Instalasi Rawat Jalan Rumah Sakit dr. H Koesnadi Bondowoso Tahun 2013 (Drug Use Study on Geriatric Osteoarthritis Outpatients in dr. H Koesnadi Hospital Bondowoso in 2013).
Pustaka Kesehatan
, [S.l.], v. 6, n. 3, p. 408-415, sep. 2018. ISSN 2355-178X. Available at: <
https://jurnal.unej.ac.id/index.php/JPK/article/view/9868
>. Date accessed: 25 sep. 2020.
Penulis yang mengusulkan naskahnya untuk dapat diproses penerbitannya pada Pustaka Kesehatan dianggap telah menyetujui beberapa hal sebagai berikut:
1. Penulis tidak dapat menarik naskah yang telah usulkan untuk diproses hingga mendapat jawaban dari Ketua Dewan Penyunting atas status naskah artikel ilmiahnya (diterima atau ditolak untuk diterbitkan).
2. Penerbit tidak bertanggung jawab terhadap kasus plagiasi atas artikel yang terbit pada Berkala Ilmiah Pertanian.
3. Penerbit tidak bertanggung jawab atas data dan isi dari artikel yang diterbitkan pada Pustaka Kesehatan, dan sepenuhnya merupakan tanggung jawab penulis.