Efektifitas Penggunaan Pasta Biji Kopi Robusta Sebagai Pembersih Gigi Tiruan Terhadap Kekasaran Permukaan Resin Akrilik Heat Cured (The Effectivity of Robusta Coffee Bean Pasta as Denture Cleanser to Surface Roughness of Heat Cured Acrylic Resin)
Afthin Maritta Noviyanti

Fakultas Kedokteran Gigi Universitas Jember

Rahardyan Parnaadji

Fakultas Kedokteran Gigi Universitas Jember

FX Ady Soesetijo

Fakultas Kedokteran Gigi Universitas Jember
Abstract
Background: The most used denture base materials is heat cured acrylic resin. The disadvantages of acrylic resin are easy to absorb water and porosity that can increase surface roughness. The surface roughness can facilitate the attachment of microorganisms and accumulation of plaque. The cleansing of mechanical denture use electric toothbrush and denture cleanser paste. This paste uses natural materials from robusta coffee beans that decrease surface roughness. Objective: To determine the effectivity of robusta coffee beans paste as a denture cleanser to the surface roughness of heat cured acrylic resin.  Methods: This study was an experimental laboratory with the research design the post test only  control group design. Total sample of 36 samples in size (65 x 10 x 2,5) mm which consisted of 4 groups: control group without brushing, group A  brushed with electric toothbrush and a placebo paste, group B brushed with electric toothbrush and robusta coffee beans paste 25%, and group C  brushed with electric toothbrush and robusta coffee beans paste 50%. Brushing was done for 22 minutes, then measured the surface roughness of dentures. Results and Conclusions: Robusta coffee bean paste was less effective as a denture cleanser agent against the surface roughness of the heat cured acrylic resin. Robusta coffee beans paste 50% can be used as a denture cleanser.
Keyword: acrylic resin, electric toothbrush, robusta coffee bean paste, surface roughness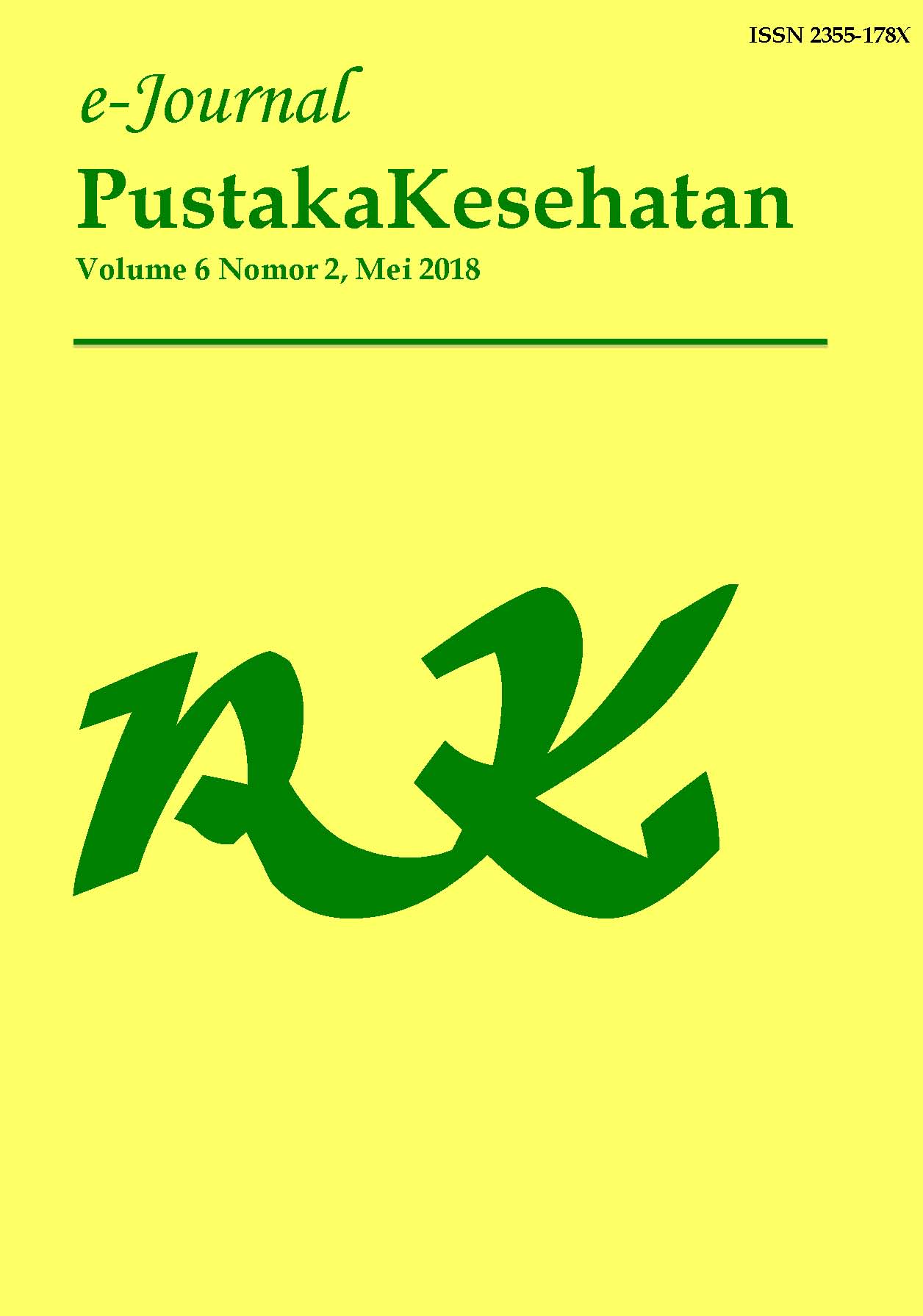 How to Cite
NOVIYANTI, Afthin Maritta; PARNAADJI, Rahardyan; SOESETIJO, FX Ady. Efektifitas Penggunaan Pasta Biji Kopi Robusta Sebagai Pembersih Gigi Tiruan Terhadap Kekasaran Permukaan Resin Akrilik Heat Cured (The Effectivity of Robusta Coffee Bean Pasta as Denture Cleanser to Surface Roughness of Heat Cured Acrylic Resin).
Pustaka Kesehatan
, [S.l.], v. 6, n. 2, p. 339-344, may 2018. ISSN 2355-178X. Available at: <
https://jurnal.unej.ac.id/index.php/JPK/article/view/8653
>. Date accessed: 12 july 2020.
Penulis yang mengusulkan naskahnya untuk dapat diproses penerbitannya pada Pustaka Kesehatan dianggap telah menyetujui beberapa hal sebagai berikut:
1. Penulis tidak dapat menarik naskah yang telah usulkan untuk diproses hingga mendapat jawaban dari Ketua Dewan Penyunting atas status naskah artikel ilmiahnya (diterima atau ditolak untuk diterbitkan).
2. Penerbit tidak bertanggung jawab terhadap kasus plagiasi atas artikel yang terbit pada Berkala Ilmiah Pertanian.
3. Penerbit tidak bertanggung jawab atas data dan isi dari artikel yang diterbitkan pada Pustaka Kesehatan, dan sepenuhnya merupakan tanggung jawab penulis.