Hubungan Tingkat Pengetahuan dengan Upaya Pencegahan Penyakit Glaukoma pada Klien Berisiko di Wilayah Kerja Puskesmas Jenggawah Kabupaten Jember (Correlation Between Knowledge Level and Prevention of Glaucoma Disease in Client is at Risk in the Area of Pu
Siswoyo Siswoyo

Latifa Aini Susuma

Santi Rahayu
Abstract
Glaucoma was an eye disorder characterized by increased pressure on the eyeball, optic nerve optic
atrophy and diminution of the visual field. Clients' knowledge towards glaucoma was important to
have such an early detection. It was done to avoid the blindness causes of glaucoma. The objectives
of this research were to analyze the correlation between knowledge with prevention efforts glaucoma
disease in the area of Jenggawah clinical. This research was used in observational analytic design
with cross sectional approach. A total of 39 respondents obtained by purposive sampling technique.
The data analysis that used was Spearman correlation test with significance level 0,05. The results
was showed that the average value of knowledge level was 17.49 and the average at prevention
effort of glaucoma disease was 75.03. There was a significant relationship between the level of
knowledge with prevention efforts glaucoma disease (p value = 0.001, r = 0.600). There were a
strong and positive correlation which means the higher in the level of knowledge that made a good
prevention of glaucoma disease. This study showed that the importance of providing knowledge
about glaucoma disease to increase prevention of glaucoma disease in risky clients
Keywords: client is at risk, knowledge level, prevention of glaucoma disease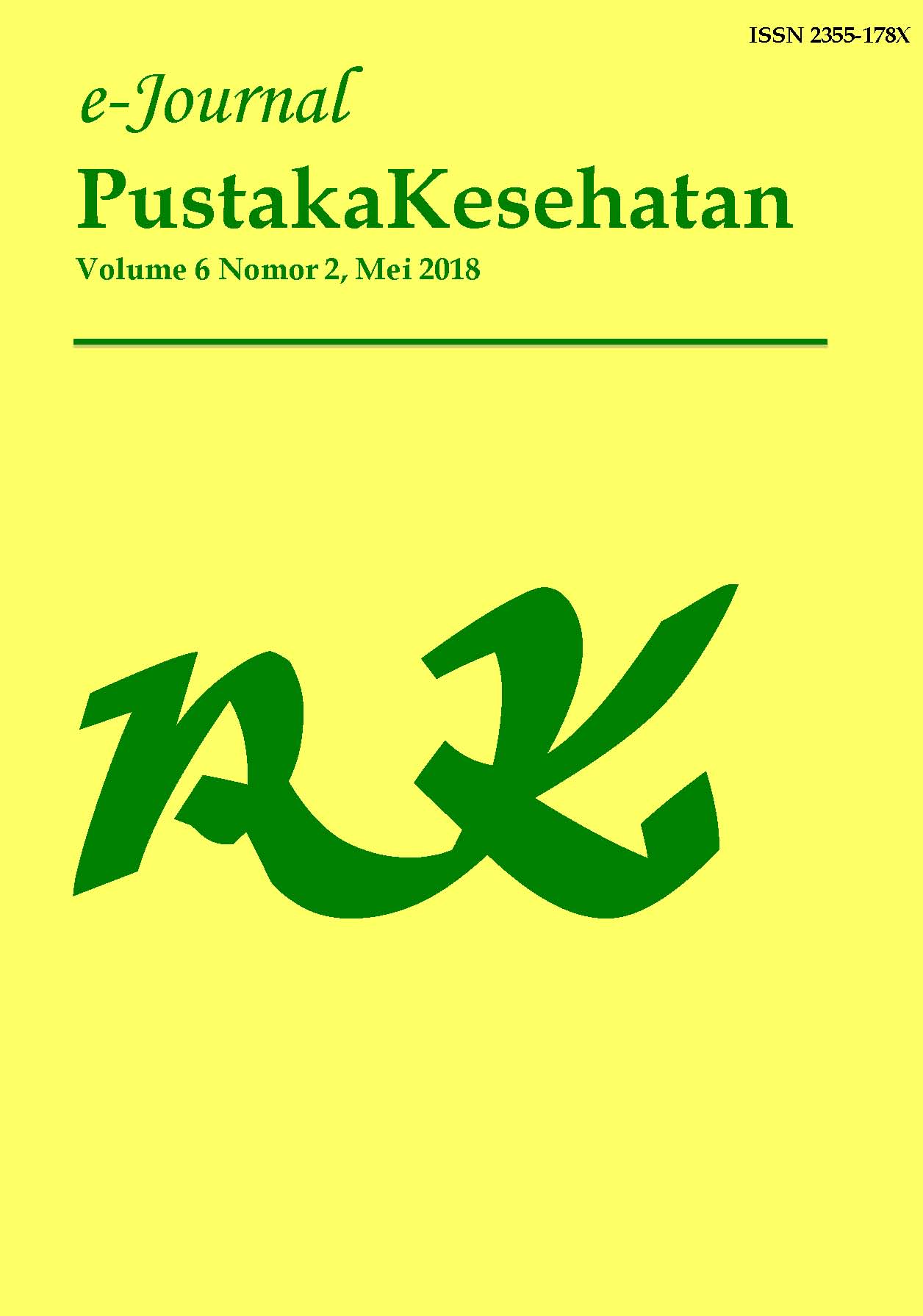 How to Cite
SISWOYO, Siswoyo; SUSUMA, Latifa Aini; RAHAYU, Santi. Hubungan Tingkat Pengetahuan dengan Upaya Pencegahan Penyakit Glaukoma pada Klien Berisiko di Wilayah Kerja Puskesmas Jenggawah Kabupaten Jember (Correlation Between Knowledge Level and Prevention of Glaucoma Disease in Client is at Risk in the Area of Pu.
Pustaka Kesehatan
, [S.l.], v. 6, n. 2, p. 286 - 291, may 2018. ISSN 2355-178X. Available at: <
https://jurnal.unej.ac.id/index.php/JPK/article/view/7773
>. Date accessed: 05 june 2020. doi:
https://doi.org/10.19184/pk.v6i2.7773
.
Penulis yang mengusulkan naskahnya untuk dapat diproses penerbitannya pada Pustaka Kesehatan dianggap telah menyetujui beberapa hal sebagai berikut:
1. Penulis tidak dapat menarik naskah yang telah usulkan untuk diproses hingga mendapat jawaban dari Ketua Dewan Penyunting atas status naskah artikel ilmiahnya (diterima atau ditolak untuk diterbitkan).
2. Penerbit tidak bertanggung jawab terhadap kasus plagiasi atas artikel yang terbit pada Berkala Ilmiah Pertanian.
3. Penerbit tidak bertanggung jawab atas data dan isi dari artikel yang diterbitkan pada Pustaka Kesehatan, dan sepenuhnya merupakan tanggung jawab penulis.