Determinan Kejadian Stunting pada Anak Balita Usia 12-36 Bulan di Wilayah Kerja Puskesmas Randuagung Kabupaten Lumajang (Determinants of Stunting among Children Aged 12-36 Months in Community Health Center of Randuagung, Lumajang Distric)
Dicka Indo Putri Priyono

Sulistiyani Sulistiyani

Leersia Yusi Ratnawati
Abstract
Stunting was linear growth disorder caused by chronic malnutrition nutrient intake andchronic or recurrent infections indicated by the value of the z-score of height for age(TB/U) <-2 SD based on WHO standards. It was also a public health problem becauseassociated with increased risk of morbidity and mortality. Randuagung was the highestprevalent stunted that 34,63% form 25 community health center in Lumajang distric.Based on result of the first study done to 30 children ini community health center ofRanduagung, Lumajang distric, acquired amount of 11 children endured the stunted.This study aimed to analyzed the determinants of stunting among children aged 12-36months in Puskesmas Randuagung, Lumajang. This study was observational analyticwith cross sectional design. The sample size were 86 toddlers were taken by simplerandom sampling. Bivariate analyzed with chi square test and multivariate analyzedwith multiple logistic regression. The results show that 53.5% sample were stunted. Theanalysis show there were relationship between zinc consumption level, infectiousdiseases, and genetically with the incidence of stunting. The level of zinc consumptionand genetic were the risk factor of stunting among children age 12-36 month.Keywords: Stunting, children, risk factor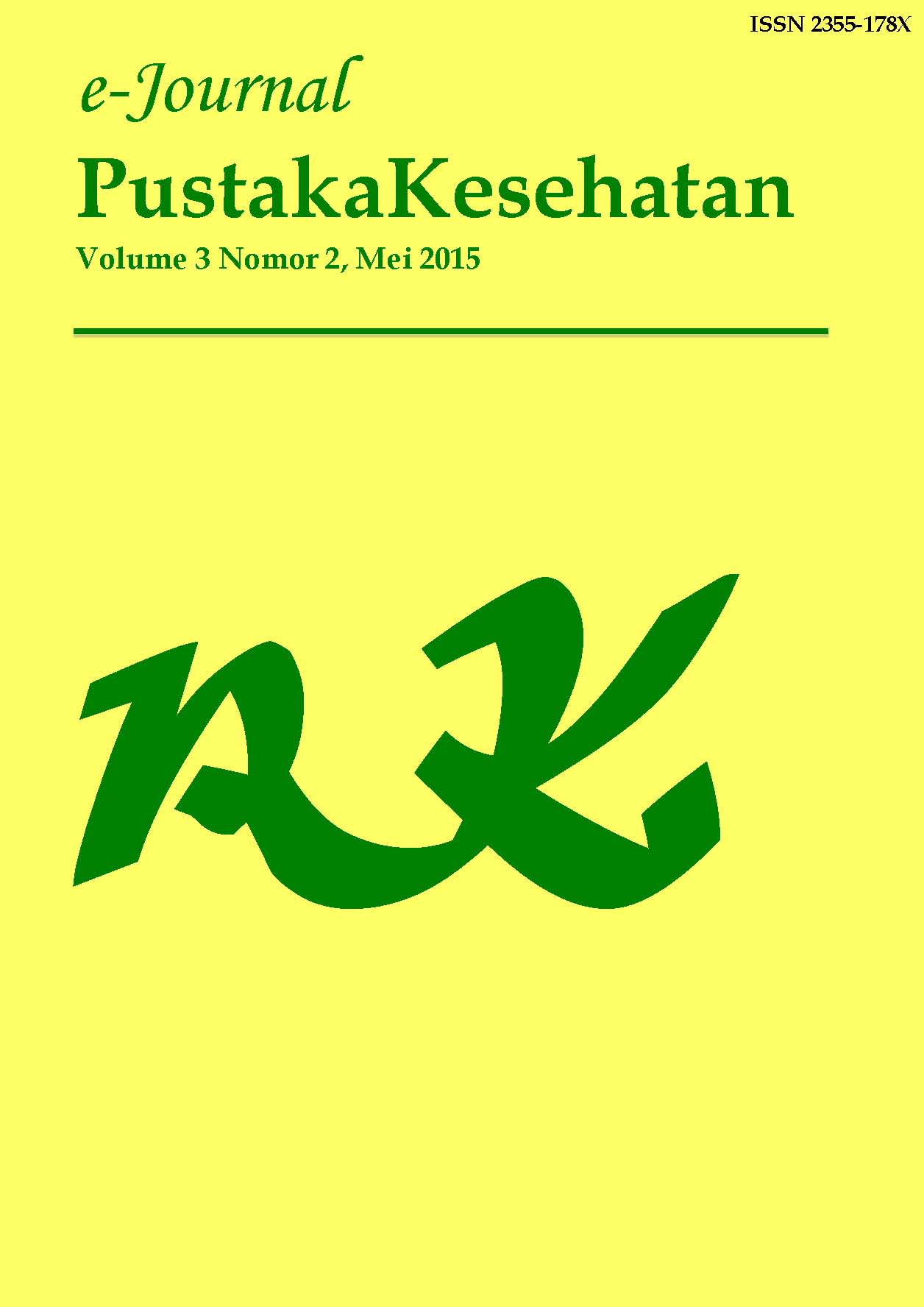 How to Cite
PRIYONO, Dicka Indo Putri; SULISTIYANI, Sulistiyani; RATNAWATI, Leersia Yusi. Determinan Kejadian Stunting pada Anak Balita Usia 12-36 Bulan di Wilayah Kerja Puskesmas Randuagung Kabupaten Lumajang (Determinants of Stunting among Children Aged 12-36 Months in Community Health Center of Randuagung, Lumajang Distric).
Pustaka Kesehatan
, [S.l.], v. 3, n. 2, p. 349-355, may 2015. ISSN 2355-178X. Available at: <
https://jurnal.unej.ac.id/index.php/JPK/article/view/2677
>. Date accessed: 10 july 2020.
Penulis yang mengusulkan naskahnya untuk dapat diproses penerbitannya pada Pustaka Kesehatan dianggap telah menyetujui beberapa hal sebagai berikut:
1. Penulis tidak dapat menarik naskah yang telah usulkan untuk diproses hingga mendapat jawaban dari Ketua Dewan Penyunting atas status naskah artikel ilmiahnya (diterima atau ditolak untuk diterbitkan).
2. Penerbit tidak bertanggung jawab terhadap kasus plagiasi atas artikel yang terbit pada Berkala Ilmiah Pertanian.
3. Penerbit tidak bertanggung jawab atas data dan isi dari artikel yang diterbitkan pada Pustaka Kesehatan, dan sepenuhnya merupakan tanggung jawab penulis.