Kadar Serum Glutamat Piruvat Transaminase (SGPT) pada Tikus Wistar (Rattus norvegicus) Jantan yang Dipapar Stresor Rasa Sakit berupa Electrical Foot Shock selama 28 Hari (The Level of Serum Glutamic Pyrufic Transaminase [SGPT] on a Wistar [Rattus norvegic
Hesty Kumala Sari

Fakultas Kedokteran Gigi Universitas Jember

Roedy Budirahardjo

Fakultas Kedokteran Gigi Universitas Jember

Erna Sulistyani

Fakultas Kedokteran Gigi Universitas Jember
Abstract
Stress is the body response toward any kind of stressors that can lead to physiological changes in body systems. When it's stresses, it will secretes stress hormones, such as cortisol, which can lead to elevate gluconeogenesis in liver. The cortisol blood levels increase much greater in rats exposed to 28 days stressors. It will force liver cells to perform continuous gluconeogenesis. These can cause damage to liver cells that can be characterized by increased levels of SGPT (Serum Glutamic Pyruvic transaminase). The aim of the study was to determine the differences in SGPT levels between male Wistar rats that were exposed by electrical foot shock stressors for 28 days and control rats. This was an experimental laboratory with post -test only with control group design, with sixteen rats were divided into two groups; control group and treatment group. The treatment group were exposed by electrical foot shock stressor for 28 days. On 28th day, serum samples were taken for examination of SGPT levels in both samples by kinetic methods . The results of T-test showed that there was no difference in SGPT levels between treatment and control groups.
Keywords
: electrical foot shock, serum glutamic pyruvic transaminase level.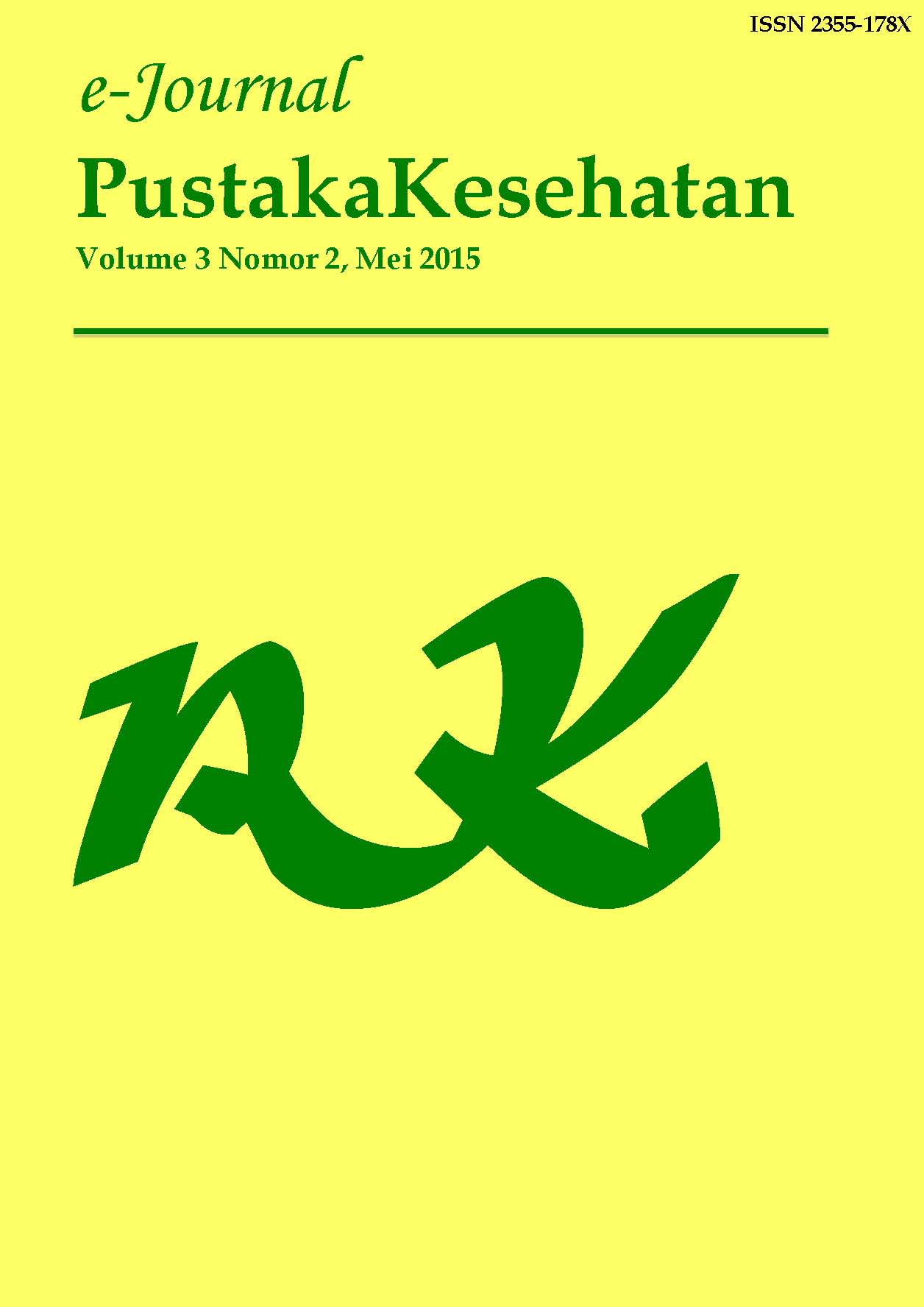 How to Cite
SARI, Hesty Kumala; BUDIRAHARDJO, Roedy; SULISTYANI, Erna. Kadar Serum Glutamat Piruvat Transaminase (SGPT) pada Tikus Wistar (Rattus norvegicus) Jantan yang Dipapar Stresor Rasa Sakit berupa Electrical Foot Shock selama 28 Hari (The Level of Serum Glutamic Pyrufic Transaminase [SGPT] on a Wistar [Rattus norvegic.
Pustaka Kesehatan
, [S.l.], v. 3, n. 2, p. 205-211, may 2015. ISSN 2355-178X. Available at: <
https://jurnal.unej.ac.id/index.php/JPK/article/view/2529
>. Date accessed: 13 july 2020.
Penulis yang mengusulkan naskahnya untuk dapat diproses penerbitannya pada Pustaka Kesehatan dianggap telah menyetujui beberapa hal sebagai berikut:
1. Penulis tidak dapat menarik naskah yang telah usulkan untuk diproses hingga mendapat jawaban dari Ketua Dewan Penyunting atas status naskah artikel ilmiahnya (diterima atau ditolak untuk diterbitkan).
2. Penerbit tidak bertanggung jawab terhadap kasus plagiasi atas artikel yang terbit pada Berkala Ilmiah Pertanian.
3. Penerbit tidak bertanggung jawab atas data dan isi dari artikel yang diterbitkan pada Pustaka Kesehatan, dan sepenuhnya merupakan tanggung jawab penulis.