Daya Hambat Ekstrak Daun Pepaya (Carica papaya L.) terhadap Adhesi Bakteri Porphyromonas gingivalis pada Neutrofil (Inhibition of Papaya (Carica papaya L.) Leaves Extract on Adhesion of Porphyromonas gingivalis Bacteria to Neutrophils)
Ermita Windya Pratiwi

Fakultas Kedokteran Gigi Universitas Jember

Depi Praharani

Fakultas Kedokteran Gigi Universitas Jember

Yuliana Mahdiyah Da'at Arina

Fakultas Kedokteran Gigi Universitas Jember
Abstract
Adhesion process of Porphyromonas gingivalis on neutrophils significantly play a role in the onset of periodontal infection. Papaya leaves contain several active substances that might impact to bacterial adhesion. This study was aimed to determine inhibition potency of papaya leaf extract (PLE) to adhesion of Porphyromonas gingivalis to neutrophils and at different concentration. This was an experimental laboratories in vitro study on neutrophils cells from peripheral blood. Samples divided into 5 group: group I/control (without PLE), group II (PLE 25%), group III (PLE 50 %), group IV (PLE 75%), and group V (PLE 100%). Isolated neutrofil was incubated by PLE in 3 hours, then incubated to the P. gingivalis in 2.5 hours. The index of adhesion was determined by calculating average number of P. gingivalis on 100 neutrophils. The result found that inhibition potency of PLE was significantly different to all groups. The conclusion was PLE inhibited P. gingivalis adhesion on neutrophils; and there were differences of inhibition potency of bacterial adhesion of P. gingivalis bacteria among PLE at 25%, 50%, 75% and 100% concentration, which higher concentration had higher inhibition effect.
Keywords: adhesion, neutrophils, papaya leaf, Porphyromonas gingivalis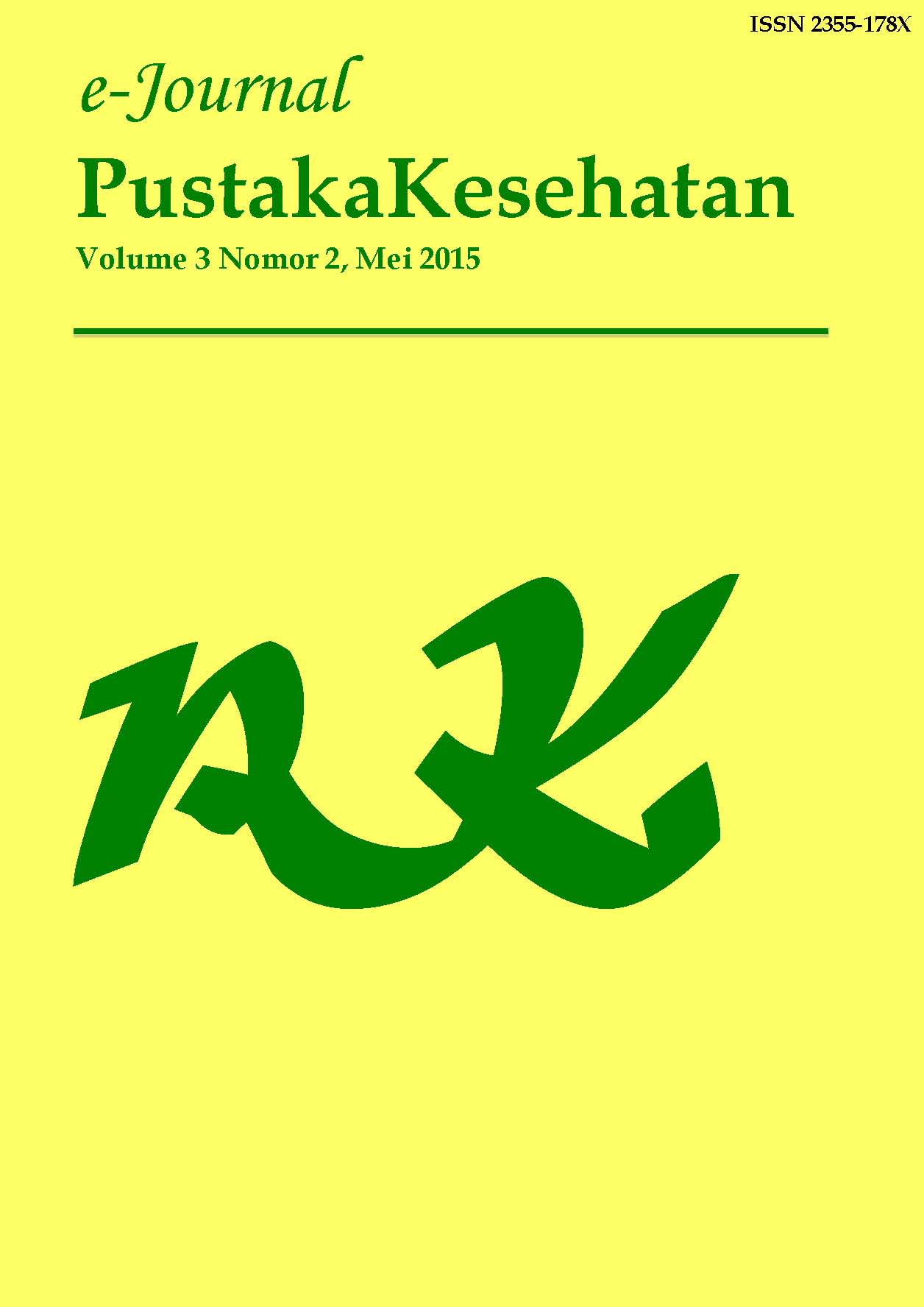 How to Cite
PRATIWI, Ermita Windya; PRAHARANI, Depi; ARINA, Yuliana Mahdiyah Da'at. Daya Hambat Ekstrak Daun Pepaya (Carica papaya L.) terhadap Adhesi Bakteri Porphyromonas gingivalis pada Neutrofil (Inhibition of Papaya (Carica papaya L.) Leaves Extract on Adhesion of Porphyromonas gingivalis Bacteria to Neutrophils).
Pustaka Kesehatan
, [S.l.], v. 3, n. 2, p. 193-198, may 2015. ISSN 2355-178X. Available at: <
https://jurnal.unej.ac.id/index.php/JPK/article/view/2527
>. Date accessed: 10 july 2020.
Penulis yang mengusulkan naskahnya untuk dapat diproses penerbitannya pada Pustaka Kesehatan dianggap telah menyetujui beberapa hal sebagai berikut:
1. Penulis tidak dapat menarik naskah yang telah usulkan untuk diproses hingga mendapat jawaban dari Ketua Dewan Penyunting atas status naskah artikel ilmiahnya (diterima atau ditolak untuk diterbitkan).
2. Penerbit tidak bertanggung jawab terhadap kasus plagiasi atas artikel yang terbit pada Berkala Ilmiah Pertanian.
3. Penerbit tidak bertanggung jawab atas data dan isi dari artikel yang diterbitkan pada Pustaka Kesehatan, dan sepenuhnya merupakan tanggung jawab penulis.