Uji Sensitivitas Amoksisilin dan Eritromisin terhadap Infeksi Sekunder dari Spesimen Pasien Infeksi Saluran Pernafasan Akut (Sensitivity Test of Amoxicillin and Erythromycin againts Secondary Infections from Acute Respiratory Infection Speciments)
Olyvia Yulyani Khaerul Putri

Fakultas Kedokteran Universitas Jember

Cholis Abrori

Fakultas Kedokteran Universitas Jember

Ida Srisurani Wiji Astuti

Fakultas Kedokteran Universitas Jember
Abstract
Acute respiratory infections (ARI) is one of health problems in Indonesia, which are caused by viruses. But on a visit to health facility, physicians prescribe antibiotics as therapy. Irrational prescribing of antibiotics led to bacterial resistance. The use of amoxicillin and erythromycin as the first and second line drugs in patients with ARI causes high resistance to them. This study aimed to determine differences sensitivity of amoxicillin and erythromycin against secondary infection of ARI. This was a descriptive analytical study, using Mann-Whitney different test and determination of Minimum Inhibitory Concentration (MIC) antibiotics using logarithmic regression. The sample was obtained from specimens of patient ARI with secondary infection who visited UPT Pelayanan Kesehatan Universitas Jember. Five of twenty two specimens successfully cultured in Blood Agar Plate (BAP). The cultures showed five bacteria with Gram-positive cocci morphology and two with Gram-negative bacilli morphology. Mann-Whitney test showed significant difference between two drugs (p=0.008), where 85% bacteria were resistant to amoxicillin and 40% were to erythromycin. Logarithmic regression results, obtained amoxicillin's MIC was 7.48-9.02 mg/L and erythromycin's was 0.23-4.95 mg/L. It can be concluded, there was a significant difference between two drugs, where bacteria that cause secondary infections are no longer sensitive to amoxicillin.
Keywords: Amoxicillin, Erythromycin, ARI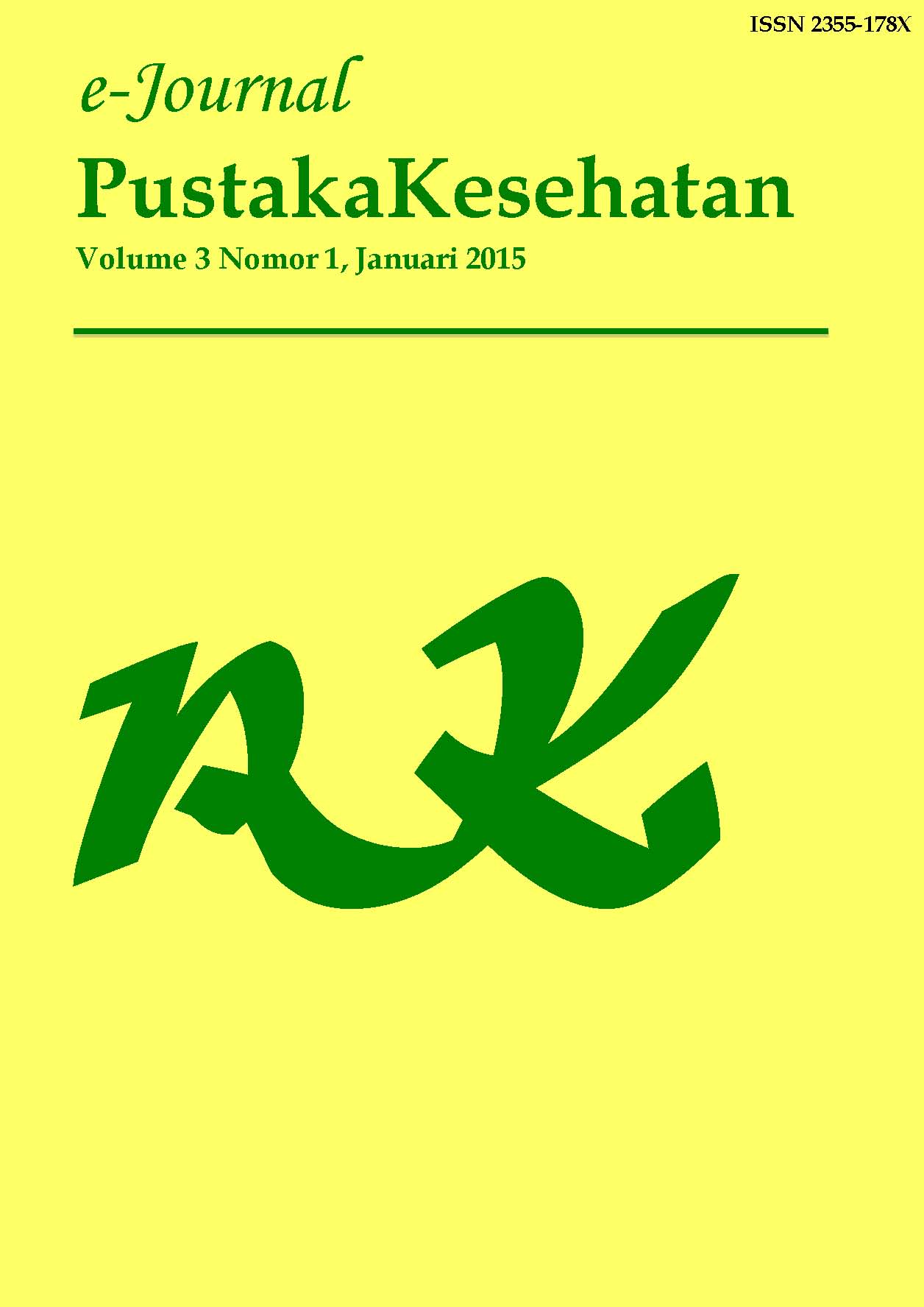 How to Cite
PUTRI, Olyvia Yulyani Khaerul; ABRORI, Cholis; ASTUTI, Ida Srisurani Wiji. Uji Sensitivitas Amoksisilin dan Eritromisin terhadap Infeksi Sekunder dari Spesimen Pasien Infeksi Saluran Pernafasan Akut (Sensitivity Test of Amoxicillin and Erythromycin againts Secondary Infections from Acute Respiratory Infection Speciments).
Pustaka Kesehatan
, [S.l.], v. 3, n. 1, p. 18-23, jan. 2015. ISSN 2355-178X. Available at: <
https://jurnal.unej.ac.id/index.php/JPK/article/view/2388
>. Date accessed: 22 may 2019.
Penulis yang mengusulkan naskahnya untuk dapat diproses penerbitannya pada Pustaka Kesehatan dianggap telah menyetujui beberapa hal sebagai berikut:
1. Penulis tidak dapat menarik naskah yang telah usulkan untuk diproses hingga mendapat jawaban dari Ketua Dewan Penyunting atas status naskah artikel ilmiahnya (diterima atau ditolak untuk diterbitkan).
2. Penerbit tidak bertanggung jawab terhadap kasus plagiasi atas artikel yang terbit pada Berkala Ilmiah Pertanian.
3. Penerbit tidak bertanggung jawab atas data dan isi dari artikel yang diterbitkan pada Pustaka Kesehatan, dan sepenuhnya merupakan tanggung jawab penulis.