Pengaruh Relaksasi Aromaterapi Jasmine terhadap Kualitas Tidur pada Lansia di Karang Werdha (The Effect of Jasmine Aromatherapy Relaxation towards Sleeping Quality for Elderly at Elderly Association)
Mahda Febriyanti Eka Pertiwi Putri

Murtaqib Murtaqib

mulia hakam
Abstract
During the quality of sleep the elderly is good, some changes that will occur to the elderly are
normal as well, but if not, it will cause health problems. This research aims to analyze the
effect of jasmine aromatherapy relaxation on sleeping quality to the elderly at elderly
association in Jenggawah Jember. This research used quasy experimental design method
with pre-post test and control group design. Sleeping quality was measured using a PSQI
questionnaire and interventions which were given for 28 days. The result of dependent t test
showed no significant difference on the average score of control group (p value = 1,000).
While in the intervention group there was a decrease in the mean score of PSQI after being
given jasmine aromatherapy relaxation, so that there was a significant difference in sleeping
quality of the intervention group (p value = 0,001). Independent t tests showed significant
differences between the control group and the intervention group after jasmine aromatherapy
relaxation (p value = 0,001). Overall, jasmine aromatherapy relaxation can improve sleeping
quality in the elderly, so that jasmine aromatherapy relaxation may be used as an alternative
non-pharmacological treatment which has no adverse side effects compared to the use of
long-term sleeping pills that would give negative side effects to its users.
Keywords: aromatherapy, sleeping quality, elderly.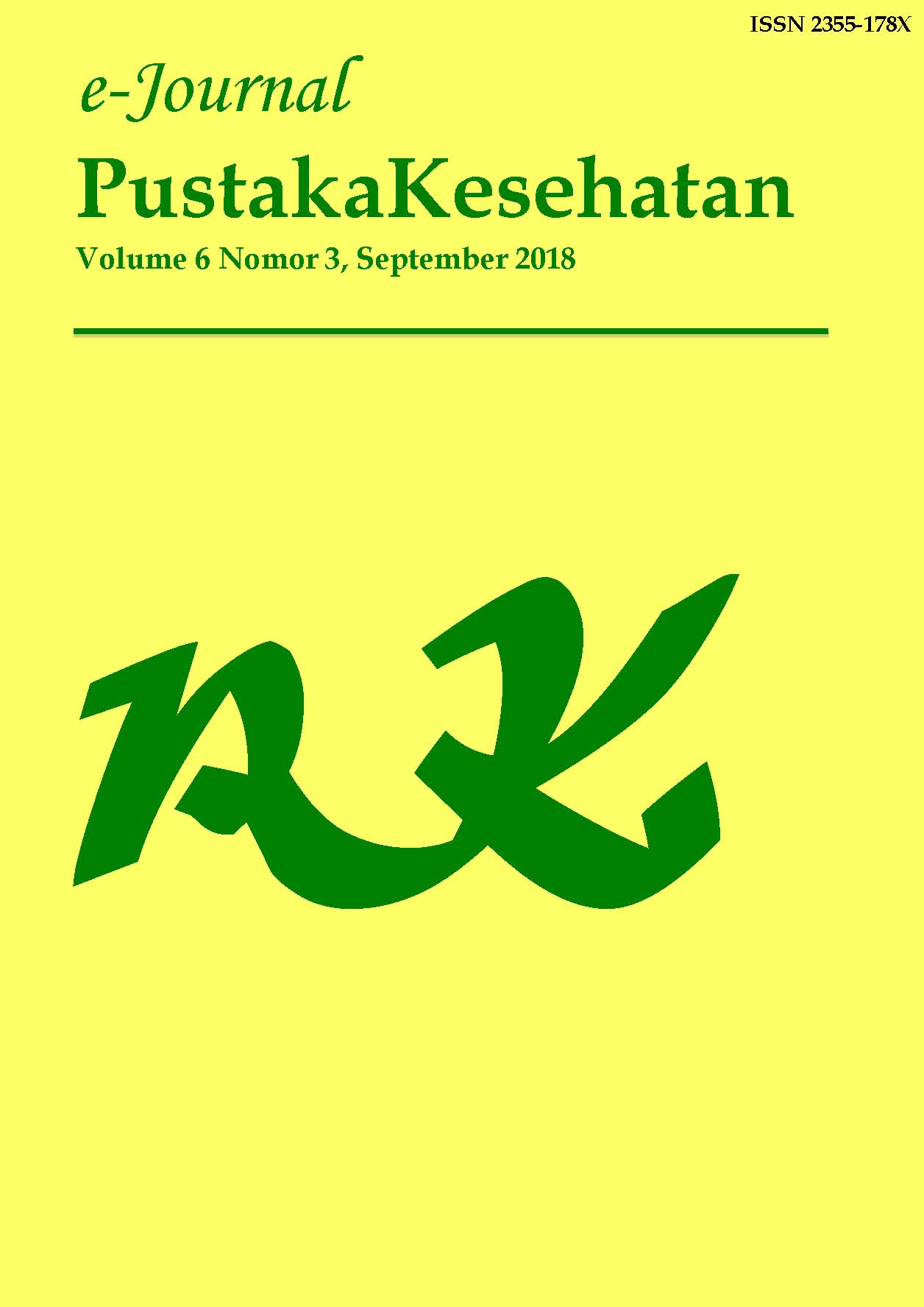 How to Cite
PUTRI, Mahda Febriyanti Eka Pertiwi; MURTAQIB, Murtaqib; HAKAM, mulia. Pengaruh Relaksasi Aromaterapi Jasmine terhadap Kualitas Tidur pada Lansia di Karang Werdha (The Effect of Jasmine Aromatherapy Relaxation towards Sleeping Quality for Elderly at Elderly Association).
Pustaka Kesehatan
, [S.l.], v. 6, n. 3, p. 461 - 468, sep. 2018. ISSN 2355-178X. Available at: <
https://jurnal.unej.ac.id/index.php/JPK/article/view/11745
>. Date accessed: 25 sep. 2020.
Penulis yang mengusulkan naskahnya untuk dapat diproses penerbitannya pada Pustaka Kesehatan dianggap telah menyetujui beberapa hal sebagai berikut:
1. Penulis tidak dapat menarik naskah yang telah usulkan untuk diproses hingga mendapat jawaban dari Ketua Dewan Penyunting atas status naskah artikel ilmiahnya (diterima atau ditolak untuk diterbitkan).
2. Penerbit tidak bertanggung jawab terhadap kasus plagiasi atas artikel yang terbit pada Berkala Ilmiah Pertanian.
3. Penerbit tidak bertanggung jawab atas data dan isi dari artikel yang diterbitkan pada Pustaka Kesehatan, dan sepenuhnya merupakan tanggung jawab penulis.