PENGGUNAAN MEDIA PEMBELAJARAN ANIMASI BERBANTUAN MACROMEDIA FLASH PADA PEMBELAJARAN FISIKA POKOK BAHASAN MOMENTUM, IMPULS, DAN TUMBUKAN KELAS X SMA
M. Isa Fakhri

Singgih Bektiarso

Supeno Supeno
Abstract
Learning physics that was held showed that most students seem less interested, less passionate and tend to be inactive. So that the value obtained by students were also less than the maximum. The low yield studying physics students was one caused by a medium of learning physics teachers use less varied. Therefore, teachers need media that can be used to describe it. Macromedia Flash animation through the abstract for the students can be shown to the presence of students, that were expected to improve learning outcomes. Therefore it was necessary the use of media-assisted learning Macromedia Flash animation on learning physics. This type of research was the study of true-experimental with research design is Pretest-Posttest Control Group Design. Subjects were students of class ten of SMA. Data acquisition techniques including observation, documentation, interviews and tests. Data analysis technique that used was the independent sample t-test with SPSS 22 and N-gain analysis. Based on the results and discussion can be concluded as follows: 1) There was significant influence student learning outcomes which apply assisted learning media Macromedia Flash animation in learning physics class X SMA and 2) media-assisted learning Macromedia Flash animations were categorized quite effective. With the value of N-gain of 0.57 is included in the criteria of effectiveness of the medium.
Keyword: Learning Physics, assessment, macromedia flash.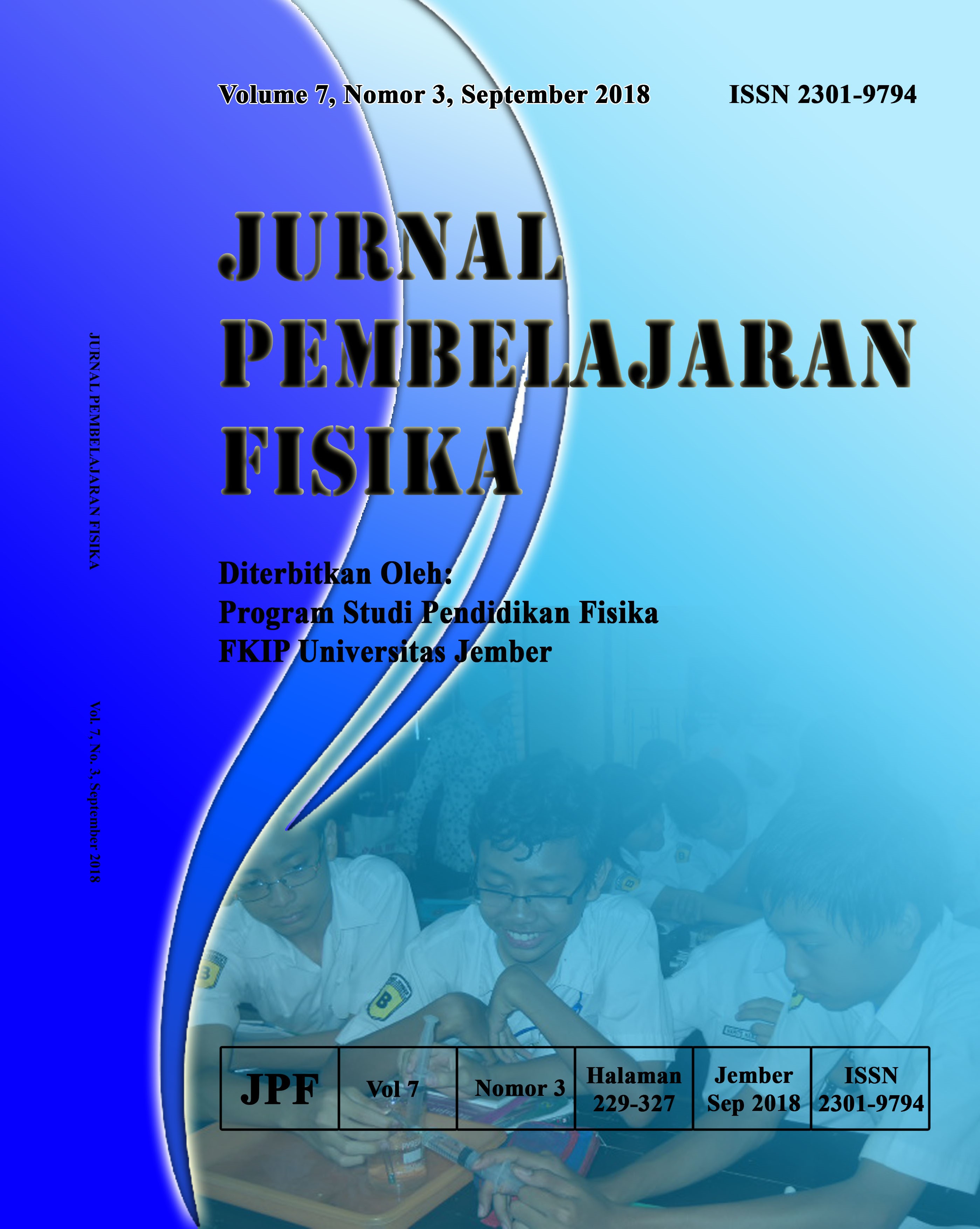 How to Cite
FAKHRI, M. Isa; BEKTIARSO, Singgih; SUPENO, Supeno. PENGGUNAAN MEDIA PEMBELAJARAN ANIMASI BERBANTUAN MACROMEDIA FLASH PADA PEMBELAJARAN FISIKA POKOK BAHASAN MOMENTUM, IMPULS, DAN TUMBUKAN KELAS X SMA.
JURNAL PEMBELAJARAN FISIKA
, [S.l.], v. 7, n. 3, p. 271-277, sep. 2018. ISSN 2721-1959. Available at: <
https://jurnal.unej.ac.id/index.php/JPF/article/view/8599
>. Date accessed: 04 june 2023. doi:
https://doi.org/10.19184/jpf.v7i3.8599
.