PENGEMBANGAN BAHAN AJAR FISIKA BERUPA BUKU BERBASISREACT (RELATING, EXPERIENCING, APPLYING, COOPERATING, AND TRANSFERRING) PADA PEMBELAJARAN FISIKA DI SMA
Rofiah Al Adawiyah

Albertus Djoko Lesmono

Sri Handono Budi Prihandono
Abstract
Abstract

REACT (Relating, Experiencing, Applying, Cooperating, and Transferring)
was one of teach model in contextualization proposed by Michael L. Crawford.
Therefore, this research was focused on the development of teaching materials based
on REACT in learning physics for Senior High School. A product produced by this
research is the students' book. The purpose of this study to determine the validity of
book, describing effectiveness and student's response after using teaching material
based on REACT. The research used research and development (R&D) model with the
procedure claimed by Borg and Gall, which was modified into four phase, namely:
1)research and information gathering, 2)planning, 3)development of initial design of
product,until 4)initial field experiment. Data result analyzed by descriptive qualitative
method and quantitative descriptive. The results of this research indicates that the
teaching materials based on REACT was very good with validity 90,02%. Meanwhile,
teaching materials in the form of teaching material-based on REACT has medium
value N-Gain amount 0,69 ,but student gives good response with 84,41% positive to
teaching materials based on REACT.
Key word: teaching materials based on REACT, validity, effectiveness, response.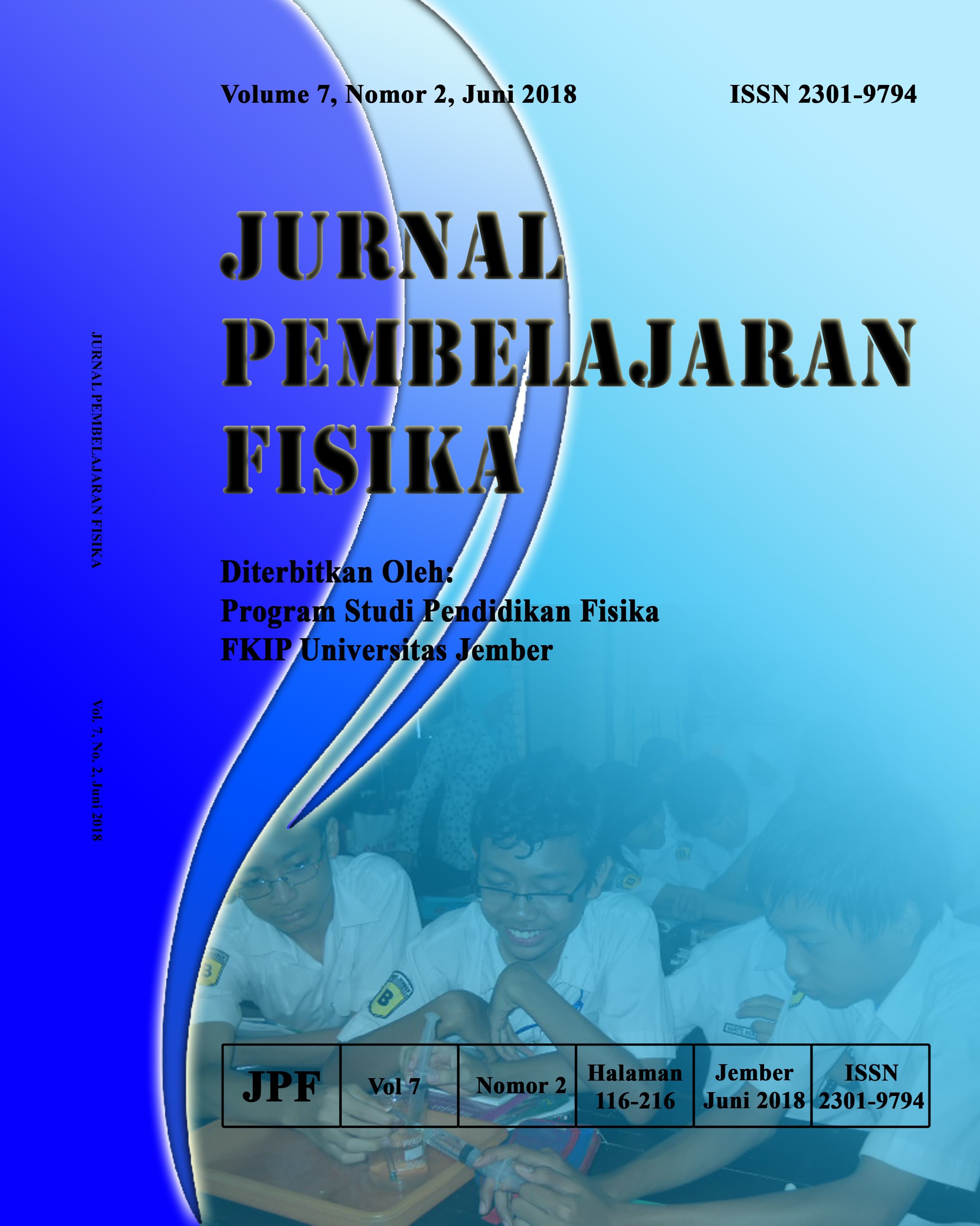 How to Cite
ADAWIYAH, Rofiah Al; LESMONO, Albertus Djoko; PRIHANDONO, Sri Handono Budi. PENGEMBANGAN BAHAN AJAR FISIKA BERUPA BUKU BERBASISREACT (RELATING, EXPERIENCING, APPLYING, COOPERATING, AND TRANSFERRING) PADA PEMBELAJARAN FISIKA DI SMA.
JURNAL PEMBELAJARAN FISIKA
, [S.l.], v. 7, n. 2, p. 202-209, june 2018. ISSN 2721-1959. Available at: <
https://jurnal.unej.ac.id/index.php/JPF/article/view/7929
>. Date accessed: 03 june 2023. doi:
https://doi.org/10.19184/jpf.v7i2.7929
.