MODEL GI-GI (GROUP INVESTIGATION-GUIDED INQUIRY) DALAM PEMBELAJARAN GERAK LURUS DI SMA NEGERI RAMBIPUJI (Studi pada Aktivitas Belajar Siswa, Efektivitas Pembelajaran, dan Hasil Belajar Siswa)
Mahmudah Rizqi Amalia

Indrawati Indrawati

Subiki Subiki
Abstract
This article concentrated about the result of an experimental research about the effect of GI-GI (Group Investigation-Guided Inquiry) on the tenth grade students' straight motion learning at SMA Negeri Rambipuji year 2016/2017. The aims of this research were to describe the students' physics learning activities, to describe the learning effectiveness, and to study the effect of the model on the students' physics learning achievement in straight motion learning. The design of this research was true experiment with post test only control group design. The respondent of the research was chosen by using cluster random sampling. This research was conducted to X MIPA 1 as an experiment  class and X MIPA 3 as a control class. The techniques and instruments of data collection on this research were documentation, observation, achievement test (post-test), and interviews. The data of the students' activities were collected by using observation and documentation. Based on the data, the average of the students' activity in learning physic was 93% which means very good. The data of the learning effectiveness was collected by calculating the result of post-test by using ER (Efektifitas Relatif) formula. The result of the calculation got 33% which means fair. In addition, the data of the students' achievement in learning straight motion by using the model was collected by using posttest. Then, the data collected was analyzed by using independent sample t-test (SPSS 22). The difference of the achievement between experiment class and control class is done by testing hypotheses two parties and obtained significant value of 0.000 < 0.05, then H0 rejected and Ha accepted. It means the results of this research were the students' physics learning activities by using GI-GI models categorized as very active, the learning effectiveness of GI-GI models on straight motion learning categorized as fair, and it's proved that the use of GI-GI significantly affected the tenth grade students' straight motion achievement at SMA Negeri Rambipuji.
Keywords: Learning Activities, Learning Effectiveness, Learning Achievement, Model GI-GI, Straight Motion.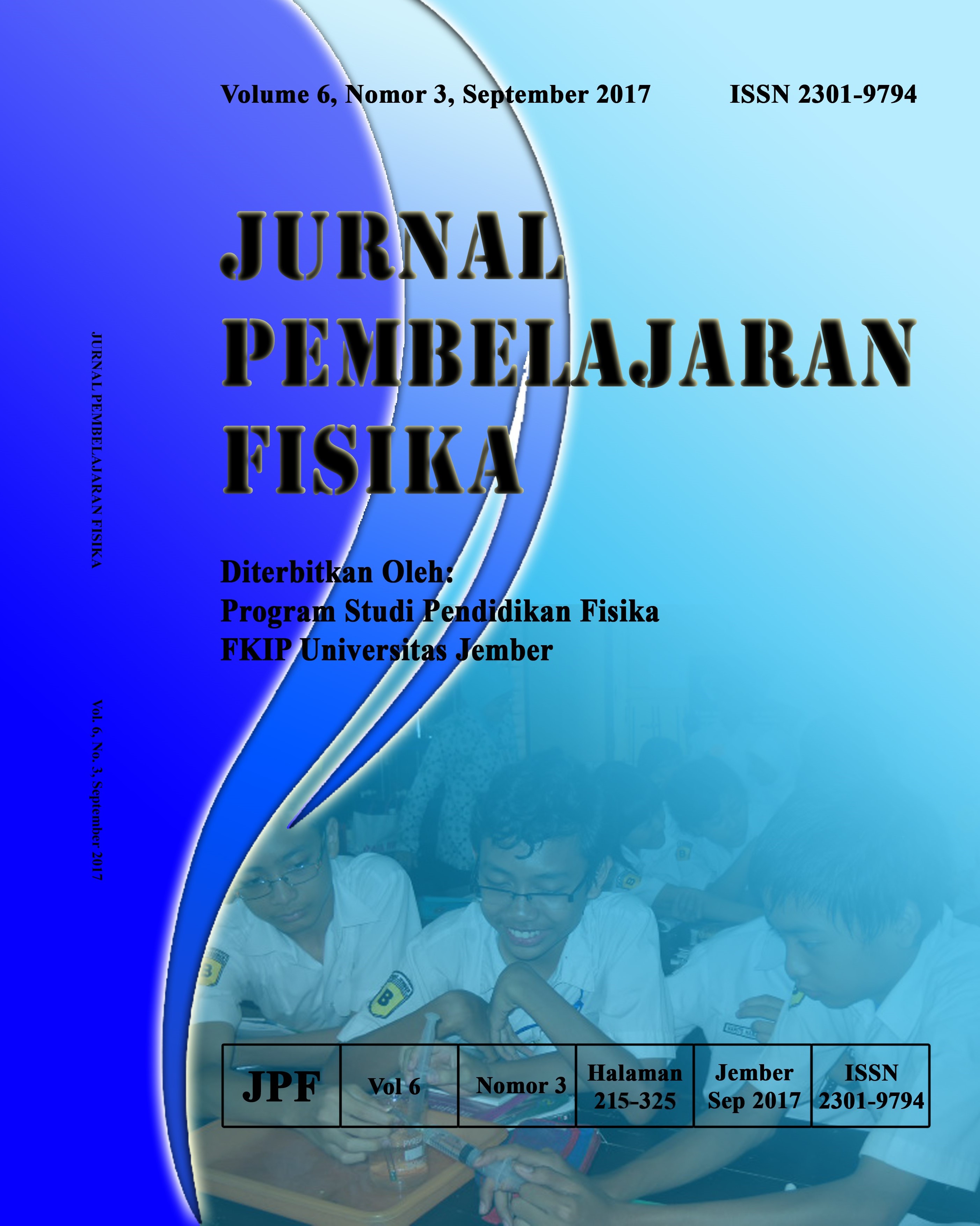 How to Cite
AMALIA, Mahmudah Rizqi; INDRAWATI, Indrawati; SUBIKI, Subiki. MODEL GI-GI (GROUP INVESTIGATION-GUIDED INQUIRY) DALAM PEMBELAJARAN GERAK LURUS DI SMA NEGERI RAMBIPUJI (Studi pada Aktivitas Belajar Siswa, Efektivitas Pembelajaran, dan Hasil Belajar Siswa).
JURNAL PEMBELAJARAN FISIKA
, [S.l.], v. 6, n. 3, p. 215-222, sep. 2017. ISSN 2721-1959. Available at: <
https://jurnal.unej.ac.id/index.php/JPF/article/view/5312
>. Date accessed: 05 june 2023. doi:
https://doi.org/10.19184/jpf.v6i3.5312
.