PENGGUNAAN DIODA JENIS LED (LIGHT EMITING DIODE) PADA PEMBUATAN SEL SURYA SEDERHANA BERBASIS BAHAN SEMIKONDUKTOR
Ahmad Ruslan Abdul A

Program Studi Pendidikan Fisika FKIP Universitas Jember
Abstract
Natural energy is very dependent on energy Human Needs one that is in need of modern man is the Electrical Energy. Energy Needs of electricity is currently only gained from burning carbon so that should be a Solution To Energy electricity can be very easy One of the ways and media that can be used is the use of LED (Light Emiting Diode) for Solar Cells Simple to determine the relationship between the circuit Solar Cells Sederhahana based LED (Light Emiting Diode) and the relationship Lux Value Terhahadap Voltage (mV) generated Networks Solar cells Sederhahana Be rbasis LED (Light Emiting Diode). This research is a kind of an experiment conducted at the Laboratory of Physics FKIP Jember University. This study tested the LED circuit which amounted to 10 pieces with a color that is white. Methods of data collection in this study include observation, and documentation. Source of data derived from dihasikan Voltage Solar Cells Using Simple with LED. Analism a Data With Output Voltage Against Linking LED with a series arrangement, series-parallel and parallel. The results of the research the highest potential difference is due to the connection circuit 10 series LED (light Emiting Diode) in series to get a high reinforcement. Based on the data obtained, the conclusions from this study is there is a relationship between the circuit (series, parallel and series-parallel) Solar Cells Based Sederhahana LED (Light Emiting Diode) against voltage (mV) is generated.

Keywords: Diode type LED (Light Emitting Diode), Simple Solar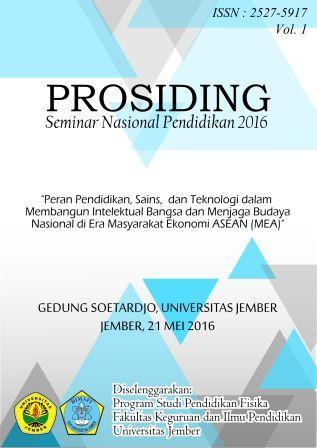 How to Cite
ABDUL A, Ahmad Ruslan. PENGGUNAAN DIODA JENIS LED (LIGHT EMITING DIODE) PADA PEMBUATAN SEL SURYA SEDERHANA BERBASIS BAHAN SEMIKONDUKTOR.
JURNAL PEMBELAJARAN FISIKA
, [S.l.], v. 4, n. 5, p. 442-449, may 2016. ISSN 2721-1959. Available at: <
https://jurnal.unej.ac.id/index.php/JPF/article/view/3615
>. Date accessed: 25 sep. 2023.