MODUL MIND MAPPING BERBASIS POTENSI LOKAL TERINTEGRASI SETS PADA MATA PELAJARAN IPA DI SMP
Zakaria Sandy Pamungkas

Pendidikan Fisika, Fakultas Keguruan dan Ilmu Pendidikan, Universitas Jember
Abstract
Potensi lokal merupakan sumber daya yang dimiliki suatu daerah meliputi sumber daya alam, manusia, teknologi, dan budaya yang dapat dikembangkan untuk membangun kemandirian nasional. Keragaman potensi lokal melahirkan pula tingkatan kebutuhan dan tantangan pengembangan yang berbeda antar daerah dalam rangka meningkatkan mutu dan mencerdaskan kehidupan masyarakat di setiap daerah. Kondisi saat ini, pelajar sebagai generasi muda banyak yang tidak tahu tentang potensi lokal di daerahnya padahal potensi lokal merupakan salah satu aset bagi bangsa Indonesia yang harus dipertahankan dan dikembangkan demi keberlangsungan semua masyarakat Indonesia . Tujuan penulisan artikel ini adalah untuk menentukan cara menanamkan keragaman potensi lokal melalui pendidikan. Metode penelitian ini berupa analisis kepustakaan. Hasil analisis menyimpulkan bahwa salah satu cara menanamkan potensi lokal dalam pendidikan melalui bahan ajar berupa modul mind mapping berbasis potensi lokal terintegrasi SETS ( Science, Environment, Technology, and Society) pada mata pelajaran IPA di SMP.

Kata kunci: Mind mapping, Potensi Lokal, SETS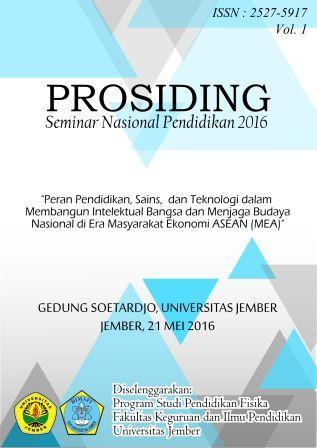 How to Cite
PAMUNGKAS, Zakaria Sandy. MODUL MIND MAPPING BERBASIS POTENSI LOKAL TERINTEGRASI SETS PADA MATA PELAJARAN IPA DI SMP.
JURNAL PEMBELAJARAN FISIKA
, [S.l.], v. 4, n. 5, p. 318-331, may 2016. ISSN 2721-1959. Available at: <
https://jurnal.unej.ac.id/index.php/JPF/article/view/3603
>. Date accessed: 25 sep. 2023.