ANALISIS RESPON SISWA SMA PLUS AL-AZHAR JEMBER TERHADAP MODUL FISIKA DIGITAL BERBASIS ARTICULATE STORYLINE 3 POKOK BAHASAN HUKUM NEWTON TENTANG GRAVITASI
Jihan Ni'ami Midroro

Program Studi Pendidikan Fisika Universitas Jember

Sri Handono Budi Prastowo

Lailatul Nuraini
Abstract
Abstract: The Covid-19 pandemic has an impact on many things, one of which is education. Changes that occur in the field of education are a learning system that is used as a distance learning system. Physics is a subject that is considered less attractive and tends to be boring. One of the reasons physics is considered boring is the lack of learning media to support physics material, especially digital ones. The purpose of this study was to analyze the responses of Al-Azhar Jember Senior High School students after using physics learning media in the form of an interactive digital physics module based on Articulate Storyline3, the subject of Newton's law about gravity. This research method is a quantitative research method using an instrument in the form of a response questionnaire given to class X MIPA SMA Plus Al-Azhar Jember via the google form page. Based on the research that has been done, it shows that digital physics moul gets a very positive response from respondents. The digital physics module obtained a score of 81, 60% on a limited scale trial and a score of 83.86% on a wide-scale trial.
Keywords: digital module, physics learning, students response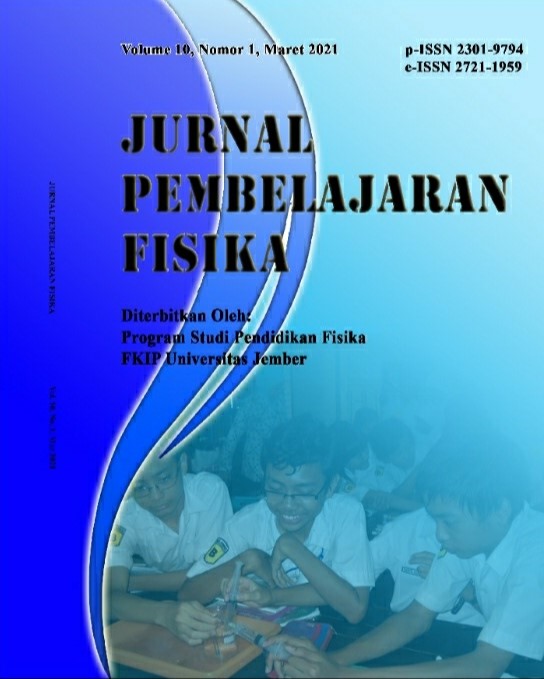 Section
Jurnal Pembelajaran Fisika
Jurnal Pembelajaran Fisika
 is licensed under a 
Creative Commons Attribution 4.0 International License
.