PENERAPAN MODEL PEMBELAJARAN CHILDREN LEARNING IN SCIENCE (CLIS) DISERTAI PENILAIAN KINERJA DALAM PEMBELAJARAN FISIKA UNTUK MENINGKATKAN AKTIVITAS BELAJAR DAN HASIL BELAJAR SISWA KELAS VIII-A MTS NURUL AMIN JATIROTO
Bambang Putra Kurniawan

Singgih Bektiarso

Subiki Subiki
Abstract
Existing fact gone to school that teacher use conventional model
make student more difficult to study physics. Children Learning in Science
(CLIS) represent one of model kontruktivisme emphasizing at activity of
student to complete in getting idea, corresponding to existing science,
solving and discussing the problem of which emerge so that student can tell
its own opinion, before teacher give completion of more erudite idea,
student led to development of new idea or more erudite idea. In model of
CLIS there are is assorted process executed by student so that use
performance assessment which its assessment consist of kognitif,
psikomotor and afektif. Result of research show that model of CLIS
accompanied performance assessment can improve activity learn and result
of learning student.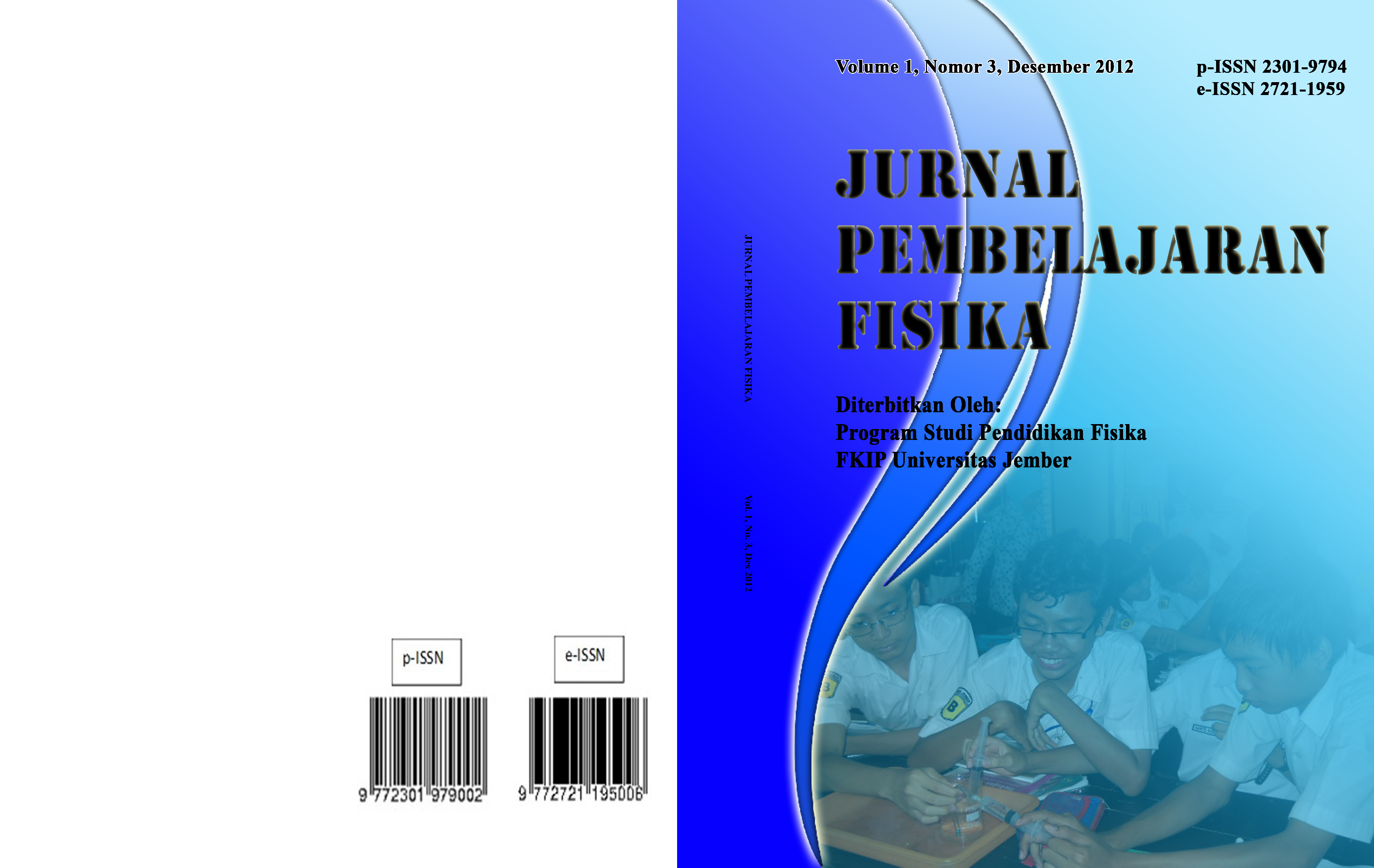 How to Cite
KURNIAWAN, Bambang Putra; BEKTIARSO, Singgih; SUBIKI, Subiki. PENERAPAN MODEL PEMBELAJARAN CHILDREN LEARNING IN SCIENCE (CLIS) DISERTAI PENILAIAN KINERJA DALAM PEMBELAJARAN FISIKA UNTUK MENINGKATKAN AKTIVITAS BELAJAR DAN HASIL BELAJAR SISWA KELAS VIII-A MTS NURUL AMIN JATIROTO.
JURNAL PEMBELAJARAN FISIKA
, [S.l.], v. 1, n. 3, p. 328-333, feb. 2021. ISSN 2721-1959. Available at: <
https://jurnal.unej.ac.id/index.php/JPF/article/view/23180
>. Date accessed: 30 sep. 2023. doi:
https://doi.org/10.19184/jpf.v1i3.23180
.