PENINGKATAN AKTIVITAS DAN KETUNTASAN HASIL BELAJAR MENGGUNAKAN MODEL COOPERATIVE LEARNING TIPE STUDENT TEAMS ACHIEVEMENT DIVISION (STAD) DENGAN PERFORMANCE ASSESSMENT DALAM PEMBELAJARAN IPA FISIKA SMP NEGERI 1 WONOSARI
Suhdi Suhdi

Tjiptaning Suprihati

Sri Astutik
Abstract
This research is a class act that research subjects are defined in class VIII A State
Wonosari SMP 1 academic year 2012/2013 using the Model Cooperative Learning Study
Student Teams Achievement Division (STAD) and Performance Assessment in science
learning Physics. STAD model is characterized by a structure of tasks, goals, and rewards
cooperative. Students work together in the spirit of cooperative learning situations need to
work together to achieve common goals and coordinate efforts in completing the task.
Performance assessment is an assessment based on the observation of the activities of
students as evaluators happened. Assessment conducted on performance, behavior or
student interaction study, which began on October 16, 2012 until 20 November 2012 with a
data collection method used is the method of observation, documentation, interviews, and
tests. The data obtained are all teachers and student activity during the learning process and
learning outcomes ongoing cycle I and cycle II and the results of interviews with teachers
and students' field of study.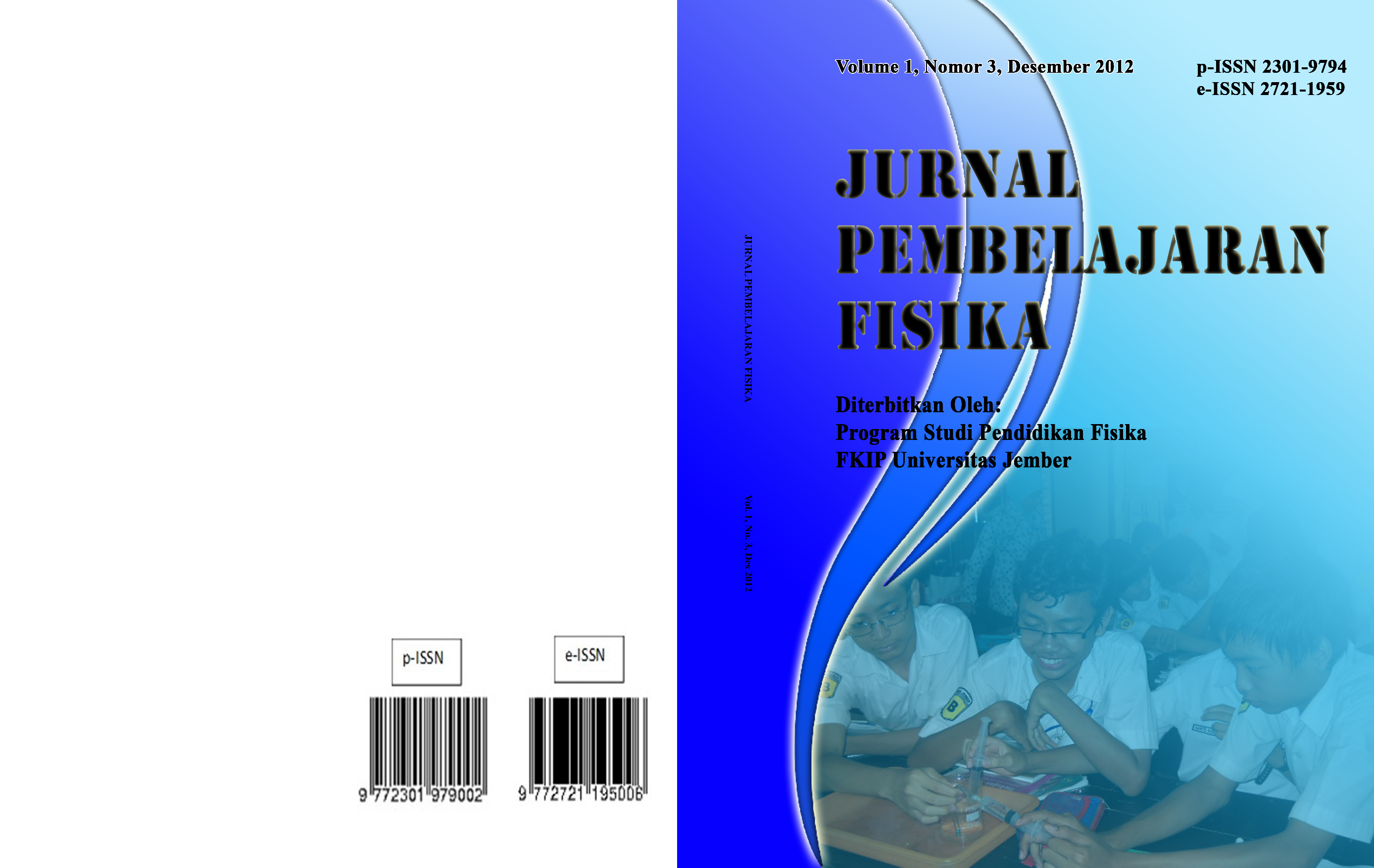 How to Cite
SUHDI, Suhdi; SUPRIHATI, Tjiptaning; ASTUTIK, Sri. PENINGKATAN AKTIVITAS DAN KETUNTASAN HASIL BELAJAR MENGGUNAKAN MODEL COOPERATIVE LEARNING TIPE STUDENT TEAMS ACHIEVEMENT DIVISION (STAD) DENGAN PERFORMANCE ASSESSMENT DALAM PEMBELAJARAN IPA FISIKA SMP NEGERI 1 WONOSARI.
JURNAL PEMBELAJARAN FISIKA
, [S.l.], v. 1, n. 3, p. 278-284, feb. 2021. ISSN 2721-1959. Available at: <
https://jurnal.unej.ac.id/index.php/JPF/article/view/23171
>. Date accessed: 30 sep. 2023. doi:
https://doi.org/10.19184/jpf.v1i3.23171
.