ANALISIS KETERCAPAIAN KOMPETENSI (STANDAR KOMPETENSI DAN KOMPETENSI DASAR) MATA PELAJARAN FISIKA PADA HASIL UJIAN NASIONAL TINGKAT SMA DI KOTA PASURUAN, KABUPATEN PASURUAN, DAN KABUPATEN PROBOLINGGO
Zhulfi Prasetyadi

Sri Astutik

Supeno Supeno
Abstract
The national examination is one of the government's national assessment to
measure the success of students who have completed education at school or madrasah
nationally. The research is analysis of successful competency (competency standard and
basic competence) Physics in National Examination. This research is descriptive method of
ex post facto. This study population is 2 high schools and one private school Pasuruan,
Pasuruan and Probolinggo regency. The respondents of this study are physics teachers and
students. Students in the study were students who graduated in 2008, 2009 and 2010.
Measuring achievement of competence using analysis calculating the average of successful
competencies, whereas to determine the factors of successful and unsuccessful in this
research use questionnaire and interview. Competency standards that have been analyzed
are classified in accordance with the average value of a predefined level of achievement.
Mean values were divided into five, namely: Tk ≥ 80%, 60% ≤ Tk <80%, 40% ≤ Tk <60%,
20% ≤ Tk <40%, and Tk <20%.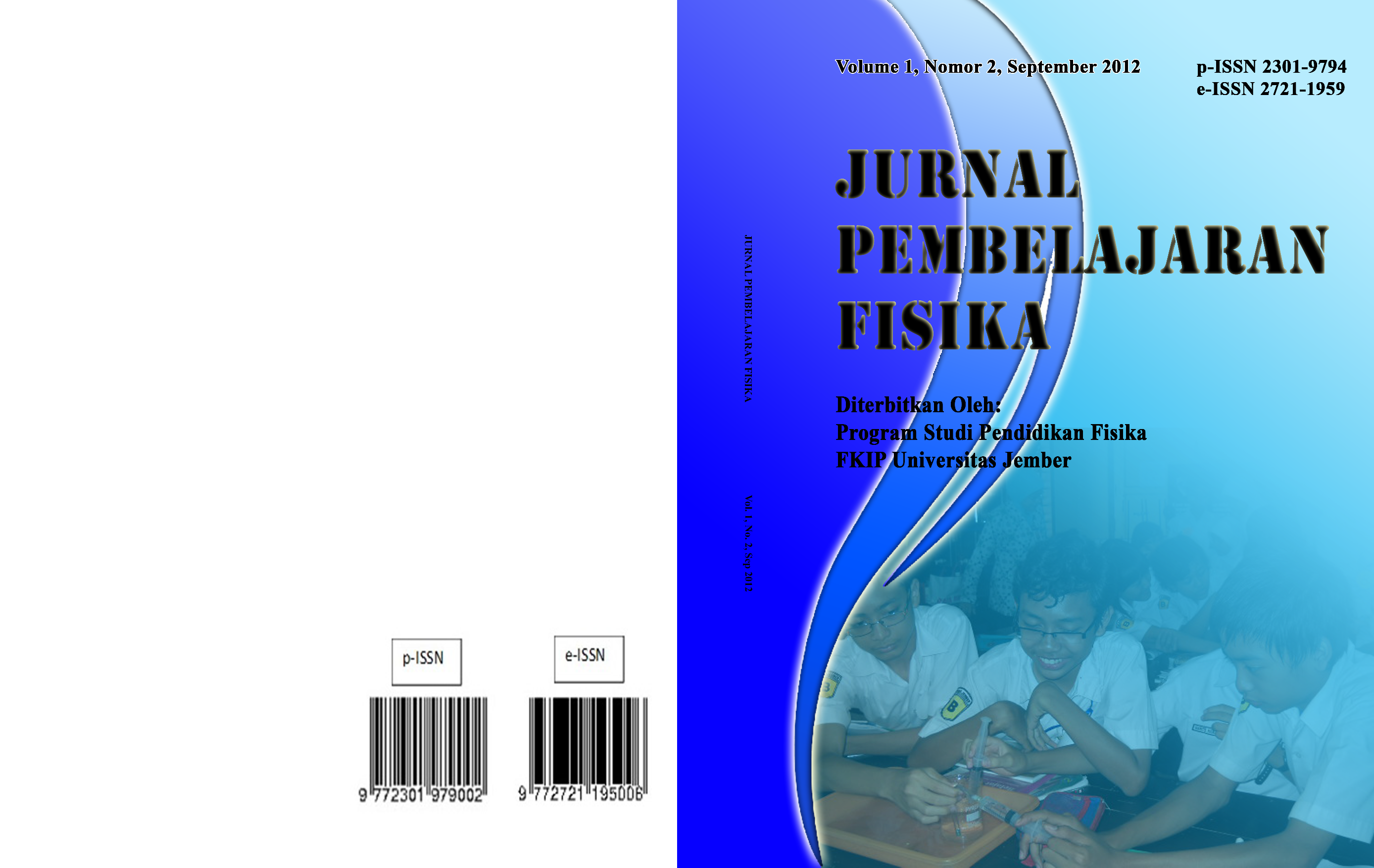 How to Cite
PRASETYADI, Zhulfi; ASTUTIK, Sri; SUPENO, Supeno. ANALISIS KETERCAPAIAN KOMPETENSI (STANDAR KOMPETENSI DAN KOMPETENSI DASAR) MATA PELAJARAN FISIKA PADA HASIL UJIAN NASIONAL TINGKAT SMA DI KOTA PASURUAN, KABUPATEN PASURUAN, DAN KABUPATEN PROBOLINGGO.
JURNAL PEMBELAJARAN FISIKA
, [S.l.], v. 1, n. 2, p. 172-177, feb. 2021. ISSN 2721-1959. Available at: <
https://jurnal.unej.ac.id/index.php/JPF/article/view/23155
>. Date accessed: 04 oct. 2023. doi:
https://doi.org/10.19184/jpf.v1i2.23155
.