PERBANDINGAN HASIL BELAJAR FISIKA SISWA MENGGUNAKAN MODEL PEMBELAJARAN PROBLEM BASED LEARNING (PBL) DENGAN LEARNING CYCLE 5E BERORIENTASI KETERAMPILAN PROSES DI SMA
Mariya Silfiana Rofiqoh

Singgih Bektiarso

Sri Wahyuni
Abstract
Problem Based Learning (PBL) is model which confronts problems in learning, where the students perform authentic investigation to find real solutions to real problem. Learning cycle is model of learning phase consists of activities organized, so that students can master the competencies that must be achieved in the way of learning to play an active role. Purpose of this study was to examine differences in process of science skills students and result studies after using PBL and 5E Learning Cycle model. And, to reviewing the advantages and disadvantages of PBL and 5E Learning Cycle model. This type of research is comparation research in SMA Negeri Kalisat. The techniques of data collection are used interviews, observation, documentation and tests. Analisa data using Independent Samples T-test in SPSS 16. Research hypothesis 1 shows that Sig. (2-tailed) 0.002 £ 0.05,  there are significant differences in the skills of the students using the process PBL and 5E learning cycle model. Research hypothesis 2 shows that Sig. (2-tailed) 0.038 £ 0.05, there are significant difference in student learning outcomes that use PBL and 5E learning cycle models. 5E learning cycle model has  advantages of experimental activities more focused and students are given the opportunity to apply the material they can in the new concept and disadvantage is the time management often miss and students uncotrolled. PBL in terms of time or the students are more controlled, more active students discuss and convey opinions and disadvantage is less students gain practical implementation,and matter of practice less according to the purpose.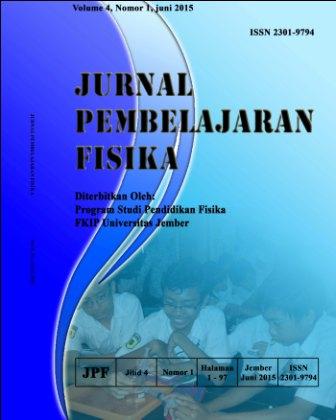 How to Cite
ROFIQOH, Mariya Silfiana; BEKTIARSO, Singgih; WAHYUNI, Sri. PERBANDINGAN HASIL BELAJAR FISIKA SISWA MENGGUNAKAN MODEL PEMBELAJARAN PROBLEM BASED LEARNING (PBL) DENGAN LEARNING CYCLE 5E BERORIENTASI KETERAMPILAN PROSES DI SMA.
JURNAL PEMBELAJARAN FISIKA
, [S.l.], v. 4, n. 1, june 2015. ISSN 2721-1959. Available at: <
https://jurnal.unej.ac.id/index.php/JPF/article/view/1864
>. Date accessed: 05 oct. 2023.