PENERAPAN MODEL PEMBELAJARAN JURISPRUDENSIAL INQUIRY DISERTAI MEDIA AUDIO VISUAL PADA PEMBELAJARAN FISIKA DI SMA
Aulia Sulistyaningrum

Trapsilo Prihandono

, Subiki
Abstract
Jurisprudensial inquiry learning model is a model of learning which is designed to train information processing abilities of students and civic issues with complete frame of reference or way of thinking jurisprudensial (science of human laws), so the students can analyze and think of the issues that exist in the community. In this model, students learn to argue in her group who will defend what is already found in the company of his own students to stick to his guns. As long as students are doing to solve the problem, the teacher acts as a tutor that will help students define what they know and what students should know or to understand and solve the problem. Implementation model of learning jurisprudensial this inquiry will be combined with audiovisual media. Audiovisual media is a combination of visual media (images) and media audio (sound). Visual media is able to facilitate understanding and learning interest of students as well as strengthen the memory. The purpose of this study was to describe the activity of learning physics students through the learning model Jurisprudensial Audio Visual media accompanied the inquiry and Examine differences in outcome studied physics students through Jurisprudensial inquiry learning model with Audio Visual media with the model used at the school. This type of research is research conducted experiments in SMA Negeri Kalisat. Method of data collection in this research include observation, documentation and tests. Data source derived from the assessment by the researcher, observer, assessment and post-test. Data analysis using Independent Samples T-test in SPSS 16 software to answer the second problem formulation. The results of research and analysis research first hypothesis test data showthat the test results showed that the Independent Samples T-test in SPSS 16 software acquired Sig. (2-tailed) amounted to 0,017 or ≤ 0.05. This shows that there is a significant difference in student learning outcome experiment classes and the class of the control. The percentage of active students on average by aliens in 80,64% criterion is very active.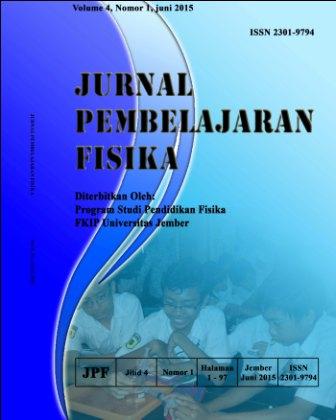 How to Cite
SULISTYANINGRUM, Aulia; PRIHANDONO, Trapsilo; SUBIKI, ,. PENERAPAN MODEL PEMBELAJARAN JURISPRUDENSIAL INQUIRY DISERTAI MEDIA AUDIO VISUAL PADA PEMBELAJARAN FISIKA DI SMA.
JURNAL PEMBELAJARAN FISIKA
, [S.l.], v. 4, n. 1, p. 21 - 25, june 2015. ISSN 2721-1959. Available at: <
https://jurnal.unej.ac.id/index.php/JPF/article/view/1736
>. Date accessed: 05 oct. 2023.