PENGARUH MODEL PEMBELAJARAN PROBLEM BASED INSTRUCTION (PBI) DISERTAI STRATEGI GUIDED NOTE TAKING TERHADAP SIKAP ILMIAH DAN HASIL BELAJAR FISIKA SISWA KELAS X DI SMA NEGERI ARJASA
Lisalamah Abadiyah

, Yushardi

, Sudarti
Abstract
Problem Based Instruction (PBI) accompanied by guided note-taking strategy is a model combined with a strategy in which there were small groups of students working together to solve a problem that is presented through guided note-taking. The implementation of this regulation that is capable of improving a scientific attitude and results of student learning because it is in the process of teaching and learning of students trained to develop their own knowledge, develop problem-solving, and increase the confidence of students. The use of guided note-taking can make every student poured the idea in his mind to find a problem with a complete record of a given teacher. The purpose of this research is to examine the differences in scientific attitude and examine the differences in the results between two students studied physics classes (classes of experimental and control). Type of this research is to design experiments, using a control group post-test only. This research has been completedat Arjasa SMAN. Data collection techniques used are now, tests, interviews and documentation. The results of data analysis scientific attitude of students show sig. value (1-tailed) is 0,0195 or < 0.05. The results of data analysis results showed students studied physics sig. value (1-tailed) is 0,0015or < 0.05 at the first meeting and sig. value (1-tailed) is 0.02 or <0.05 at second meeting. Conclusion of this research is a scientific attitude of students and the results studied physics class experiment is better than the class of the control.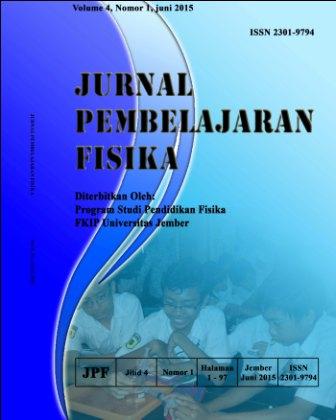 How to Cite
ABADIYAH, Lisalamah; YUSHARDI, ,; SUDARTI, ,. PENGARUH MODEL PEMBELAJARAN PROBLEM BASED INSTRUCTION (PBI) DISERTAI STRATEGI GUIDED NOTE TAKING TERHADAP SIKAP ILMIAH DAN HASIL BELAJAR FISIKA SISWA KELAS X DI SMA NEGERI ARJASA.
JURNAL PEMBELAJARAN FISIKA
, [S.l.], v. 4, n. 1, p. 9 - 14, aug. 2015. ISSN 2721-1959. Available at: <
https://jurnal.unej.ac.id/index.php/JPF/article/view/1734
>. Date accessed: 05 oct. 2023.