PENGARUH JENIS DAN BENTUK LAMPU TERHADAP INTENSITAS PENCAHAYAAN DAN ENERGI BUANGAN MELALUI PERHITUNGAN NILAI EFIKASI LUMINUS
Bima Brilliando Agam

. Yushardi

Trapsilo Prihandono
Abstract
The research aims to identify the effect of kind and shape of lamp toward the Illuminancy and dissipation energy throught the calculation of luminous efficacy value. Based on the analysis of data after research showed that the type of LED light illumination intensity greater than most types of fluorescent lamps and incandescent lamp types with an average intensity of illumination of 30 lux. This makes the lamp type LED has the smallest dissipation energy rate. The research data also showed that the shape of the light also affects the intensity of the resulting lighting, lamp with a spiral shape has the greatest level of lighting intensity than light 2U form, and 3U form with an average intensity of illumination of 24 lux. Illumination intensity difference this makes Exiles Energy obtained through the calculation of the value of luminous efficacy, also produce different grades as well. The greater the intensity of illumination, then the smaller the energy discharge lamps.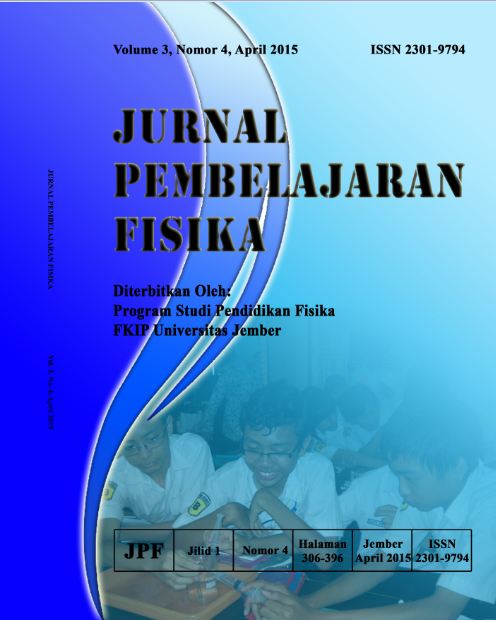 How to Cite
BRILLIANDO AGAM, Bima; YUSHARDI, .; PRIHANDONO, Trapsilo. PENGARUH JENIS DAN BENTUK LAMPU TERHADAP INTENSITAS PENCAHAYAAN DAN ENERGI BUANGAN MELALUI PERHITUNGAN NILAI EFIKASI LUMINUS.
JURNAL PEMBELAJARAN FISIKA
, [S.l.], v. 3, n. 4, mar. 2015. ISSN 2721-1959. Available at: <
https://jurnal.unej.ac.id/index.php/JPF/article/view/1435
>. Date accessed: 26 sep. 2023.