ANALISIS PENGARUH SUHU TERHADAP KONSTANTA PEGAS DENGAN VARIASI JUMLAH LILITAN DAN DIAMETER PEGAS BAJA
Erik Luky Ikhtiardi

Rif'ati Dina Handayani

Albertus Djoko Lesmono
Abstract
Spring is an elastic material. The elasticity of the spring is influenced by the type of material, diameter, number of coils and temperature. Temperature affects all the mechanical properties of the material. This study aimed to describe the effect of temperature on the spring constant with variation of the number of turns and the diameter of the spring. Spring used is a spring press made of steel with the number of windings 10, 15, and 20 and the diameter of the spring is 10 mm, 15 mm, and 20 mm. used while the temperature is 270C, 500C, 700C, dan 900C. The results showed that the temperature affects the spring constant, the higher the temperature and the greater the number of turns and the diameter of the spring, the smaller the value of the spring constant. This is because the increase in temperature caused the expansion so that the bonding of atoms constituent particles that cause the spring to stretch the length so that the resulting smaller constants.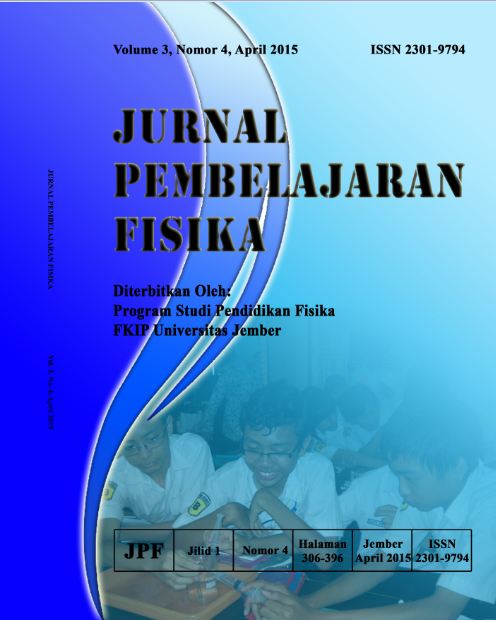 How to Cite
LUKY IKHTIARDI, Erik; DINA HANDAYANI, Rif'ati; DJOKO LESMONO, Albertus. ANALISIS PENGARUH SUHU TERHADAP KONSTANTA PEGAS DENGAN VARIASI JUMLAH LILITAN DAN DIAMETER PEGAS BAJA.
JURNAL PEMBELAJARAN FISIKA
, [S.l.], v. 3, n. 4, mar. 2015. ISSN 2721-1959. Available at: <
https://jurnal.unej.ac.id/index.php/JPF/article/view/1430
>. Date accessed: 25 sep. 2023.