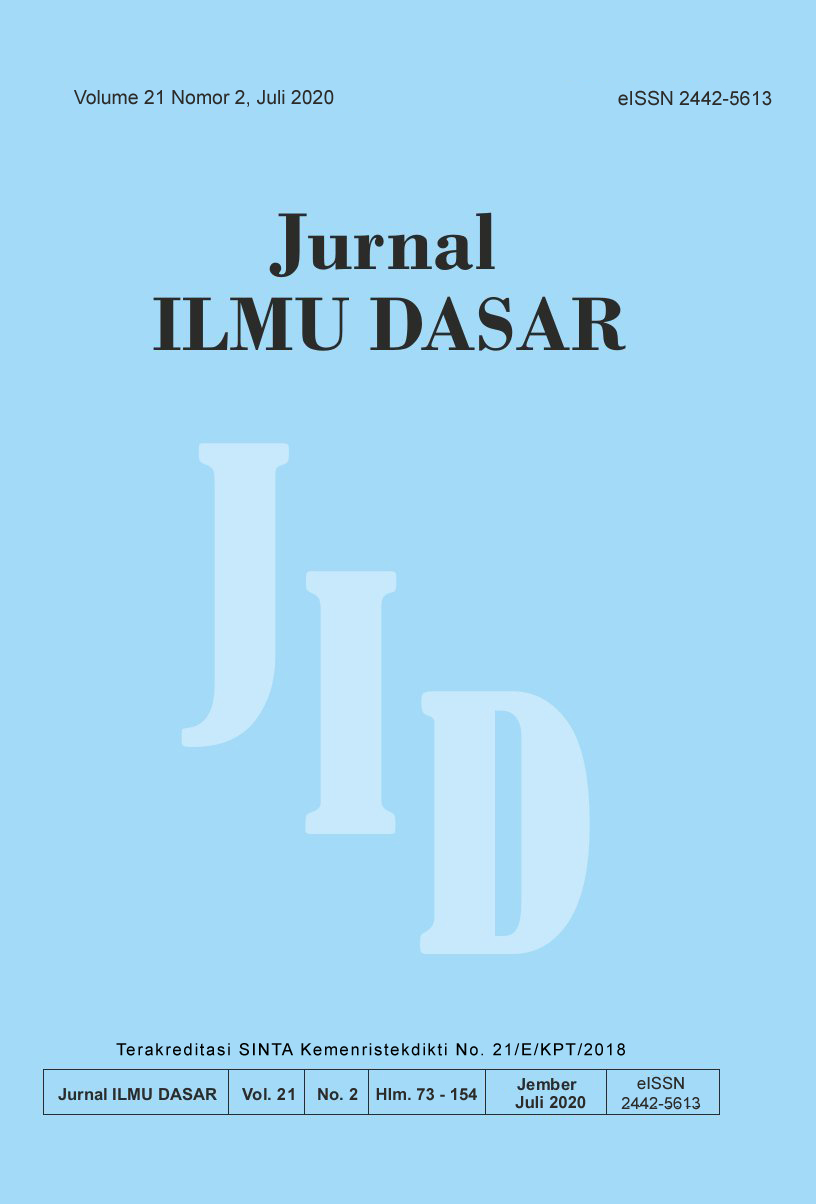 Jurnal ILMU DASAR (JID) is a national peer-reviewed and open access journal that publishes research papers encompasses all aspects of natural sciences including Mathematics, Physics, Chemistry and Biology JID publishes 2 issues in 1 volume per year. First published, volume 1 issue 1, in January 2000 and avalaible in electronically since 2012. Jurnal ILMU DASAR is accredited by the Ministry of Research, Technology and Higher Education of the Republic of Indonesia (RISTEKDIKTI), No. 200/M/KPT/2020 (December. 23, 2020). All accepted manuscripts will be published worldwide JID has been indexed in: 


















Jurnal ILMU DASAR has been collaborated in Konsorsium Biologi Indonesia and Himpunan Kimia Indonesia since 2017.
Author Index:
Amelia,105; Anton Prasetyo, 81; Bagus Wicaksono Arianto, 149; Bayu Buwana, 123; Bungkus Pratikno, 139; Dwi Hilda Putri, 87; Dwi Koko Pratoko, 133; E. Ristin Puji Indiyati, 139; Ervina Dwi Inggarwati, 81; Etik Zukhronah, 97; Fadhilatul Nida Aryani, 97; Fifteen Aprila Fajrin, 133; Finas Rahmayanti, 133; Gangga Anuraga, 149; Hani Fitriani, 73; Hartati, 87; Mohammad Sulton Hakim, 115; N Sri Hartati, 73; Nur Ayu Ramadanti, 87; Nurhamidar Rahman, 73; Nurul Priyantari, 123; Parawita Dewanti, 115; Slameto, 115; Sogandi, 105; Sri Hartatik, 115; Sri Sulistijowati Handajani, 97; Supatmi, 73; Supriyadi, 123; Tri Handoyo, 115; Vina Nurul Istighfarini, 81.