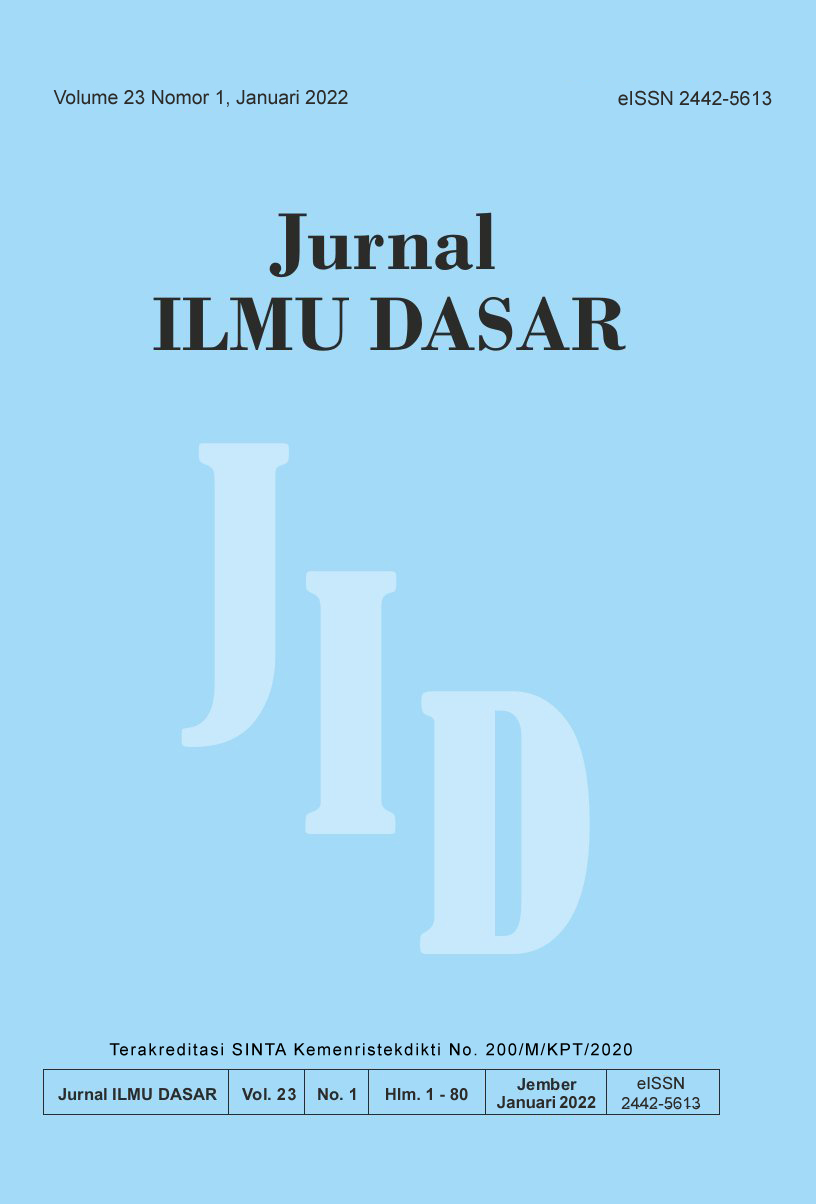 Jurnal ILMU DASAR (JID) is a national peer-reviewed and open access journal that publishes research papers encompasses all aspects of natural sciences including Mathematics, Physics, Chemistry and Biology JID publishes 2 issues in 1 volume per year. First published, volume 1 issue 1, in January 2000 and avalaible in electronically since 2012. Jurnal ILMU DASAR is accredited by the Ministry of Research, Technology and Higher Education of the Republic of Indonesia (RISTEKDIKTI), No. 200/M/KPT/2020 (December. 23, 2020). All accepted manuscripts will be published worldwide JID has been indexed in:


















Jurnal ILMU DASAR has been collaborated in Konsorsium Biologi Indonesia and Himpunan Kimia Indonesia since 2017.
Author Index:
Adi Wirawan, 75; Ady Daryanto, 55 Alfino Sebastian, 23; Annisa Rahmita Soemarsono, 17; Arief Rachman Hakim, 1; Di Asih I Maruddani, 1; Dita Wahyuningtyas. 9; Endah Puspitasari, 43; Erlia Narulita, 49; Eva Tyas Utami, 37; Evi Umayah Ulfa, 43; Firdaus Ubaidillah, 9; Hari Sulistiyowati, 29; Indah Chairun Nisa, 17; Kartika Nugraheni, 65; Kosala Dwidja Purnomo, 9; Mahriani, 37; Mikhael Gilang Pribadi P. Pratama, 75; Muhammad Asyrofi, 29; Muksin, 75; Nadiyah Hafidah Sinambela, 1; Nindita Fitria Primasari, 37; Nur Futri Salsabilla Febriani, 55; Nur Mufidatul Ula, 75; Resti Lestari, 55; Retno Wimbaningrum, 29; Salma Khatami Al Hadi, 49; Sigit Pancahayani, 17; Sigit Widiyanto, 55; Siti Murdiyah, 49.