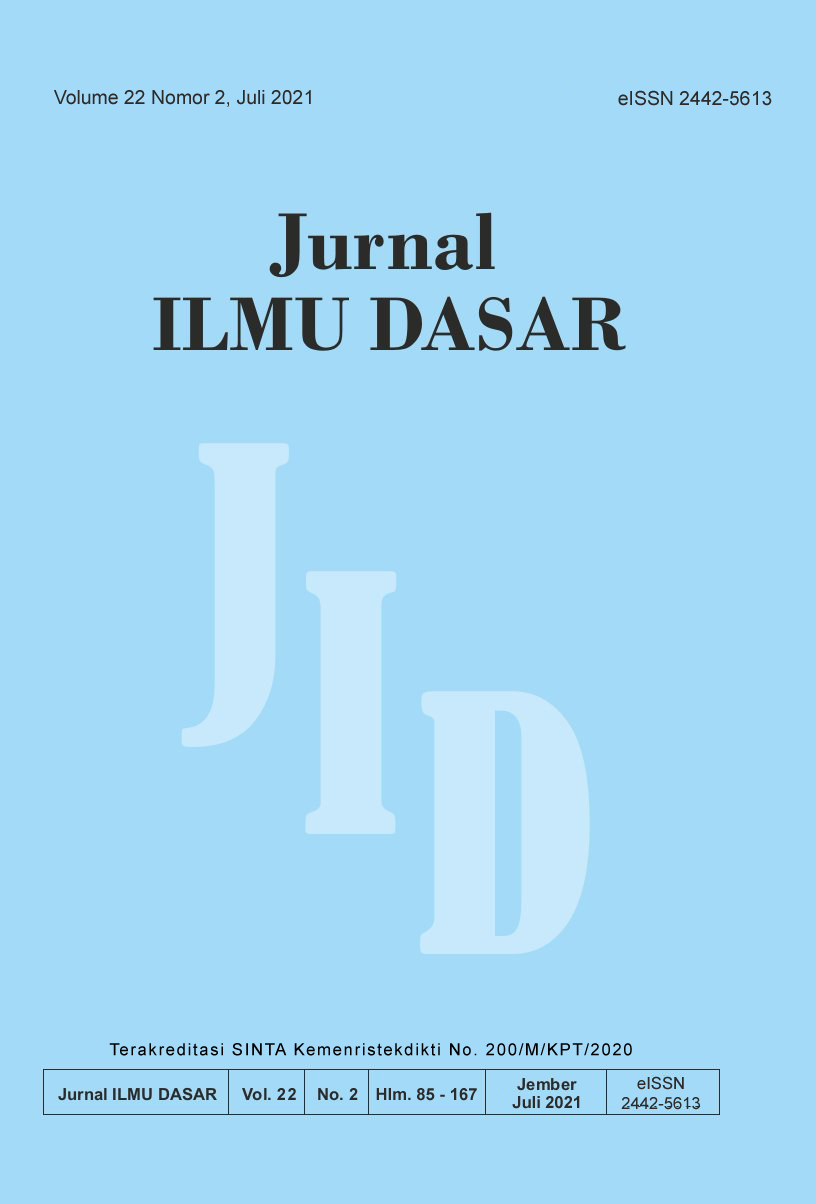 Jurnal ILMU DASAR (JID) is a national peer-reviewed and open access journal that publishes research papers encompasses all aspects of natural sciences including Mathematics, Physics, Chemistry and Biology JID publishes 2 issues in 1 volume per year. First published, volume 1 issue 1, in January 2000 and avalaible in electronically since 2012. Jurnal ILMU DASAR is accredited by the Ministry of Research, Technology and Higher Education of the Republic of Indonesia (RISTEKDIKTI), No. 200/M/KPT/2020 (December. 23, 2020). All accepted manuscripts will be published worldwide JID has been indexed in: 


















Jurnal ILMU DASAR has been collaborated in Konsorsium Biologi Indonesia and Himpunan Kimia Indonesia since 2017.
Author Index:
Agus Rubiyanto, 127; Alfonsina Lisda Puspa Dewi, 153; Ali Wafa, 93; Anggraeni Arum Sari, 137; Daniar Alfi Ana, 161; Dian Anggria Sari, 137; Dina Dyah Saputri, 101; Dwi Setyati, 161; Endarko, 127; Fanani Haryo Widodo, 147; Firdaus, 147; Fitriani Utina, 85; Hani Fitriani, 119; Hari Purnomo, 93; Hari Sulistiyowati, 161; Ida Kinasih, 137; Joko Harianto, 153; Lailany Yahya, 85; Meilisha Putri Pertiwi, 101; Miftakhul Firdhaus, 127; N. Sri Hartati, 119; Nanang Tri Haryadi, 93; Nasori, 119; Nurhaidar Rahman, 119; Nurhamidar Rahman, 119; Nurwan, 85; Ramadhani Eka Putra, 137; Saifuddin Hasjim, 93; Sigit Nugroho, 147; Syafira Fatihatul Husna, 111.