Species Diversity of Bivalves and Gastropods at the Tanjung Rising Coastal, Bangka Belitung Island
Chintya Nurul Fatonah

Program Studi Pendidikan Biologi, Fakultas Keguruan dan Ilmu Pendidikan, Universitas Pakuan Bogor

Restu Ayu Ningtias

Program Studi Pendidikan Biologi, Fakultas Keguruan dan Ilmu Pendidikan, Universitas Pakuan Bogor

Meilisha Putri Pertiwi

Program Studi Pendidikan Biologi, Fakultas Keguruan dan Ilmu Pendidikan, Universitas Pakuan Bogor

Raden Teti Rostikawati

Program Studi Pendidikan Biologi, Fakultas Keguruan dan Ilmu Pendidikan, Universitas Pakuan Bogor
Abstract
Tanjung Rising Coastal, located in Dendang Village, Bangka Belitung Islands, has a large variety of substrates and organisms. One of the types of marine life studied is the Mollusk Phylum including the Bivalve and Gastropod classes. To find out the diversity of Bivalvia and Gastropoda, this study was carried out on Tanjung Rising Coastal, Bangka Belitung Islands. The study was conducted in December 2020-August 2021, using belt transect method with purposive sampling technique. Samples were collected at station 1 with a sandy substrate and station 2 with a muddy substrate. The results of this study found 1,372 individuals from the Bivalvia class consisting of 7 families and 12 species, while from the Gastropod class yielded 2,630 individuals consisting of 5 families and 7 species. The diversity and evenness index at both stations is relatively low which means that there are species that dominate, because both stations have good habitats for the dominating species. In addition, temperature, pH, salinity, depth, and strong currents showed good values for Bivalvia and Gastropoda habitat. In summary, Tanjung Rising Beach is still a good habitat for invertebrate animals, especially Bivalvia and Gastropoda.
References
Andrade P, Arreola L, Belnas M, Bland E, Castillo A, Cisneros O, Diaz C, Do KT, Donate C, Espinoza E, Frater N, Gabriel G G, Gomez EA, Gonzalez GF, Guido P, Guidotti D, Espinoza MG, Lopez JH, Hernandez CE & Amador JZ. 2019. The Complete Mitogenome of The Invasive Japanese Mud Snail Batillaria attramentaria (Gastropoda:Batillariidae) from Elkhorn Slough, California, USA. Mitochondrial DNA Part B. 4(2): 4031-4032.

Asiah CPN. 2017. Keanekaragaman Gastropoda di Zona Litoral Lhok Seudu Leupung Aceh Besar sebagai Referensi Pendukung Pembelajaran Keanekaragaman Hayati Berbasis Lingkungan. Skripsi. Jurusan Pendidikan Biologi. Fakultas Tarbiyah dan Keguruan, Universitas Islam Negeri Ar-Raniry Darussalam Banda Aceh.

Baharuddin N, Basir NHM & Zainuddin SNH. 2019. Tropical Intertidal Gastropods: Insights on Diversity, Abundance, Distribution and Shell Morphometrics of Pulau Bidong, Malaysia. AACL Bioflux, 12(4): 1375-1387.

Bahri. 2008. Komposisi dan Pola Zonasi Vegetasi Hutan Mangrove. Skripsi. Gorontalo: Jurusan Teknologi Hasil Pertanian. Fakultas Pertanian. Universitas Negeri Gorontalo.

Carpenter KE & Niem VH. 1998. The Living Marine Resources of The Western Central Pacific. Volume 1. Seaweeds, Coral, Bivalves and Gastropods. Rome: Food and Agriculture Organization of The United Nations.

Carpenter KE & De Angelis N. 2016. The Living Marine Resources of The Eastern Central Atlantic. Volume 2. Bivalves, Gastropods, Hagfishes, Sharks, Batoid fishes and Chimaeras. Rome: Food and Agriculture Organization of The United Nations.

Febrita E, Darmawati & Astuti J. 2015. Keanekaragaman Gastropoda dan Bivalvia Hutan Mangrove Sebagai Media Pembelajaran Pada Konsep Keanekaragaman Hayati Kelas X SMA. Jurnal Biogenesis. 11(2): 119-128.

Flores-Garza R, García-Ibáñez S, Flores-Rodríguez P, Torreblanca-Ramírez C, Galeana-Rebolledo L, Valdés-González A, Suástegui-Zárate A & Violante-González, J. 2012. Commercially Important Marine Mollusks for Human Consumption in Acapulco, Mexico. Natural Resources, 03(01): 11-17.

Iswanti S, Ngabekti S & Martuti NKT. 2012. Distribusi dan Keanekaragaman Jenis Makrozoobentos Weleri Kabupaten Kendal di Sungai Damar Desa. Unnes Journal of Life Science. 1(2): 86-93.

Kisman MD, Ramadhan A & Djirimu M. 2016. Jenis-jenis dan Keanekaragaman Bivalvia di Perairan Laut Pulau Maputi Kecamatan Sojol Kabupaten Donggala dan Pemanfaatannya Sebagai Media Pembelajaran Biologi. E-Jipbiol. 4(1): 1-14.

Lestari Y, Munarti M & Kurniasih S. 2020. Inventarisasi Keanekaragaman Echinodermata di Pantai Seupang Sebagai Media Pembelajaran Biologi. Journal of Biology Education Research (JBER). 1(1): 33-40.

Lindawaty, Dewiyanti I & Karina S. 2016. Distribusi dan Kepadatan Kerang Darah (Anadara sp.) Berdasarkan TekstuSubstrat di Perairan Ulee Lheue Banda Aceh. Jurnal Ilmiah Mahasiswa Kelautan Dan Perikanan Unsyiah. 1:114-123.

Magurran. 1988. Ecological Diversity and Its Measurement. Princeton University Press.

Marpaung AAF, Yasir I & Ukkas M. 2014. Keanekaragaman Makrozoobenthos di Ekosistem Mangrove Silvofishery dan Mangrove Alami di Kawasan Ekowisata Pantai Boe, Kabupaten Takalar, Sulawesi Selatan. Bonorowo Wetland. 4(1): 1-11.

Masfadilah. 2017. Studi Keanekaragaman Gastropoda Berdasarkan Zonasi Mangrove di Kawasan Konservasi Mangrove Pantai Labuhan Sepulu Bangkalan Madura Sebagai Sumber Belajar Biologi. Skripsi. Program Studi Pendidikan Biologi. Fakultas Keguruan dan Ilmu Pendidikan. Universitas Muhammadiyah Malang.

Nento R, Sahami F & Nursinar S. 2013. Kelimpahan, Keanekaragaman dan Kemerataan Gastropoda di Ekosistem Mangrove Pulau Dudepo, Kecamatan Anggrek, Kabupaten Gorontalo Utara. Ilmiah Perikanan dan Kelautan. 1(1): 41-47.

Odum EP. 1993. Dasar-Dasar Ekologi. Penerjemah: Tjahyono Samingan.

Pertiwi MP & Saputri DD. 2020. Golden Apple Snail (Pomacea canaliculata) as An Alternative Protein Source in Pasupati Catfish (Pangasius sp.) fish feed. Nusantara Bioscience. 12(2): 162-167.

Putri AMS, Setya P, Saryanti & Niniek W. 2016. Hubungan Tekstur Sedimen dengan Kandungan Bahan Organik dan Kelimpahan Makrozoobenthos di Muara Sungai Banjir Kanal Timur Semarang. Available Online at Indonesian Journal of Fisheries Science an Thecnology (IJFST). 12(1): 75-80.

Rachmadianti AD, Purwanti F & Latifah N. 2018. Analisis Kerentanan Pantai Menggunakan Coastal Vulnerability Index (Cvi) di Wilayah Pesisir Tanjung Pandan, Kabupaten Belitung. Management of Aquatic Resources Journal (MAQUARES), 7(4): 298-306.

Ratih SA, Pertiwi MP & Rostikawati RT. 2021. Mollusk Diversity in The Intertidal Zone of Menganti Beach, Kebumen, Central Java. Depik Jurnal Ilmu-Ilmu Perairan, Pesisir dan Perikanan. 10(1): 23-29.

Ridwan M, Fathoni R, Fatihah I & Pangestu D A. 2016. Struktur Komunitas Makrozoobentos di Empat Muara Sungai Cagar Alam Pulau Dua, Serang, Banten. Al-Kauniyah: Jurnal Biologi. 9(1): 57-65.

Riniatsih I. 2016. Distribusi Jenis Lamun Dihubungkan dengan Sebaran Nutrien Perairan di Padang Lamun Teluk Awur Jepara. Jurnal Kelautan Tropis. 19(2): 101-107.

Rosady VP, Astuty S & Prihadi DJ. 2016. Kelimpahan dan Kondisi Habitat Siput Gonggong (Strombus turturella) di Pesisir Kabupaten Bintan, Kepulauan Riau. Perikanan Kelautan. VII(2): 35-44.

Rudi R, Sahami FM & Kasim F. 2017. Keanekaragaman Bivalvia di Kawasan Pantai Desa Katialada. Jurnal Ilmiah Perikanan Dan Kelautan. 5(1):12–17.

Saputri D. 2017. Keanekaragaman Jenis Bivalvia Di Zona Intertidal Tanjung Bilik Taman Nasional Baluran. Skripsi. Jurusan Biologi. Fakultas MIPA. Universitas Jember.

Shalihah HN, Purnomo PW & Widyorini N. 2017. Keanekaragaman Moluska Berdasarkan Tekstur Sedimen dan Kadar Bahan Organik pada Muara Sungai Betahwalang, Kabupaten Demak. Saintek Perikanan : Indonesian Journal of Fisheries Science and Technology. 13(1): 58–64.

Stakowian N & Simone LRL. 2018. Morphological Description of Cyrtopleura costata (Bivalvia :Pholadidae) from Southern Brazil. Journal of Pap.Avulsos Zoologia. 61: 1-7.

Supratman O, Farhaby AM & Ferizal J. 2018. Kelimpahan dan Keanekaragaman Gastropoda pada Zona Intertidal di Pulau Bangka Bagian Timur. Jurnal Enggano, 3(1): 10-21.

Susiana. 2011. Diversitas dan Kerapatan Mangrove, Gastropoda dan Bivalvia Di Estuari Perancak, Bali. [Skripsi] Program Studi Manajemen Sumberdaya Perairan. Fakultas Ilmu Kelautan dan Perikanan. Universitas Hasanudin.

Syukri M, Lestari F & Susiana. 2020. Potensi dan Pola Pemanfaatan Siput Gonggong di Perairan Pulau Kapal Desa Tembeling Kecamatan Teluk Bintan Kabupaten Bintan. Jurnal Akuatiklestari. 3(2): 1-10.

Taqwa RN, Muskananfola MR & Ruswahyuni. 2014. Studi Hubungan Substrat Dasar dan Kandungan Bahan Organik dalam Sedimen Dengan Kelimpahan Hewan Makrobenthos di Muara Sungai Sayung Kabupaten Demak. Diponegoro Journal of Maquares. 3(1): 125-133.

Viruly L. 2011. Pemanfaatan Siput Laut Gonggong (Strombus canarium) asal Pulau Bintan Kepulauan Riau menjadi Seasoning Alami. [Thesis] Program Studi Teknologi Hasil Perairan. Fakultas Perikanan dan Ilmu Kelautan. Sekolah Pasca Sarjana Institut Pertanian Bogor.

Wahdaniar. 2016. Keanekaragaman dan Kelimpahan Gastropoda di Sungai Je' neberang Kabupaten Gowa. [Skripsi] Jurusan Biologi. Fakultas Sains dan Teknologi. UIN Alauddin Makassar.

Zulfiandi, Zainuri M & Hartati R. 2012. Struktur Komunitas Makrozoobentos di Perairan Morosari, Kecamatan Sayung, Kabupaten Demak. Journal of Marine Research. 1(2): 662-666.

Zuykov M, Pelletier E & Harper DAT. 2013. Bivalve Mollusks in Metal Pollution Studies: from Bioaccumulation to Biomonitoring. Chemosphere. 93(2): 201-208.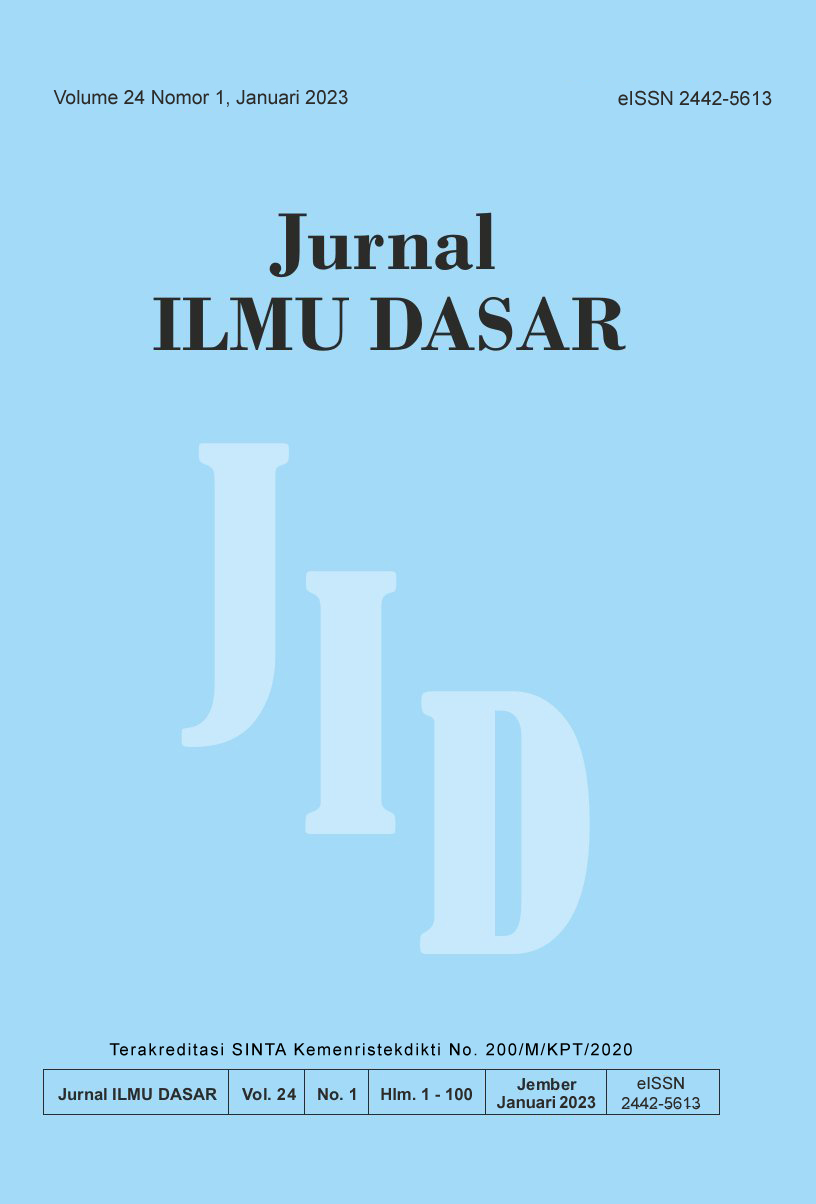 This work is licensed under a Creative Commons Attribution-ShareAlike 4.0 International License.