Biological Aspects of Three Species Family Gobiidae in the Bilah River, Labuhanbatu Regency, Sumatera Utara Province
Khairul Khairul

Program Studi Pendidikan Biologi, Fakultas Keguruan dan Ilmu Pendidikan, Universitas Labuhanbatu

Ika Nazira Lubis

Program Studi Pendidikan Biologi, Fakultas Keguruan dan Ilmu Pendidikan, Universitas Labuhanbatu
Abstract
The Bilah river is known to have a fairly high fish biodiversity. Some species of Gobiidae are usually caught by fishermen in the estuary area. But until now there is no data and information related to the biological aspects of the Gobiidae family. The purpose of this study was to determine aspects of the size class and long relationship of the weight of Gobiidae fish caught by fishermen in the Bilah river. This study is exploratory, where fish sampling stations are determined based on fish habitat from fishermen's information (purposive sampling). Fish are caught using traditional fishing gear in the form of splint. The fish caught is then measured in total length and weight. Then the fish obtained based on the catch are grouped in small, medium, and large sizes. Data analysis using Microsoft Excel 2010 applications. In this study, three species of fish that are included in the family Gobiidae namely Butis butis, Butis aureus, and Eleotris fusca. The small category B. butis (9-11.9 cm) fish size class is obtained as many as 2 individuals, medium size (12-14.9 cm) 9 individuals, and large size (15-17.9 cm) 2 individuals. The small size class (6-8.9 cm) of B. aureus fish obtained 2 individuals, medium (9-11.9 cm) 8 individuals, and large 12-14.9 cm) 4 individuals. Small size class (9-11.9 cm) E. fusca as many as 6 individuals, medium (12-14.9 cm) 7 individuals, and large (15-17.9 cm) 3 individuals. The growth pattern of the crazy fish (B. butis) (value b = 0.10), B. aureus (value b = 0.27), and E. fusca (value b = 0.20).
References
Darondo FA, Halim S, Jabbar MA & Wudianto. 2020. Struktur Ukuran, Pola Pertumbuhan, Dan Rata-rata Ukuran Panjang Pertama Kali Tertangkap Ikan Tuna madidihang (Thunnus albacares) di Perairan Bitung. Jurnal Ilmu dan Teknologi Perikanan Tangkap. 5(1): 7-17.

Darsiani. Nur M, Laitte MH, Fitriah R & Ansar M. 2017. Struktur Ukuran, Tipe Pertumbuhan dan Faktor Kondisi Ikan Kembung Perempuan (Rastrelliger brachysoma) di Perairan Majene. Jurnal SAINTEK Peternakan dan Perikanan. 1(1): 45–51.

Dimenta RH, Agustina R, Machrizal R & Khairul. 2020. Kualitas Sungai Bilah Berdasarkan Biodiversitas Fitoplankton. Ilmu Alam dan Lingkungan, 11(2): 24-33.

Effendie M. 1979. Metode Biologi Perikanan. Yayasan Dwi Sri. Bogor

Kantun W, Darris L & Arsana WS. 2018. Komposisi Jenis dan Ukuran Ikan yang Ditangkap pada Rumpon dengan Pancing Ulur di Selat Makassar. Marine Fisheries: Journal of Marine Fisheries Technology and Management, 9(2): 157-167.

Khoncara AC, Sulistiono, Simanjuntak CPH, Rahardjo MF & Zahid A. 2018. Diet Composition and Feeding Strategy of Gobiid Fishes in Pabean Bay, Indramayu. Jurnal Ilmu Pertanian Indonesia, 23(2): 137-147.

Le Cren E. 1951. The Length-Weight Relationship and Seasonal Cycle in Gonad Weight and Condition in The Perch. British Ecological Society, 20(2): 201-219.

Mamangkey JJ & Nasution HS. 2014. Pertumbuhan dan Mortalitas Ikan Endemik Butini (Glossogobius matanensis Weber, 1913) di Danau Towuti. Berita Biologi, 13(1): 31-38.

Manullang HM & Khairul. 2020. Size Class and Pattern Growth of Crazy Fish (Butis butis) at Belawan River. Biologica Samudra, 2(1): 54-59.

Mulfizar, Muchlisin ZA & Dewiyanti I. 2012. Hubungan Panjang Berat dan Faktor Kondisi Tiga Jenis Ikan yang Tertangkap di Perairan Kuala Gigieng, Aceh Besar, Provinsi Aceh. Depik Jurnal, 1(1): 1-9.

Nasution UH. 2021. Distribusi Kelas Ukuran dan Pola Pertumbuhan Ikan Sinjolong (Dermogenys sp). Jurnal Eksaksta, 6(2): 188-192.

Nurhayati N, Fauziyah F & Bernas SM. 2016. Hubungan Panjang-berat dan Pola Pertumbuhan Ikan di Muara Sungai Musi Kabupaten Banyuasin Sumatera Selatan. Maspari Journal, 8(2): 111-118.

Pratiwi I & Dimenta RH. 2021. Populasi Kepiting Bakau (Scylla serrata) di Perairan Muara Sungai Barumun Kabupaten Labuhanbatu Ditinjau dari Pola Pertumbuhan dan Faktor Kondisi. Bioscientist: Jurnal Ilmiah Biologi, 9(1): 209-222.

Salindeho IRN. 2021. Biodiversitas Ikan Amfidromus Gobiidae di Perairan Indonesia. Budidaya Perairan, 9(2): 34-40.

Sarangaa R, Arifin Z, Wiadnya DGR, Setyohadi D & Herawati EY. 2018. Pola Pertumbuhan, Nisbah Kelamin, Faktor Kondisi, dan Struktur Ukuran Ikan Selar, Selar boops (Cuvier, 1833) yang Tertangkap di Perairan Sekitar Bitung. Journal of Fisheries and Marine Science, 2(2): 86-94.

Shasia M, Eddiwan & Putra RM. 2021. Hubungan Panjang-Berat dan Faktor Kondisi Ikan Gabus (Channa striata) di Danau Teluk Petai Provinsi Riau. Jurnal Sumberdaya Dan Lingkungan Akuatik, 2(1): 241-250.

Sinaga S, Azmi F, Febri P & Haser TF. 2018. Hubungan Panjang dan Berat serta Faktor Kondisi Kerang Bulu Anadara antiquata di Ujung Perling, Kota Langsa Aceh. Jurnal Ilmiah Samudra Akuatika, 2(2): 30-34.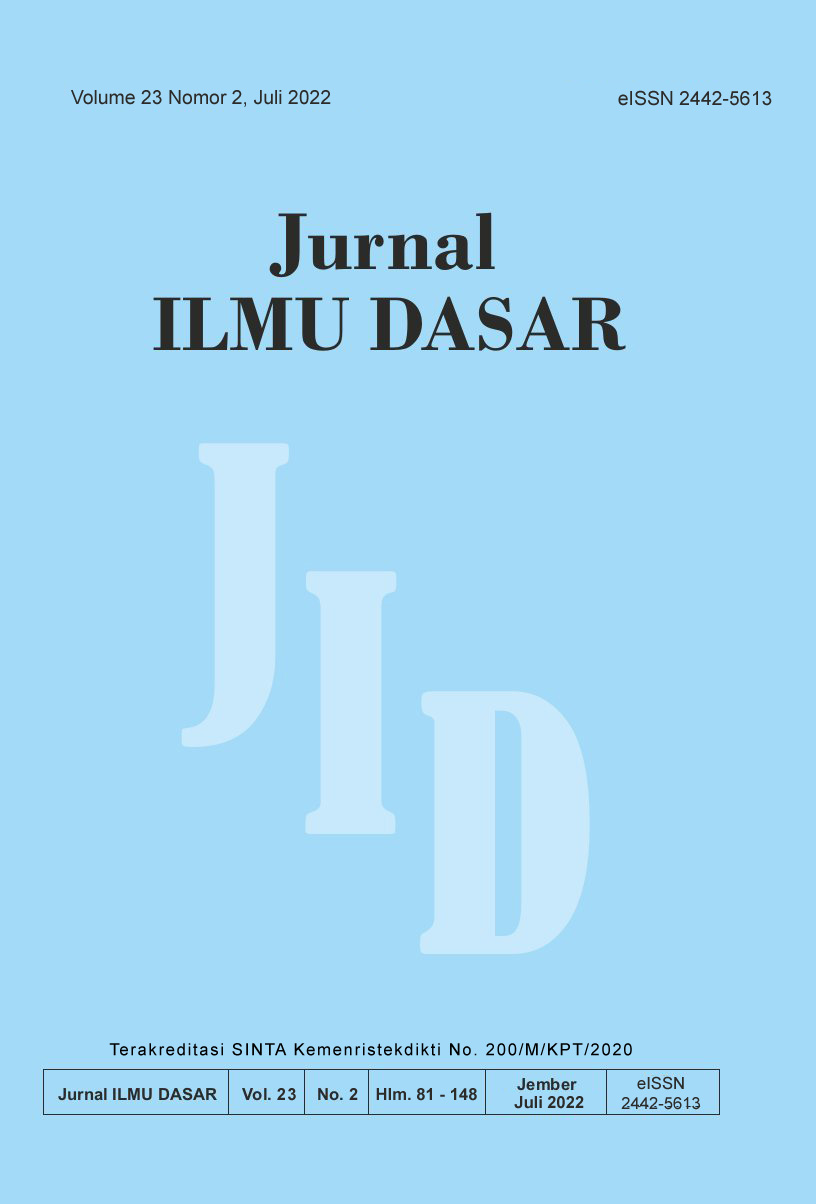 This work is licensed under a Creative Commons Attribution-ShareAlike 4.0 International License.