Preliminary Assessment of The Population Structure and Habitat Characteristics of Javan Langur (Trachyphitecus auratus É. Geoffroy, 1812) in Natural Reserve Watangan Puger
Muhammad Asyrofi

Program Studi Magister Biologi FMIPA Universitas Jember

Hari Sulistiyowati

Program Studi Magister Biologi FMIPA Universitas Jember

Retno Wimbaningrum

Program Studi Magister Biologi FMIPA Universitas Jember
Abstract
Javan langur (Trachypithecus auratus É. Geoffroy, 1812) is categorized by IUCN as a vulnerable primate species since 2008 and protected under 2018 LHK regulation. They can be found across Java Island, also in the Watangan Puger Nature Reserve (WPNR), East Java. There is no information about the population and habitat characteristics of Javan langur in WPNR except their existence. This research study aims to estimate the population structure, population density, and habitat characteristics of the Javan Langur in the WPNR, within the area of 2.6 ha. Three concentration points for daily observations were determined for 3 days. A combination of concentration count with scan sampling observation method at intervals of 30 minutes every hour of observation was done to get the data of density, position, population structure, and plant species preferred by Javan langurs. The important value, diversity Shannon-Wiener index, and plant species preferred were also analyzed. There are 26 population composed of two groups of the Javan langur occupying an area of 1,118 ha (43%). The population size estimatation for the first group was 17 individuals with a population density of 15.17 individu/ha, while that for the second group was 9 individuals with a population density of 8.02 individu/ha. The twenty-six Javan langurs are composed of complete age structure such as adult 69%, sub-adult 15%, and infant 16%. The Javan langur population was mostly found in the vegetation structure of Syzygium jambos (jambu hutan) to Pithecellobium dulce (asam manila) (IV = 45.47 to 3.88). Total 24 tree species are found in WNPR, most of the trees are used by the Javan langur as food and cover. The tree community in WPNR has medium diversity with value of 2.28. Furthermore, the Javan langur prefer Artocarpus elasticus (bendo) and Syzygium jambos (jambu hutan) at the upper strata (> 15 meters) than other trees and strata. Most of them are actively walking or jumping (locomotion) during the activity observed at the tree community.
References
Astriani, W. I., Arief, H & Prasetyo, L. B. 2016. Populasi dan Habitat Lutung Jawa (Trcyphitecus Auratus E. Geoffrey 1812) di Resort Balanan, Taman Nasonal Baluran. Media Konservasi. 20(3).

Ayunin, Q., Pudyatmoko, S & Imron, M. A. 2014. Seleksi Habitat Lutung Jawa (Trachypithecus auratus E. Geoffroy Saint-Hilaire, 1812) di Taman Nasional Gunung Merapi). Jurnal Penelitian Hutan Dan Konservasi Alam. 11:261-279.

CITES. 2017. CITES Appendices I, II, III. Convention, January, 61.

Eliana, D., Nasution, E. K & Indarmawan, I. 2017. Tingkah Laku Makan Lutung Jawa Trachypithecus auratus di Kawasan Pancuran 7 Baturaden Gunung Slamet Jawa Tengah. Scripta Biologica. 4(2): 125.

Geovana, D. 2015. Aktivitas Harian dan Wilayah Jelajah Lutung Jawa (Trachypithecus auratus Raffles 1821) di Resort Bama Taman Nasiona Baluran. Institut Pertanian Bogor.

Ihsanu, I. A., Setiawan, A & Lestari Rustiati, E. 2014. Studi Perilaku Makan Dan Analisis Vegetasi Pakan Lutung Jawa (Trachypithecus auratus) di Taman Nasional Gunung Ciremai. Jurnal Sylva Lestari. 1(1): 17.

Irawanto, R., Lestari, D. A., Ariyanti, E. E & Mudiana, D. 2011. Penyebaran Klampok (Syzygium) di Malang Raya. Berk. Panel. Hayati Edisi Khusus. 15-20.

IUCN. 2020. Spangled Ebony Langur. IUCN REDLIST.

Karyawati, A. 2012. Tinjauan Umum Tingkah Laku Makan pada Hewan Primata. Jurnal Penelitian Sains. 15(1): 168380.

Kool, K. M. (1989). Behavioural Ecology of The Silver Leaf Monkey, Trachypithecus Auratus Sondaicus, In The Pangandaran Nature Reserve, West Java, Indonesia. ProQuest Dissertations and Theses. 1.

Leksono, N. P. 2014. Studi Populasi dan Habitat Lutung Jawa (Trachypithecus auratus sondaicus) di Cagar Alam Pananjung Pangandaran Jawa Barat. Institut Pertanian Bogor.

LHK, P. M. 2018. Perubahan atas Peraturan Menteri Lingkungan Hidup dan Kehutanan Nomor P.20/MENLHK/SETJEN/KUM.1/6/2018 Tentang Jenis Tumbuhan dan Satwa yang dilindungi.

LIPI, P. 2018. Keanekaragaman Pulau Sempu dan Ekosistemnya. Jakarta

Mustari, A. H & Pasaribu, A. F. 2019. Habitat Characteristics and Population of Javan Langur (Trachypithecus Auratus E. Geoffroy Saint-Hilaire, 1812) In Leuweung Sancang Nature Reserve, Garut, West Java. Jurnal Wasian. 6(2): 77-88.

Praditya, A., Wayan, S. W. I. & Sanusi, Mu. 2018. Analisis Populasi dan Habitat Monyet Hitam (Trachypithecus auratus) di Resort Teluk Brumbun Taman Nasional Bali Barat. Jurnal Pendidikan Biologi Undiksha. 5:46-56.

Rahmawati, E & Hidayat, J. W. 2017. Kepadatan Populasi Lutung Jawa (Trachypithecus auratus) di Cagar Alam Kecubung Ulolanang Kabupaten Batang. Proceeding Biology Education Conference. 14(1): 64-69.

Santono, D., Widiana, A & Sukmaningrasa, S. 2016. Aktivitas Harian Lutung Jawa (Trachypithecus auratus sondacius) di Kawasan Taman Buru Masigit Kareumbi Jawa Barat. Jurnal Biodjati. 1(1): 39.

Sujarwo, W & Darma, I. 2011. Analisis Vegetasi Dan Pendugaan Karbon Tersimpan Pada Pohon Di Kawasan Sekitar Gunung Dan Danau Batur Kintamani Bali. Bumi Lestari. 11(1): 85-92.

Sulistyadi, E., Priyono, A & Maryanto, I. 2013. Pergerakan Lutung Jawa Trachypithecus auratus (E. Geoffroy 1812) pada Fragmen Habitat Terisolasi di Taman Wisata Alam Gunung Pancar ( TWAGP) Bogor. Berita Biologi. 12(3): 383-395.

Syaputra, M., Webliana, K & Indriyatno. 2017. Populasi dan Sebaran Lutung (Trachypithecus auratus) di Kawasan Hutan dengan Tujuan Khusus (KHDTK) Senaru. Jurnal Sangkareang Mataram. 3(4): 20-26.

Wijaya, D. C., Harianto, S. P & Winarno, G. D. 2018. Studi Populasi Macaca Fascicularis Di Taman Wisata Hutan Kera Tirtosari Kota Bandar Lampung. Jurnal Hutan Tropis. 6(3): 211-218.

Zakki, A., Sukarno, A & Farida, S. 2017. Preferensi Jenis - Jenis Pakan Lutung Jawa (Trachypithecus auratus E. Geoffroy Saint-Hilaire, 1812) di Hutan Lindung Coban Talun. Konservasi Sumberdaya Hutan Jurnal Ilmu Ilmu Kehutanan. 1(4): 86-91.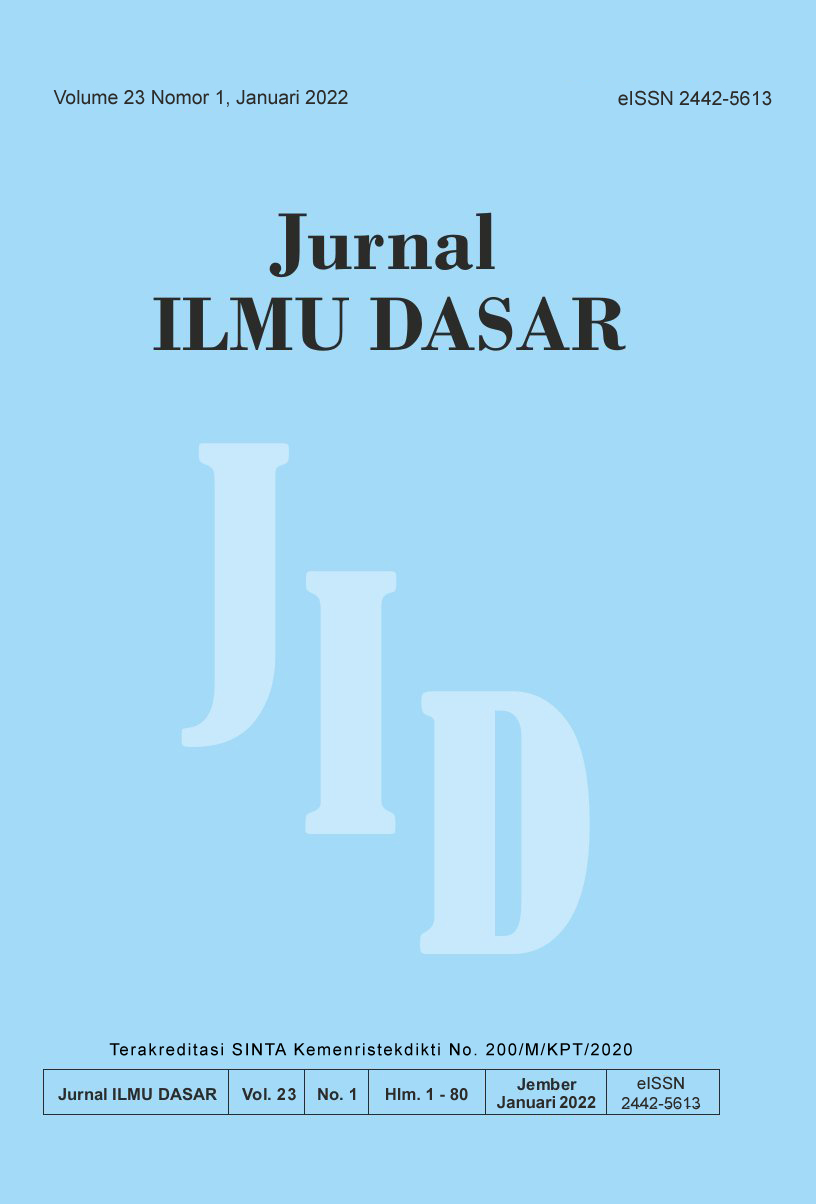 This work is licensed under a Creative Commons Attribution-ShareAlike 4.0 International License.