Stomata of Grass in The Ex Tin-Mining Land in Bangka
Savira Savira

Program Studi Biologi, Fakultas Pertanian, Perikanan dan Biologi, Universitas Bangka Belitung

Eddy Nurtjahya

Program Studi Biologi, Fakultas Pertanian, Perikanan dan Biologi, Universitas Bangka Belitung

Ratna Santi

Program Studi Agroteknologi, Fakultas Pertanian, Perikanan dan Biologi, Universitas Bangka Belitung
Abstract
Tin-mined land experiences drought, high light intensity, and temperature which is less supportive of plant growth. The study observed the anatomical responses of grasses leaves. This study aims to measure stomatal density, stomatal index, guard cell length, and guard cell width of three grass species that grow naturally in ex tin-mined land and in undisturbed land. Description method carried out based on the paradermal incision resulted in the wholemount method. The results showed each grass species has a different response to their different habitats. The stomatal density of Imperata cylindrica and Paspalum conjugatum collected from ex tin-mined land were higher than to those plants collected from undisturbed land, however the stomatal density in Scleria levis showed the opposite result. Stomatal index of all three species increases in ex tin-mined land were higher than in undistributed land. Guard cell lengths of I. cylindrica and P. conjugatum were smaller than those in undistributed land, but Scleria levis showed the opposite result. Guard cell width of I. cylindrica and S. levis were wider than those in undistributed land, but P. conjugatum showed the opposite result. These responses may reflect their adaptiveness to tin soils.
References
Beguerisse-D´ıaz M, Hernández-Gómez MC, Lizzul AM, Barahona M & Desikan R. 2012. Compound stress response in stomatal closure: a mathematical model of ABA and ethylene interaction in guard cells. BMC Systems Biology. 6:146.

Engineer CB, Sugimoto MH, Negi J, Nordstom MI, Shemer TA, Rappel WJ, Iba K & Schroeder JI. 2016. CO2 Sensing and CO2 Regulation of Stomatal Conductance. Trend in Plant Science. 21(1): 16-30.

Fahn A. 1991. Anatomi Tumbuhan, Edisi ke-3. Yogyakarta: Gadjah Mada University Press.

Fanourakis D, Bouranis D, Giday H, Carvalho DRA, Nejad AR & Ottosen C. 2016. Improving Stomatal Function at Elevated Growth Air Humidity: A Review. Journal of Plant Physiology. 207: 51-60.

Franks PJ, Leitch IJ, Ruszala EM, Hetherington AM & Beerling DJ. 2012. Physiological Framework for Adaptation of Stomata to CO2 from Glacial to Future Concentration. Philosophical Transactions of The Royal Society Biological Science. 367: 537-546.

Hamid I, Priatna SJ & Hermawan A. 2017. Karakteristik Beberapa Sifat Fisika dan Kimia Tanah pada Lahan Bekas Tambang Timah. Jurnal Penelitian Sains. 18(1): 23-31.

Harahap F. 2012. Fisiologi Tumbuhan. Medan: Universitas Negeri Medan Press.

Heckenberger U, Roggatz U & Schurr U. 1998. Effect of Drought Stress on The Cytological Status in Ricinus communis. Journal of Experimental Botany. 49(319): 181-189.

Hilmi M. 2018. Respon Pertumbuhan, Fisiologi dan Anatomi Tanaman Kemiri Sunan (Reutealis trisperma) terhadap Tailing Tambang Emas. [Tesis] Bogor: Sekolah Pascasarjana, Institut Pertanian Bogor.

Istiqomah AR, Mudyantini & Anggarwulan E. 2010. Pertumbuhan dan Struktur Anatomi Rumput Mutiara (Hedyotis corymbosa [L.] Lamk.) pada Ketersediaan Air dan Intensitas Cahaya Berbeda. Jurnal Ekosain. 2(1): 55-64.

Juairiah L. 2014. Studi Karakteristik Stomata Beberapa Jenis Tanaman Revegetasi di Lahan Pasca Penambangan Timah di Bangka. Jurnal Widyariset. 17(2): 213-218.

Khodijah NS, Rudjito AS, Harun MU & Robiartini BL. 2016. Cekaman Lingkungan dan Potensi Logam Berat pada Budidaya Sayuran di Lahan Pasca Tambang Timah. Prosiding Seminar Nasional Lahan Suboptimal 2016, Herlinda S, Nirmala K, Novra A, Sahari B, Suwandi, Tanbiyaskur, Puspitahati, Syafutri MI, Sasanti AD (eds). Palembang: Universitas Sriwijaya. Unsri Press. Hal: 530-542.

Lestari EG. 2006. Hubungan Antara Kerapatan Stomata dengan Ketahanan Kekeringan pada Somaklon Padi Gajah Mungkur, Towuti, dan IR 64. Jurnal Biodiversitas.7:44-48.

Nurtjahya E, Setiadi D, Guhardja E, Mahadiono & Setiadi Y. 2009. Succession on Tin-mined Land in Bangka Island. Blumea. 54: 131-138.

Nurtjahya E, Robika & Dorly. 2011. Can Anatomical and Physiological Characters Predict Plant Adaptation on Tin-mined Land in Bangka Island? Proceedings of the Sixth International Conference on Mine Closure 2011, A.B.
Fourie, M. Tibbett, A Beersing (eds.). Alberta: Canada. Australian Centre for Geomechanics Perth. Hal: 75-83.

Nurtjahya E, Franklin J, Umroh & Agustina F. 2016. The Impact of Tin Mining in Bangka Belitung and Its Reclamation Studies. SICEST 2016, MATEC Web of Conferences. 04010(2017): 1-6.

Nurtjahya E & Franklin JA. 2017. Some Physiological Characteristics to Estimate Species Potential as A Mine Reclamation Ground Cover. International Journal of Mining, Reclamation and Environment ISSN: 1748-0930.

Nurtjahya E & Santi R. 2018. Dinamika Transpirasi Berbagai Habitus Tanaman di Lahan Bekas Tambang Timah Bangka. Unpublished.

Orsini F, Alnayef M, Bona S, Maggio A & Gianquinto G. 2012. Low Stomatal Density and Reduced Transpiration Facilitate Stawberry Adaptation to Salinity. Environmental and Experimental Botany. 81: 1-10.

Perkasa AY, Siswanto T, Shintarika F & Aji TG. 2017. Studi Identifikasi Stomata pada Kelompok Tanaman C3, C4 dan CAM. Jurnal Pertanian Presisi. 1(1): 59-72.

Rindyastuti R & Hapsari L. 2017. Adaptasi Ekofisiologi Terhadap Iklim Tropis Kering: Studi Anatomi Daun Sepuluh Jenis Tumbuhan Berkayu. Jurnal Biologi Indonesia. 13(1): 1-14.

Romero AP, Alarcon A, Valbuena RI & Galeano CH. 2017. Physiological Assessment of Water Stress in Potato Using Spectral Information. Frontiers in Plant Science. 8(1608): 1-13.

Samsuri T. 2013. Pengaruh Berbagai Intensitas Cahaya Terhadap erubahan Struktur Anatomi Daun Tanaman Gaharu (Gyrinopsversteegii (Gilg.) Domke). Journal Ilmiah Biologi, Bioscientist. 1(1): 11-19.

Sari E, Fiona DS, Hidayati N & Nurtjahya E. 2017. Analisis Kandungan Logam pada Tumbuhan Dominan di Lahan Kolong Pasca Penambangan Timah Bangka Selatan. Promine Journal. 5(2): 15-29.

Sass JE. 1951. Botanical Microtehnique. Iowa: Iowa State College Press. Hal: 248.

Sopandie D. 2013. Fisiologi Adaptasi Tanaman terhadap Cekaman Abiotik pada Agroekosistem Tropika. Bogor: Institut Pertanian Bogor Press.

Sukarman, Darmawati I & Rusmin D. 2000. Karakter Morfologi dan Fisiologi Tapak Dara (Vinca rosea L.) pada Beberapa Cekaman Air. Jurnal Littr. 6(2):50-54.

Sukarman & Gani RA. 2017. Lahan Bekas Tambang Timah di Pulau Bangka dan Belitung, Indonesia dan Kesesuaiannya untuk Komoditas Pertanian. Jurnal Tanah dan Iklim. 41(2): 101-112.

Wahyono Y. 2017. Analisis Keberhasilan Revegetasi Lahan Pasca Tambang Timah di Bangka Tengah. [skripsi]. Bangka: Fakultas Pertanian, Perikanan dan Biologi, Universitas Bangka Belitung.

Wilmer CM. 1983. Stomata. New York (US): Longman Group Limited.

Zagoto ADP. 2019. Respon Anatomi Daun Beberapa Varietas Oryza sativa L. Terhadap Cekaman Kekeringan di Sumatera Barat. [Skripsi]. FMIPA Universitas Negeri Padang.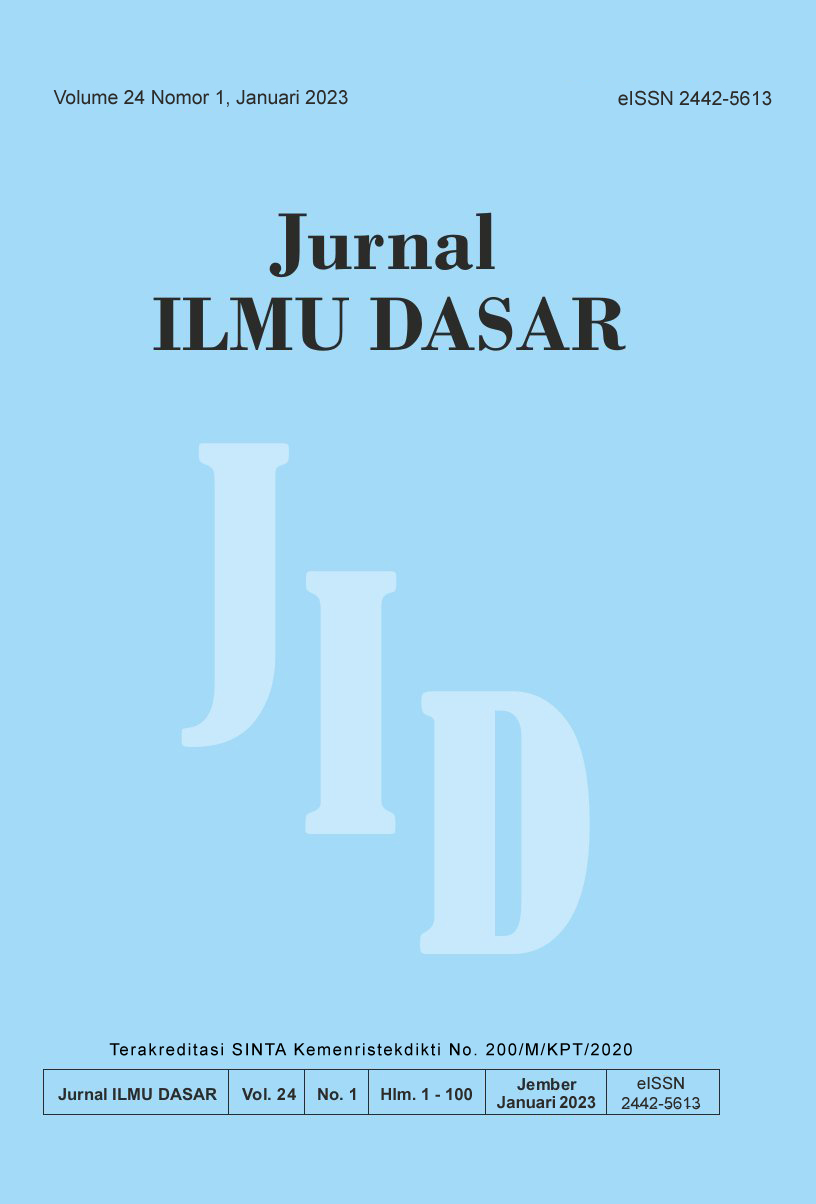 This work is licensed under a Creative Commons Attribution-ShareAlike 4.0 International License.