Identification of Secondary Metabolites and Proximate Analysis of Golden Apple Snails (Pomacea canaliculata L.) Meat Extract
Meilisha Putri Pertiwi

Prodi Pendidikan Biologi, FKIP, Universitas Pakuan, Bogor

Dina Dyah Saputri

Prodi Pendidikan Biologi, FKIP, Universitas Pakuan, Bogor
Abstract
The growth of golden apple snails is very rapid and causes losses of paddy production. Therefore snails are also called pest, especially agricultural pest. Control of golden apple snails can be done by physical hand sorting and then processed into animal feed. Based on research golden apple snails proven have good nutritional content. Efforts to use golden apples nails pets become useful things such as animal feed is a sustainable conservation. Therefore, this study aims to carry out secondary metabolites identification, proximate testing, and antioxidant content of golden apple snails as an initial reference for the basic ingredients of animal feed manufacturing. The method use is hand sorting of golden apple snails at the research location, then brought to the laboratory to carry out the process of secondary metabolites identification, proximate testing, and antioxidant analysis. The results showed a golden apple snails (Pomacea canaliculata L.) extract containing active compunds of alkaloids, flavonoids, tannins and polyphenols, steroids, and glycoside. Proximate analysis showed that golden apple snails extract had a high protein content of 40,83% compared to carbohydrates and fats. These findings suggested that golden apple snailsmeat extract has the potential to be further utilized as an alternative feed for Pangasius sp.
Keywords: golden apple snails. Pangasius sp., proximate testing, secondary metabolites.
References
Abdullah, A., Nurjanah & Reyhan, M. 2017. Karakterisasi dan Identifikasi Senyawa Aktif Ekstrak Pigmen Telur Keong Mas. Jurnal Pengolahan Hasil Perikanan Indonesia. 20(2): 286-295.

Afriyanto & Liviawaty, E. 2005. Pakan Ikan. Kanisius:Yogyakarta.

Agrawal A.D. 2011. Pharmacological Activities of Flavonoids: A Review. International Journal of Pharmaceutical Sciences and Nanotechnology.

Agustono A, Al Arif MA & Dewi FS. 2019. Pemanfaatan Tepung Keong Mas (Pomacea canaliculata) sebagai Substitusi Tepung Ikanpada Pakan Udang Vannamei (Litopenaeus vannamei) terhadap Nilai Kecernaan Serat Kasardan Bahan Ekstrak tanpa Nitrogen (BETN). Journal of Aquaculture and Fish Health.

Akerina FO, Nurhayati T & Suwandi R. 2015. Isolasi dan karakterisasi senyawa antibakteri dari bulu babi. Jurnal perikanan dan ilmu kelautan IPB. JPHPI. 18(1): 61-73

Amanda A & Kurniaty I. 2017. Pengaruh waktu maserasi terhadap rendemen zat antosianin pewarna alami minuman jelly dari terong ungu. jurnal.umj.ac.id/index.php/semnastek.

Anggraini TP, Hudaidah S & Utomo DSC. 2018. Pengaruh Proporsi Tepung Ikan dan Tepung Keong Mas (Pomacea canaliculata) yang Berbeda sebagai Bahan Baku Utama Pembuatan Pakan terhadap Pertumbuhan Benih Udang Vannamei (Litopenaeus vannamei). E-Jurnal Rekayasa Dan Teknologi Budidaya Perairan.

Apri R. 2014. Kandungan senyawa aktif dan uji fitokimia Sinularia sp. dan Lobophytum sp. dari perairan Pulau Pongok Bangka Selatan [tesis]. Bogor:Institut Pertanian Bogor.

Apriyanti, Nurfaika A, Bauzir E, Choiriyah U & Dinastian N. 2016. Analisis potensi keong mas sebagai substitusi daging sapi dalam pembuatan kornet sebagai makanan olahan kaya protein. Jurnal Risenologi. ISSN. 2502-5643.

Artini P, Astuti K & Warditiani N. 2013. Uji fitokimia ekstrak etil asetat rimpang bangle (Zingiber purpureum Roxb.). Jurusan Farmasi Fakultas Matematika dan Ilmu Pengetahuan Alam Universitas Udayana.
Association of Official Analytical Chemists. 2016. Appendix F: Guidelines for Standard Method Performance Requirements. AOAC Official Methods of Analysis.

Atmoko T & Ma'ruf A. 2009. Uji Toksisitas dan Skrining Fitokimia Ekstrak Tumbuhan Sumber Pakan Orang Utan terhadap Larva. Jurnal Penelitian Hutan Dan Konservasi Alam. 6(1): 37-46.

Chakraborty SB, Horn P & Hancz C. 2013. Application of Phytochemicals as Growth-promoters and Endocrine Modulators in Fish Culture. Review in Aquaculture. 5:1-19

Copriyadi J, Yasmi E & Hidayati. 2005. Isolation and Characterization of Coumarines from Peels of Orange (Citrus hystrix DC). Jurnal Biogenesis. 2: 13-25

Edo MR, Duan FK & Amalo D. 2019. Pengaruh Pemberian Daging Keong Mas (Pomacea canaliculata) terhadap Pertumbuhan dan Kadar Lemak Ikan Nila (Oreochromis niloticus). Jurnal Biotropikal Sains. 16(1): 28-37.

Firdiyani F, Agustini TW & Ma'ruf WF. 2015. Ekstraksi Senyawa Bioaktif sebagai Antioksidan Alami Spirulina platensis Segar dengan Pelarut yang Berbeda. JPHPI. 18(1): 28-37.

Fitriana WD, Fatmawati S & Ersam T. 2015. Uji Aktivitas Antioksidan terhadap DPPH dan ABTS dari Fraksi-fraksi. SNIP Bandung.

Fran S & Akbar J. 2016. Pengaruh Perbedaan Tingkat Protein dan Rasio Protein Pakan terhadap Pertumbuhan Ikan Sepat (Trichogaster pectoralis). Fish Scientiae. 3(5): 53-63.

Gunawan & Khalil M. 2015. Analisa Proksimat Formulasi Pakan Pelet dengan Penambahan Bahan Baku Hewani yang Berbeda. Aquatic Sciences Journal. 2(1):23-30. ISSN. 2406-9825.

Gustiano R, Kristanto AH, Tahapari E & Iswanto B. 2016. Evaluation of Pangasius djambal Bleeker 1846 and Pangasianodon hypophthalmus (Sauvage 1878) Hybrids: Biometric, Growth, and Ovarian Maturation. Buletin Plasma Nutfah. 8(1): 32-37.

Hartanto ES. 2012. Kajian Penerapan SNI Produk Tepung Terigu sebagai Bahan Makanan. Jurnal Standardisasi. 14(2):164-172.

Haslianti, Inthe MG & Ishak E. 2017. Karakteristik Keong Kowoe dan Aktivitas Antioksidannya. Jurnal Pengolahan Hasil Perikanan Indonesia.

Hidayat D, Sasanti AD & Yulisman. 2013. Kelangsungan Hidup, Pertumbuhan dan Efisiensi Pakan Ikan Gabus (Channa striata) yang Diberi Pakan Berbahan Baku Tepung Keong Mas (Pomacea sp.). Jurnal Akuakultur Rawa Indonesia. 1(2): 161-172.

Jannah R, Husni MA & Nursanty R. 2017. Inhibition Test of Methanol Extract from Soursop Leaf (Annona muricata Linn.) against Streptococcus mutans Bacteria. Jurnal Natural. 17(1): 23-30.

Joshi RC. 2007. Problems with the management of the golden apple snail Pomacea canaliculata: An important exotic pest of rice in Asia. In Area-Wide Control of Insect Pests: From Research to Field Implementation.

Karmilah, Reymon, Setiawan MA, Arifin EA, Musdalipah. 2019. Identifikasi Senyawa Saponin Ekstrak Etil Asetat Gonad Landak Laut (Diadema setosum L.) dan Efektivitas Antihiperkolesterol terhadap Mencit Balb/c Hiperkolesterolemia. Jurnal Medika Udayana. 8(12).

Kementerian Kelautan dan Perikanan. 2020. Rencana Strategis Tahun 2020-2024. Dari https://kkp.go.id/an-component/media/upload-gambar-pendukung/DJPB/Renstra%202020%20-%202024/4.%20Renstra%20DJPB%202020-2024.pdf (2 Februari 2021).

Makkar HPS. 2003. Effect and Fate of Tannins in Ruminant Animals, Adaptation to Tannins, and Strategies to Overcome Detrimental Effects of Feeding Tannin-rich Feed. Small Rum Res. 49: 241-256.

Marliana SD, Suryanti V & Suyono. 2005. Skrining Fitokimia dan Analisis Kromatografi Lapis Tipis Komponen Kimia Buah Labu Siam (Sechium edule Jacq . Swartz.) dalam Ekstrak Etanol. Biofarmasi. 3(1): 26-31

Marwoto RM & Isnaningsih NR. 2011. Notes on the distribution of invasive freshwater snail Pomacea Canaliculata (Lamarck, 1822) and P. Insularum (D'orbigny, 1835) in Indonesia. Biotropia. 18(2): 123-128.

Marzuqi M & Anjusary DN. 2013. Kecernaan Nutrien Pakan dengan Kadar Protein dan Lemak Berbeda pada Juvenil Ikan Kerapu Pasir (Epinephelus corallicola). Ilmu dan Teknologi Kelautan Tropis. 5(2): 311-323.

Merdekawati D, Nurhayati T & Jacoeb A. 2017. Kandungan Proksimat dan Mineral dari Keong Mata Lembu (Turbo setosus Gmelin 1791). Jurnal Mina Sains. 3(1): 47-53.

Min BR, Pinchak WE, Merkel R, Walker S, Tomita G & Anderson RC. 2008. Comparative Antimicrobial Activity of Tannin Extracts from Perennial Plants on Mastitis Pathogens. Scientific Research and Essays.

Oliviera RA, Narsico CD, Bisinotto RS, Perdomo MC, Ballou MA, Dreher M, Santos JEP. 2010. Effects of Feeding Polyphenols from Pomegranate Extract on Health, Growth, Nutrient Digestion, and Immuno Competence of Calves. J Dairy Sci. 93: 4280-4291.

Paterson. 1999. Phytochemical Methods. A Guide to Modern Techniques of Plant Analysis. London: Chapman & Hall.

Poernomo N, Utomo NBP & Azwar ZI. 2015. Pertumbuhan dan Kualitas Daging Ikan Patin Siam yang Diberi Kadar Protein Pakan Berbeda. Jurnal Akuakultur Indonesia. 14(2): 104-111

Prabowo TT. 2009. Uji Aktivitas Antioksidan dari Keong Matah Merah (Cerithidea obtusa) [skripsi]. Bogor: Institut Pertanian Bogor.

Purwaningsih S, Salamah E & Mirlina N. 2011. Pengaruh pengolahan terhadap kandungan mineral keong matah merah (Cerithidea obtusa). Prosiding Pertemuan Ilmiah Dan Seminar Nasional MPHPI.

Ramamoorthy PK & Bono A. 2007. Antioxidant Activity, Total Phenolic and Flavonoid Content of Morinda citrifolia Fruit Extracts from Various Extraction Processes. Journal of Engineering Science and Technology. 2(1): 70-80.

Rashid MA, Akhtar MN, Ashraf A, Nazir S, Ijaz A, Omar NA, Noor S, Basit A & Tareen RB. 2018. Chemical Composition and Antioxidant, Antimicrobial and Haemolytic Activities of Crambe cordifolia Roots. Farmacia. 66(1): 165

Rawlings TA, Hayes KA, Cowie RH & Collins TM. 2007. The Identity, Distribution, and Impacts of Non-native Apple Snails in The Continental United States. BMC Evolutionary Biology. 7(97): 1-14.

Reyaz MA, Jehan SQ & Sanjay T. 2019. Formulation of Fish Feed using Medicinal Herb Curcuma amada and Its Biochemical and Haemotological Changes in Labeo rohita. Journal of Drug Deliery and Therapeutics. 9(3-s): 96-99.

Sangi MS, Momuat LI & Kumaunang M. 2012. Uji Toksisitas dan Skrining Fitokimia Tepung Gabah Pelepah Aren (Arenga pinnata). JURNAL ILMIAH SAINS. 12(2): 127-134.

Santi A, Sunarti V, Santosa D & Triwisari A. 2012. Komposisi Kimia dan Profil Polisakarida Rumput Laut Hijau. Jurnal Akuatika Indonesia. 3(2): 105-114. ISSN. 0853-2523.

Santoso J, Anwariyah S, Rumiantin RO, Putri AP, Ukhty N & Yoshie-Stark Y. 2012. Phenol Content, Antioxidant Activity and Fibers Profile of Four Tropical Seagrasses from Indonesia. Journal of Coastal Develpopment. 15(2): 189-196.

Savitri A, Hasani Q & Tarsim T. 2015. Pertumbuhan Ikan Patin Siam (Pangasianodon hypopthalmus) yang Dipelihara dengan Sistem Bioflok pada Feeding Rate yang Berbeda. E-Jurnal Rekayasa Dan Teknologi Budidaya Perairan. IV(1): 453-459.

Schiavone A, Guo K, Tassone S, Gasco L, Hernandez E, Denti R & Zoccarato I. 2008. Effects of a Natural Extract of Chesnut Wood on Digestibility, Performance Traits, and Nitrogen Balance of Broiler Chicks. Poult Sci. 87: 521-527.

Shabtay A, Eitam H, Tadmor Y, Orlov A, Meir A, Weinberg P, Weinberg ZG, Chen Y, Brosh A, Izhaki I & Kerem Z. 2008. Nutritive and Antioxidative Potential of Fresh and Stored Pomegranate Industrial by Product as a Novel Beef Cattle Feed. J Agric Food Chem. 56:10063-10070.

Shalaby EA & Sanaa MMS. 2012. Comparison of DPPH and ABTS Assays for Determining Antioxidant Potential of Water and Methanol Extracts of Spirulina platensis. Indian Journal of Geo-Marine Sciences. 42(5):556-564.

Standar Nasional Indonesia Kornet Daging Sapi. SNI 01-3775-2006.

Standar Nasional Indonesia Persyaratan Mutu Tepung Ikan. SNI 01-2715-1996.

Subamia IW, Suhenda N & Tahapari E. 2017. Pengaruh Pemberian Pakan Buatan dengan Kadar Lemak yang Berbeda terhadap Pertumbuhan dan Sintasan Benih Ikan Jambal Siam (Pangasius hypophthatmus). Jurnal Penelitian Perikanan Indonesia. 9(1): 37-42.

Subhan A, Yuwanta T, Zuprizal Z & Supadmo S. 2015. The Use of Pomacea canaliculata Snails in Feed to Improve Quality of Alabio duck (Anas plathyrinchos Borneo) Meat. Journal of the Indonesian Tropical Animal Agriculture. 40(4):238-244.

Sutikno E. 2011. Pemuatan Pakan Ikan Bandeng. Direktorat Jenderal Perikanan Budidaya Balai Besar Pengembangan Budidaya Air Payau. Jepara. Svehla. 1985. Analisis Anorganik Makro dan Semimikro. Media Pustaka, Jakarta.

Syamsunarno MB, Mokoginta I & Jusadi D. 2011. Pengaruh Berbagai Rasio Energi Proteinpada Pakan Iso Protein 30% terhadap Kinerja Pertumbuhan Benih Ikan Patin (Pangasius hypophthalmus). Jurnal Riset Akuakultur. 6(1): 3-70.

Tiwari P, Kumar B, Mandeep K, Kaur G & Kaur H. 2011. Phytochemical screening and Extraction: A Review. Internationale Pharmaceutica Sciencia.

Wardhani LK & Sulistyani N. 2012. Uji Aktivitas Antibakteri Ekstrak Etil Asetat Daun Binahong (Anredera scandens (L.) Moq.) terhadap Shigella flexneri beserta Profil Kromatografi Lapis Tipis. Pharmaciana. 2(1): 1-15.

Wijaya D, Yanti PP, Setya AR, Rizal M & Setya AR. 2015. Screening Fitokimia dan Aktivitas Antioksidan Daun Eceng Gondok (Eichhornia crassipes). Jurnal Kimia VALENSI. 1(1): 65-69.

Yamin & Hasnawati. 2017. Potensi Ekstrak Daun dan Batang Katola (Arcangelisia flava L.Merr) sebagai Antimikroba. Pharmauho. 3(2): 23-27.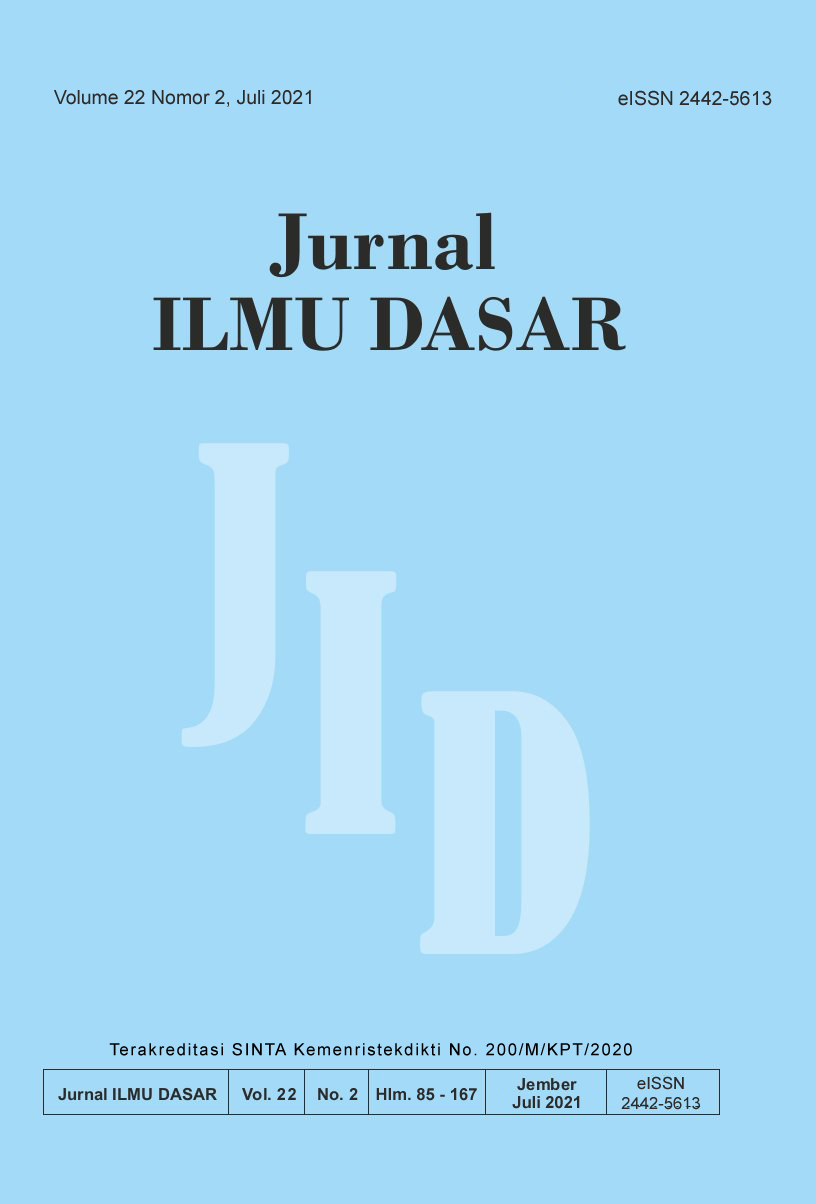 This work is licensed under a Creative Commons Attribution-ShareAlike 4.0 International License.