Faktor-Faktor yang dapat Mempengaruhi Keinginan Nasabah untuk Menggunakan Product Bundling Ziswaf pada Bank Muamalat KCP Sukaramai
Mina Hasin

Universitas Islam Negeri Sumatera Utara

Mustapa Khamal Rokan

Universitas Islam Negeri Sumatera Utara
Abstract
In an effort to improve the welfare of the community, philanthropy is an effort that provides solutions to overcome the people who live within. Islam is often about the teachings of philanthropy. By taking a study of ZISWAF's Product Bundling. Therefore, this study aims to determine marketing strategies and factors that can influence customer interest or desire in using ZISWAF Product Bundling and the process of obtaining benefits from this product at Bank Muamalat Medan Sukaramai. The methodology of this research is descriptive qualitative with an empirical approach, because the purpose of this research is to describe a situation that is factual in a systematic and accurate manner. The results showed that what made customers interested in using ZISWAF Product Bundling were Product Innovation Factors, Marketing Strategy Factors, Trust Factors, Product Quality Factors, and Income Factors. Then, that the ZISWAF Product Bundling referred to in this study is the discovery of banking products from Bank Muamalat which can be a financial investment as well as an investment in the afterlife. Product innovation is in the form of Savings and Deposits which are bundled with the ZISWAF program.
Keywords:  Product Bundling ZISWAF, Marketing Strategy, Islamic Bank
References
Abbas, A. I., T. M. Tumbel, dan J. A. F. Kalangi. 2019. Strategi Pemasaran Produk Tabungan Ib Hijrah Rencana Pada Bank Muamamalat Cabang Manado. Jurnal Administrasi Bisnis (JAB) 8 (1): 55–60.
Agustina, R. S. 2019. BUNDLING PRODUCT AS A COOPERATION AGREEMENT BETWEEN BANKS AND INSURANCE COMPANIES (BANCASURRANCE) IN RELATIONS WITH UNHEALTHY BUSINESS COMPETITION. Legal Standing: Jurnal Ilmu Hukum 3 (2): 70–78.
Anggito, A., dan J. Setiawan. 2018. Metodologi penelitian kualitatif. CV Jejak (Jejak Publisher).
Desiana, D. S., dan N. K. Putri. 2018. Faktor-Faktor Yang Mempengaruhi Keputusan Nasabah Untuk Menggunakan Jasa Perbankan Syariah Di Kota Tasikmalaya. Akuntabilitas: Jurnal Ilmu Akuntansi 11 (1).
Fadli, V. P. 2021. Perhitungan Akad Mudharabah Muthlaqah Dan Akad Wadi'ah Yad Dhamanah Dalam Tabungan IB Hijrah Pada PT. Bank Muamalat Indonesia KC Panyabungan. Nahdatul Iqtishadiyah Jurnal Perbankan Syariah 1 (1): 94–111.
Kasdi, A. 2016. Filantropi Islam untuk pemberdayaan ekonomi umat (Model pemberdayaan ZISWAF di BMT Se-Kabupaten Demak). Iqtishadia: Jurnal Kajian Ekonomi dan Bisnis Islam STAIN Kudus 9 (2): 227–245.
Mardiyanto, E. 2021. Implementasi Marketing Mix dalam Pemasaran Perbankan Syariah. Al-Iqtishod: Jurnal Pemikiran dan Penelitian Ekonomi Islam 9 (1): 93–103.
Purba, P. C., dan E. Siswanto. 2016. Implementasi Algoritme FP-Growth untuk Market Basket Analysis dalam Menentukan Product Bundling. Department of Informatics Engineering, ITH, Bandung.
Putra, P. A. 2021. PENGUATAN BANK SYARIAH SEBAGAI AMIL ZAKAT. Kalimedia.
Rahman, R. A. 2021. Deposito Syariah Di Indonesia. Al-Mizan: Jurnal Kajian Hukum dan Ekonomi: 127–142.
Satori, D., dan A. Komariah. 2014. Metode Penelitian Kualitatif (cet. VI). Bandung: Alfabeta.
Sayyid, M. 2020. Strategi Pemasaran Bisnis Farmasi. Zifatama Jawara.
Sugiyono. 2013. Metodelogi Penelitian Kuantitatif, Kualitatif dan R&D. Bandung: Alfabeta.
Syafrida, I., dan I. Aminah. 2015. Faktor Perlambatan Pertumbuhan Bank Syariah Di Indonesia Dan Upaya Penanganannya. Jurnal Ekonomi & Bisnis PNJ 14 (1): 13473.
Yuliani, I. 2022. Analisis Faktor yang Mempengaruhi Minat Nasabah Memilih Produk Tabungan Wakaf di Bank CIMB Niaga Syariah Cabang Samarinda. Ekonomis: Journal of Economics and Business 6 (1): 183–189.
Zubair, M. K., M. A. Rusdi, dan I. Ismayanti. 2019. DINAMIKA PRAKTEK TANGGUNGJAWAB SOSIAL BANK SYARIAH (Studi Bank Muamalat Makassar). BALANCA: Jurnal Ekonomi dan Bisnis Islam 1 (2): 173–195.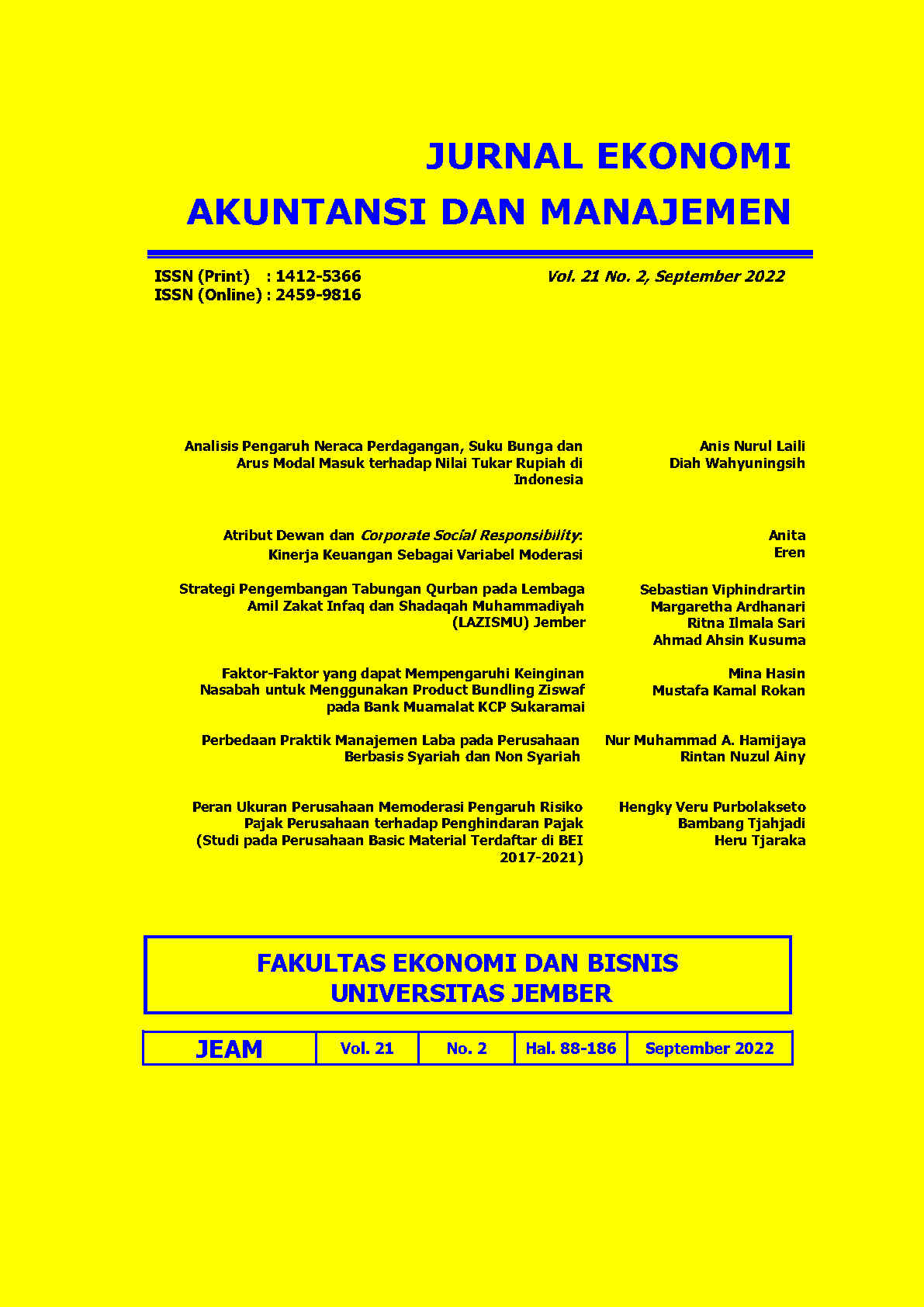 This work is licensed under a Creative Commons Attribution-ShareAlike 4.0 International License.