Perbedaan Praktik Manajemen Laba pada Perusahaan Berbasis Syariah dan Non Syariah
Nur Muhammad Abdilah Hamijaya

Universitas Ahmad Dahlan

Rintan Nuzul Ainy

Universitas Ahmad Dahlan
Abstract
Investment interest from the public from year to year continues to increase, not only those who have a lot of capital but people who have limited capital make investments. Various conveniences of investors in investing can be seen from the various existing application platforms. Investors in seeing the company's performance, one of which uses financial statements. However, there is a behavior of the company's management not displaying actual performance such as earnings management, it is based on individual interests and harms other parties who have a tendency not to comply with sharia principles.
This study uses a quantitative approach with secondary data in the form of financial statements of Consumer Non-Cyclicals sector companies registered with ISSI and those not registered with ISSI in 2018-2020. The measurement of variables uses a modified jones model analysis in measuring the amount of profit management carried out by the company. The results of this study showed that there was no difference in earnings management practices in Consumer Non-Cyclicals sector companies registered with ISSI and those not registered with ISSI. Although there are differences on average, the differences do not occur significantly in statistics.
Keywords: Earnings Management, Modified Jones Model, Consumer Non Cyclicals
References
Abdurrahim, A. 2000. Mendeteksi Earnings Management. Journal of Accounting and Investment 1 (2): 104–111.
Arisandy, Y. 2020. Manajemen Laba dalam Perspektif Islam. JURNAL ILMIAH MIZANI: Wacana Hukum, Ekonomi, dan Keagamaan 2 (2): 125–143.
Darmawati. 2020. Etika Bisnis Islam. Bening Media Publishing.
Ghozali, I. 2018. Aplikasi Analisis Multivariate Dengan Program IBM SPSS 25.
Juairah, S., D. A. Akbar, dan T. Hartini. 2021. Peran Kinerja Keuangan dalam Memediasi Islamic Corporate Governance Terhadap Fraud. Syntax Literate: Jurnal Ilmiah Indonesia 6 (1): 418–429.
Khairani, H. 2015. Etika Bisnis Islam tentang Manajemen Laba. UIN Syarif Hidayatullah Jakarta.
Muliasari, I., dan D. Dianati. 2014. Manajemen Laba dalam Sudut Pandang Etika Bisnis Islam. Jurnal Akuntansi dan Keuangan Islam 2 (2): 157–182.
Mustam. 2017. Manajemen Laba (Earning Management) dalam Tinjauan Etika Islam. Attanwir: Jurnal Kajian Keislaman dan Pendidikan 6 (1): 9–21.
Pambekti, G. T. 2017. Analisis Perbandingan Manajemen Laba dengan Metode Discretionary Accrual pada Bank Syariah dan Bank Konvensional. Jurnal Ekonomi & Keuangan Islam 3 (2): 81–89.
Raini, A. 2017. Analisis Persepsi Terhadap Penerapan Prinsip Akuntansi Berdasarkan Surah Al Baqarah Ayat 282 (Studi Empiris pada Mahasiswa Akuntansi Universitas Islam Negeri Sumatera Utara). Universitas Islam Negeri Sumatera Utara.
Santoso, V. 2018. Analisis Perbandingan Manajemen Laba pada Perbankan Syariah dan Perbankan Konvensional di Indonesia. Parsimonia-Jurnal Ekonomi dan Bisnis 4 (3): 363–375.
Sudarmanto, E., E. Susanti, E. Revida, M. F. A. Pelu, S. Purba, Astuti, B. Purba, et al. 2021. Good Corporate Governance. Yayasan Kita Menulis.
Sulistiyanto, S. 2018. Manajemen Laba: Teori dan Model Empiris.
Syariah, F. D. 2012. Fatwa DSN 87/DSN-MUI/X/2012 Tentang Metode Perataan Penghasilan Dana Pihak Ketiga. Fatwa Majelis Ulama Indonesia (MUI) (19): 31903288.
Utami, K. 2020. Analisis Praktik Manajemen Laba pada Laporan Keuangan Bank Umum Syariah Menggunakan Modified Jones Model. UIN Raden Intan Lampung.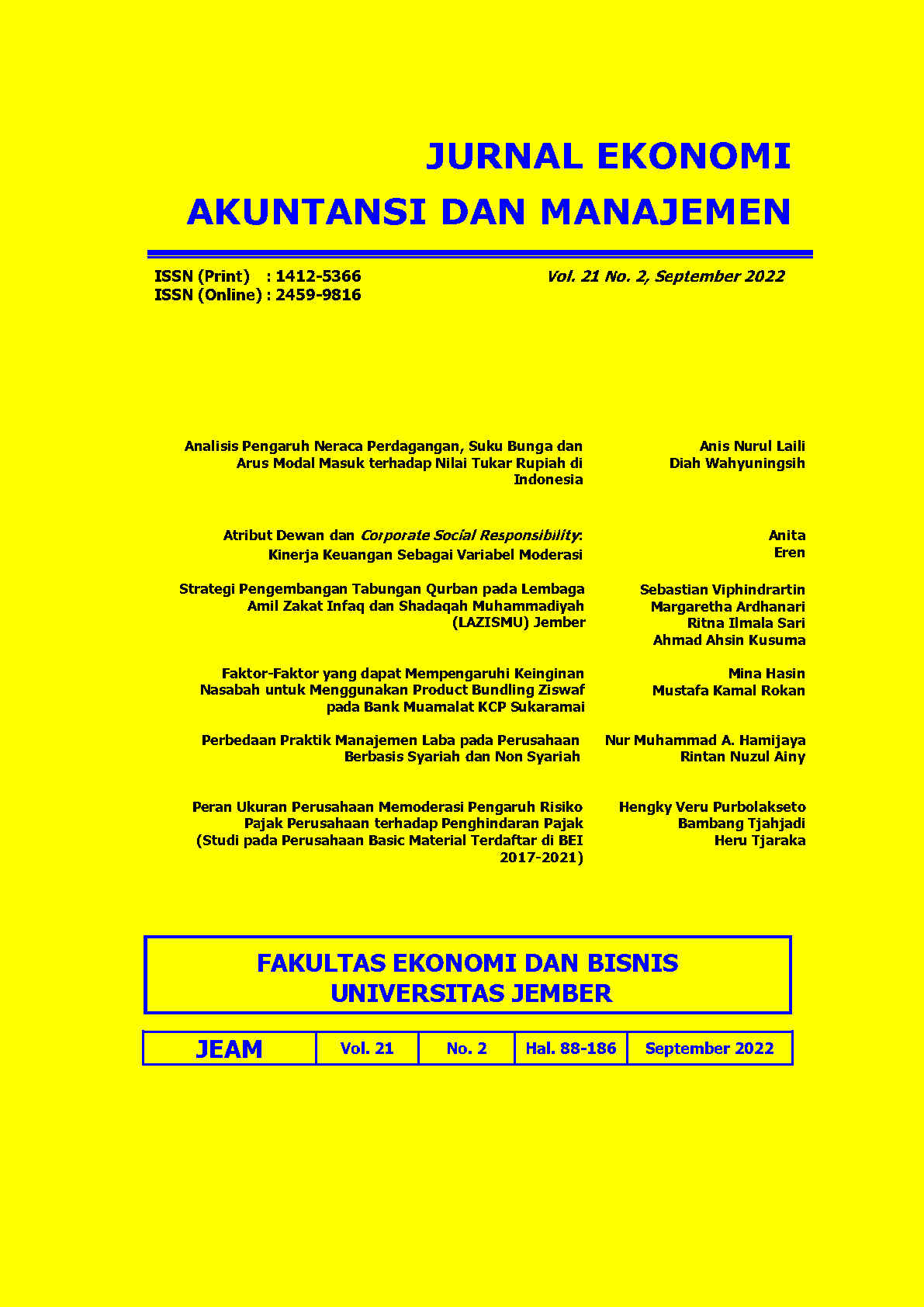 This work is licensed under a Creative Commons Attribution-ShareAlike 4.0 International License.