FAKTOR YANG MEMPENGARUHI GREEN TOBACCO SICKNESS PADA PEKERJA ANAK DI PERKEBUNAN TEMBAKAU
Nabila Zandra Kartika

Program Studi Ilmu Kesehatan Masyarakat, Fakultas Kesehatan Masyarakat, Universitas Jember, Jl. Kalimantan No.I/93 68121 Jember, Jawa Timur, Indonesia

Mury Ririanty

Program Studi Ilmu Kesehatan Masyarakat, Fakultas Kesehatan Masyarakat, Universitas Jember, Jl. Kalimantan No.I/93 68121 Jember, Jawa Timur, Indonesia

Reny Indrayani

Program Studi Ilmu Kesehatan Masyarakat, Fakultas Kesehatan Masyarakat, Universitas Jember, Jl. Kalimantan No.I/93 68121 Jember, Jawa Timur, Indonesia
Abstract
Kandungan nikotin daun tembakau basah yang terserap permukaan kulit anak dapat menimbulkan penyakit Green Tobacco Sickness (GTS). Secara simultan penyakit GTS dipengaruhi oleh faktor perilaku, lingkungan, dan pelayanan kesehatan. Tujuan penelitian untuk mengkaji faktor yang mempengaruhi kejadian GTS pada pekerja anak di perkebunan tembakau. Penelitian ini menggunakan metode narrative literature review. Narrative literature review berfokus pada pembuktian kerangka pemikiran yang berhubungan dengan rumusan masalah penelitian. Pencarian referensi penelitian menggunakan 3 database yaitu Google Scholar, Science Direct, dan ResearchGate. Artikel terpilih yang memenuhi kriteria inklusi sebanyak 13 artikel dengan menggunakan 5 kata kunci dalam pencarian referensi. Hasil penelitian menunjukkan beberapa faktor yang berhubungan dengan kejadian GTS pada pekerja anak adalah kepatuhan penggunaan alat pelindung diri, lama paparan pekerja anak dengan daun tembakau, pengetahuan dan persepsi orang tua terhadap penyakit GTS pada anak, serta sosialisasi mengenai penyakit GTS oleh industri tembakau, kepala kelompok tani ataupun tenaga kesehatan setempat.
References
1] Alkam, T. dan T. Nabeshima. 2019. Molecular mechanisms for nicotine intoxication. Neurochemistry International. 125(October 2018):117–126.

2] Bleasdale, M. 2016. "Panen Dengan Darah Kami" Bahaya Pekerja Anak Dalam Pertanian Tembakau Di Indonesia. Human Rights Watch.

3] Da Mota E Silva, M. S., M. Da Glória Da Costa Carvalho, J. C. Moreira, E. De Oliveira Barreto, K. F. De Farias, C. A. Nascimento, F. M. N. Da Silva, T. G. De Andrade, R. R. Luiz, R. S. De Moura Neto, dan F. L. Ribeiro. 2018. Green tobacco sickness among brazilian farm workers and genetic polymorphisms. BMC Research Notes. 11(1):1–5.

4] Dawolo, D. A. 2020. Analisis eksploitasi buruh anak dalam industri tembakau melalui kacamata marxisme. (June).

5] Dewi, P. P. 2017. Pembagian kerja dalam keluarga petani tembakau pada musim kemarau di dusun tattat , desa patarongan ,. Universitas Airlangga. 1–9.

6] Hermanus, E. dan E. Elmira. 2019. Studi diagnostik pekerja anak di wilayah perdesaan dengan penekanan khusus pada studi diagnostik pekerja anak di wilayah perdesaan.

7] Hidayat Aziz A (2015) Metode Penelitian Kesehatan Paradigma Kuantitatif. Surabaya : Health Books Publishing.





8] Ilmiah, J., K. Sandi, dan L. Review. 2020. Green tobacco sickness pada petani tembakau pendahuluan. 9:767–772.

9] Indrayati, R. 2017. Tembakau di persimpangan jalan (dinas perkebunan provinsi jawa timur). 17. 2(April):17–30.

10] Kau, A. D. dan H. Kusnanto. 2017. Prevalensi kasus green tobacco sickness pada pekerja petani tembakau di bantul. BKM Journal of Community Medicine and Public Health. 33 : 6:311–316.

11] Khoiron, K., U. Jember, D. Rokhmah, dan U. Jember. 2017. Health seeking behavior of Green Tobacco Sickness (GTS) On Tobacco Farmer At Jember Regency Health Seeking Behavior Of Green Tobacco Sickness (GTS) On Tobacco Farmer At Jember Regency. (January).

12] Kim, J., S. Rana, W. Lee, S. E. Haque, dan J. H. Yoon. 2020. How the bidi tobacco industry harms child-workers: results from a walk-through and quantitative survey. Safety and Health at Work. 11(2):143–151.

13] Kulik, M. C., S. A. Bialous, S. Munthali, dan W. Max. 2017. Tobacco growing and the sustainable development goals, malawi. Bulletin of the World Health Organization. 95(5):362–367.

14] Lown, E. A., P. A. McDaniel, dan R. E. Malone. 2016. Tobacco is "our industry and we must support it": exploring the potential implications of zimbabwe's accession to the framework convention on tobacco control. Globalization and Health. 12(1):1–11.

15] Ministry of Health. 2018. Kenali dan cegah GTS (Green Tobacco Sickness). 1-18.

16] Organisasi Perburuan Internasional. 2009. Program Internasional Penghapusan Pekerja Anak/ International Programme on the Elimination of Child Labour (IPEC).

17] OSHA dan NIOSH. 2015. RecommendedPractices. (6742):1–5.

18] Quandt, S. A., T. J. Arnold, D. C. Mora, J. C. Sandberg, S. S. Daniel, dan T. A. Arcury. 2019. Hired latinx child farm labor in north carolina: the demand-support-control model applied to a vulnerable worker population. American Journal of Industrial Medicine. 62(12):1079–1090.





19] Rahayu, T. dan S. Syafril. 2018. Cara mensintesiskan literature review dalam penelitian. (November).

20] Ramos, A. K. 2018. Child labor in global tobacco production: a human rights approach to an enduring dilemma. Health and Human Rights. 20(2):235–248.

21] Ririanty M (2017) Promosi Kesehatan Anak Tentang Bahaya Penyakit Green Tobacco Sickness (GTS) Pada Buruh Tani Anak Sebagai Upaya Terwujudnya Petani Tanpa Pekerja Anak di Kecamatan Wonoasri Kabupaten Klaten Jawa Tengah. Kewirausahaan dan Pengabdian Masyarakat : 56-63. Jember : Fakultas Farmasi Universitas Jember.

22] Rokhmah, D., K. Imas, I. Nita, I. Lestari, A. Aviv, M. Icha, dan R. D. Agustin. 2021. The preventive behavior of green tobacco sickness (GTS) syndrome at tobacco farmers : the role of health literacy. 33(ICoSIHSN 2020):556–563.

23] Rokhmah, D., I. Ma'Rufi, dan Khoiron. 2019. Incidences of green tobacco sickness (GTS) on tobacco farmer and prevention efforts through social capital utilization in indonesia. IOP Conference Series: Earth and Environmental Science. 243(1).

24] Soetiono DA (2019) DPR Prihatin Masih Maraknya Pekerja Anak di Sektor Pertanian. https://beritajatim.com/ dpr-prihatin-masih-maraknya-pekerja-anak-di-sektor-pertanian/.

25] Sujoso, A. D. P., T. Martiana, dan S. Martini. 2020. The overview of green tobacco sickness among tobacco farmers in jember district, indonesia. Jurnal Berkala Epidemiologi. 8(2):181.

26] Stratton SJ (2019) Literature Review : Method and Application. Journal of Prehospital and Disaster Medicine34(No.4): 347-349.

27] Xia, F. dan K. Deininger. 2019. Spillover effects of tobacco farms on the labor supply, education, and health of children: evidence from malawi. American Journal of Agricultural Economics. 101(4):1181–1202.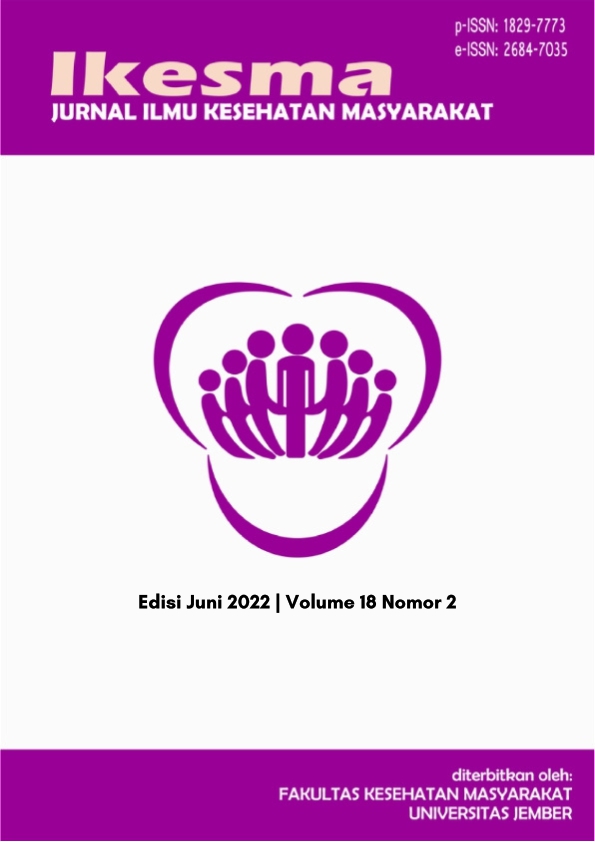 This work is licensed under a Creative Commons Attribution-ShareAlike 4.0 International License.

licensed under a Creative Commons Attribution-ShareAlike 4.0 International License.