Implementation of Health Promoting School in Efforts to Prevent Covid-19 at the Kenjeran Village Elementary School, Surabaya City
Riris Diana Rachmayanti

Fakultas Kesehatan Masyarakat, Universitas Airlangga Jl. Dr. Ir. H. Soekarno, 60115, Kota Surabaya, Jawa Timur, Indonesia

Annis Catur

Fakultas Kesehatan Masyarakat, Universitas Airlangga Jl. Dr. Ir. H. Soekarno, 60115, Kota Surabaya, Jawa Timur, Indonesia

Fariani Syahrul

Fakultas Kesehatan Masyarakat, Universitas Airlangga Jl. Dr. Ir. H. Soekarno, 60115, Kota Surabaya, Jawa Timur, Indonesia
Abstract
The Covid-19 pandemic still hasn't subsided. On October 22, 2020 in Surabaya, there were 15,530 confirmed cases, 161 confirmed cases of treatment, 14,226 confirmed cases of recovery, and 1,143 confirmed deaths. In Surabaya, Covid-19 cases spread evenly in all sub-districts. The purpose of this activity was increased the knowledge of elementary school students about the prevention of Covid-19. In this activity, one group pre-test and post-test was used. The sample was 4th grade and 5th grade elementary school students in total 109 children in Kenjeran District, Surabaya City. Interventions were pocket books and videos. The result of this activity was increased students' knowledge before and after the intervention. After knowledge intervention in the less than 13.6% category, it fell to 1.5%. Knowledge in the good category increased from 7.3% to 15.5% and knowledge in the very good category increased from 73.6% to 76.4%. The conclusion of this activity was that the media used in the health promotion school is very effective in increasing students' knowledge as evidenced by the knowledge increasement that occured before and after the intervention, the average knowledge increasement was 10% in each category.
References
1. Kemenkes, R. (2020). Pedoman Pencegahan dan Pengendalian Coronavirus Disease (COVID-19) (D. J. P. dan P. Penyakit (Ed.)).

2. Data Statistik Covid 19. (n.d.). https://lawanCovid-19.surabaya.go.id/

3. Clinical characteristics of 24 asymptomatic infections with COVID- 19. (2020). Sci China Life Sci., 63(5), 706-711.

4. Syahrul, F. (n.d.). Kader Anak Sehat sebagai Upaya Pencegahan Foodborne Diseases di Sekolah Dasar.

5. Dale's, E. (2017). Cone of Experience. https://cdn.elearningindustry.com/wp-content/uploads/2017/08/723a49c849d9f25a2a939fd0edd5b4d1.png

6. Rebecca Langford, et all. (2014). The WHO Health Promoting School framework for improving the health and well‐being of students and their academic achievemen. Cochrane, 4. https://doi.org/https://doi.org/10.1002/14651858.CD008958.pub2.

7. Notoadmodjo, S. (2010). Metodologi Penelitian Kesehatan. Rineka Cipta.

8. Nawangsari, H. (2021). Hubungan Karakteristik Individu Dengan Pengetahuan Tentang Pencegahan Coronavirus Disease 2019 Pada Masyarakat Di Kecamatan Pungging Mojokerto. Sentani Nursing Journal, 4(1), 46–51. https://doi.org/10.52646/snj.v4i1.97.

9. Khairunnisa z, K. z, Sofia, R., & Magfirah, S. (2021). Hubungan Karakteristik Dan Tingkat Pengetahuan Dengan Perilaku Pencegahan Covid-19Pada Masyarakat Desa Paya Bujok Blang Pase Kota Langsa. AVERROUS: Jurnal Kedokteran Dan Kesehatan Malikussaleh, 7(1), 53. https://doi.org/10.29103/averrous.v7i1.4395

10. Ahmad, A., Adi, S., & Gayatri, R. W. (2017). Pengembangan Buku Saku Sebagai Media Promosi Kesehatan Tentang Cacingan yang Ditularkan Melalui Tanah Pada Siswa Kelas IV SDN 01 Kromengan Kabupaten Malang. Preventia: The Indonesian Journal of Public Health, 2(1), 25–36.

11. West, P., Sweeting, H., & Leyland, A. (2004). School effects on pupils' health behaviours: evidence in support of the health promoting school. Research Papers in Education, 19(3), 261–291. https://doi.org/10.1080/02671522.2004.10058645.

12. Rachmayanti, R. D., & others. (2013). Penggunaan media panggung boneka dalam pendidikan personal hygiene cuci tangan menggunakan sabun di air mengalir. Jurnal Promosi Kesehatan, 1(1), 1–9.

13. Edyati, L., & Khusnal, E. (2014). Pengaruh penyuluhan kesehatan dengan media video terhadap pengetahuan dan sikap personal hygiene siswa SD Negeri 1 Kepek Pengasih Kulon Progo. STIKES'Aisyiyah Yogyakarta.

14. Jafar, C. P. S. H., & Badi'ah, A. (2015). Pengaruh Pendidikan Kesehatan Melalui Audio Visual terhadap Perilaku Personal Hygiene Anak Kelas IV di SDN 2 Jambidan Banguntapan Bantul. STIKES'Aisyiyah Yogyakarta.

15. Nastiti, G. S. S., & others. (2019). EFEKTIVITAS MEDIA PEMBELAJARAN PERSONAL HYGIENE BERBASIS MACROMEDIA FLASH DALAM PENINGKATAN PENGETAHUAN, SIKAP DAN PRAKTIK PADA ANAK KELAS 1 SD NEGERI DI KOTA SEMARANG. UNNES.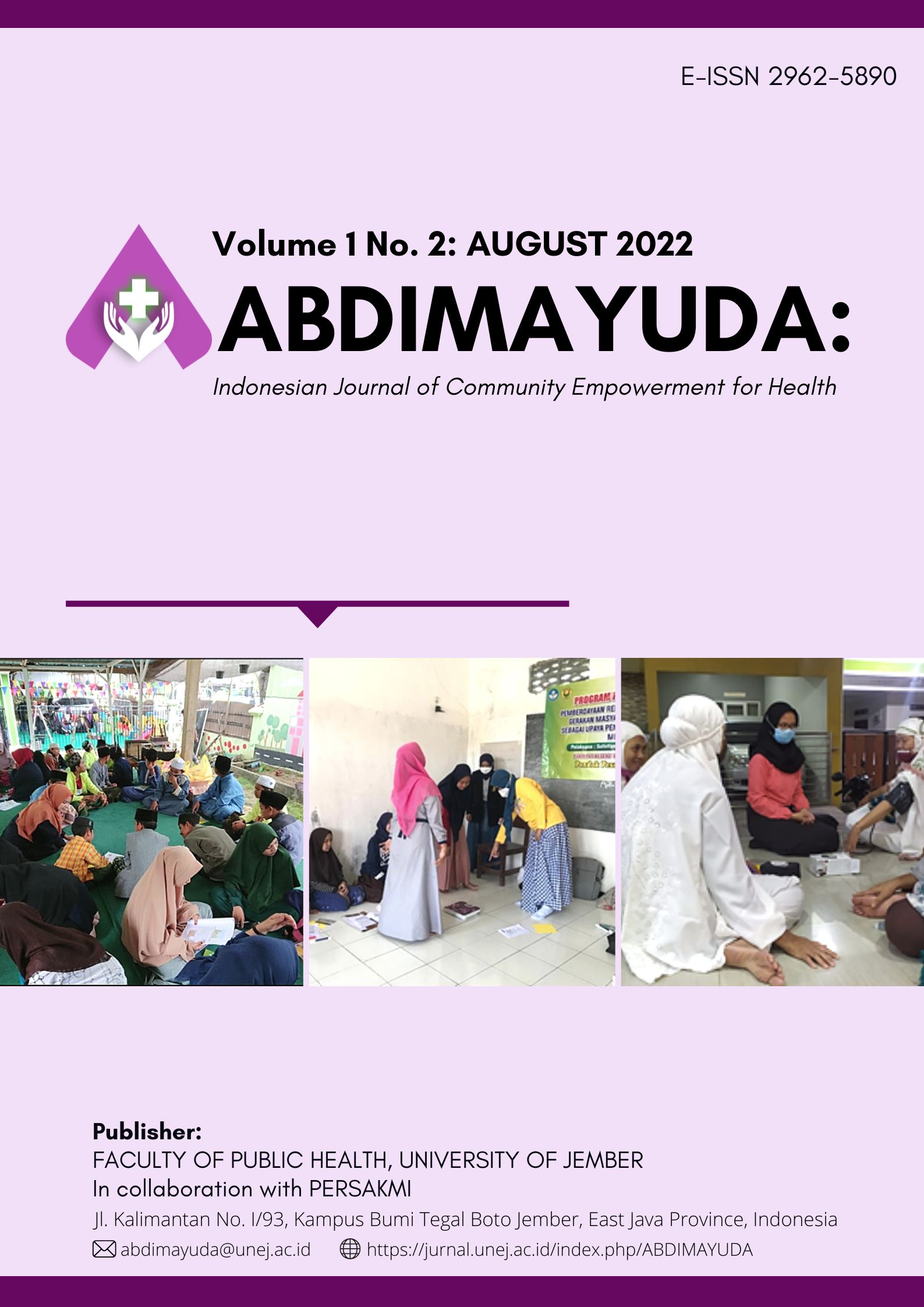 This work is licensed under a Creative Commons Attribution-ShareAlike 4.0 International License.