ANALISIS KEMAMPUAN PEMECAHAN MASALAH MATEMATIKA SISWA BERDASARKAN TEORI APOS (ACTION, PROCESS, OBJECT, SCHEMA) DITINJAU DARI TIPE KEPRIBADIAN FLORENCE LITTAUER
Muhamad Khoirul Anam

S Suharto

Randi Pratama Murtikusuma

H Hobri

Ervin Oktavianingtyas
Abstract
Abstract This research raises the problem of students' problem solving abilities in solving arithmetic sequence and series problems based on the theory of APOS (Action, Process, Object, Schema) in terms of the type of Florence littauer personality. Data collection was obtained from personality type questionnaires, problem solving tests, and interviews. The subject of the study came from 4 students of class XI TKJ 1 of SMK Negeri 2 jember using the snowball sampling method to classify 4 personality types which include sanguinis, koleris, melancholy, and phlegmatic. The results of the analysis of problem solving ability tests and interviews showed that at the stage of action, sanguinis (SS) students could explain smoothly and complete the lack of data on the answer sheet. Koleris students (SK), explained fluently and consistently, melancholy students (SM) could explain correctly even though in answering questions they were still hesitant. Phlegmatic students (SP) are fluent and assertive when explaining the information in the question again. At the process stage, students of SS, SK, SM, and SK managed to find a number pattern and could determine the formula to solve the problem. At the object stage, the four subjects managed to answer correctly even though they used different problem solving processes. At the scheme stage, SS students, SK, SP managed to give the final answer correctly and tried to check the answer again, while the SM students had not managed to answer correctly. 
Keyword: problem solving, theory of APOS, personality type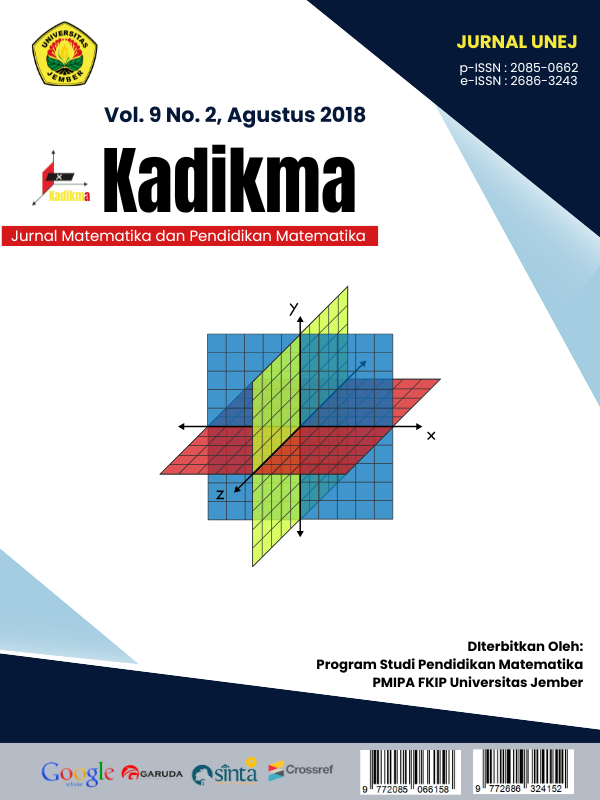 How to Cite
ANAM, Muhamad Khoirul et al. ANALISIS KEMAMPUAN PEMECAHAN MASALAH MATEMATIKA SISWA BERDASARKAN TEORI APOS (ACTION, PROCESS, OBJECT, SCHEMA) DITINJAU DARI TIPE KEPRIBADIAN FLORENCE LITTAUER.
KadikmA
, [S.l.], v. 9, n. 2, p. 49-58, aug. 2018. ISSN 2686-3243. Available at: <
https://jurnal.unej.ac.id/index.php/kadikma/article/view/9709
>. Date accessed: 25 jan. 2021.