Current Issue
Vol 7 No 2 (2020): Article-in-Press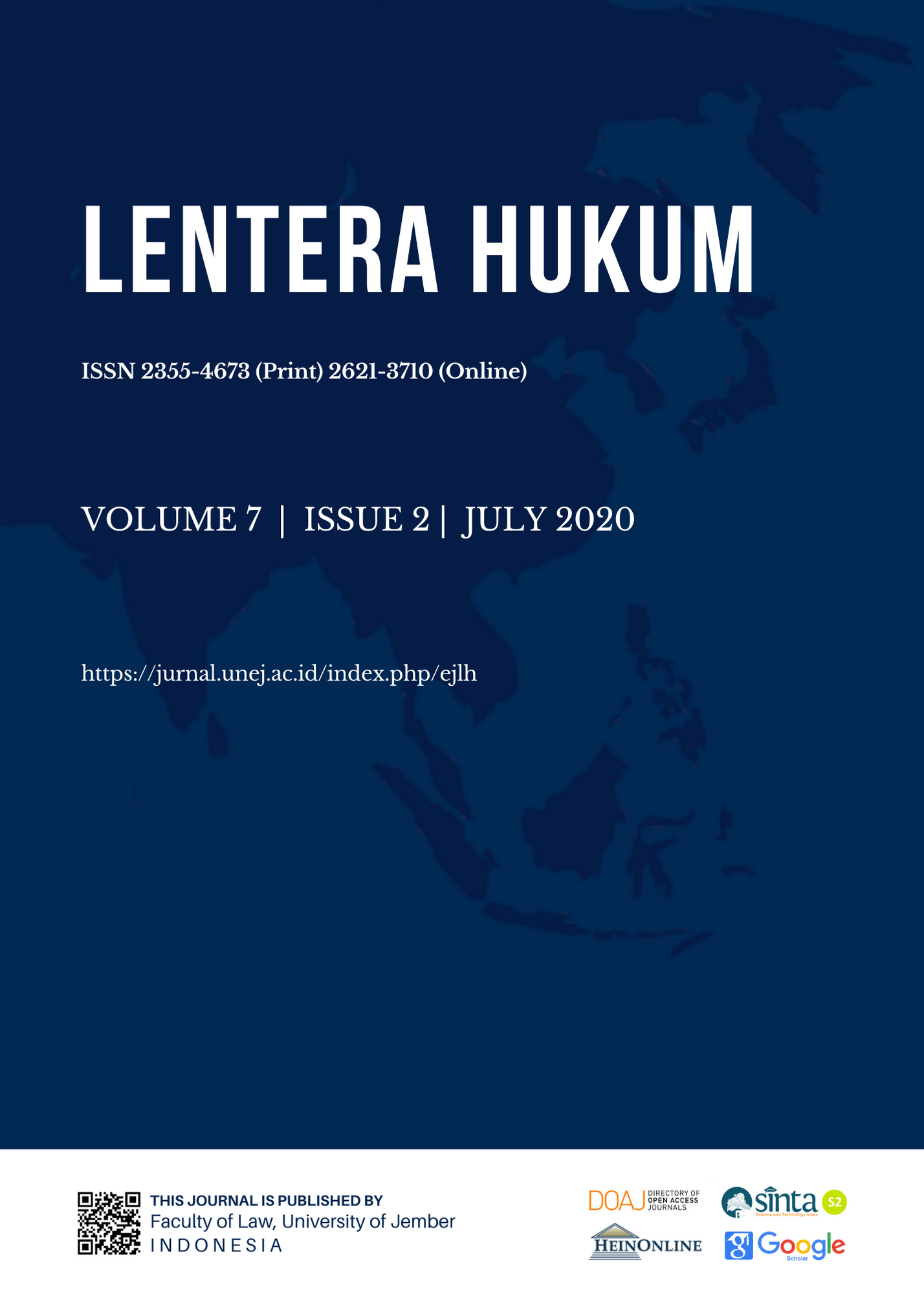 Online ISSN: 2621-3710 
Type: Journal
First Publication: 2014
Language: English (from 2019)
Publisher: University of Jember Faculty of Law
Publishing Model: Open Access
Duration: Approx. 65 days of submission to decision
Frequency: 3 issues per year (April, July, December)
DOI: 10.19184/ejlh
Email: lenterahukum@unej.ac.id
Audience: Researchers and scholars in the field of law with an acute interest in domestic and international legal developments
Articles-in-press are the accepted peer-reviewed articles to be published in this journal. When the final article is assigned to the issue of the publication, the article-in-press version will be removed and the final version will appear in the associated published issue of the publication. Please note that although articles in the press do not have all bibliographic details available yet, they can already be cited using the year of online publication and the DOI, as follows: author(s), article title, publication (year), DOI.
View All Issues
LENTERA HUKUM is dedicated to encouraging scholarly attention and advancing the intimate knowledge of recent legal discourses. It is an open-access and peer-reviewed journal, published three times a year under auspices of the University of Jember Faculty of Law. Submissions to this journal selected for publication are under a double-blind peer-review mechanism by academics and experts in the field.
The journal covers both domestic and international legal developments. This platform provides a venue for distinguished scholars and new academics around the world to share their academic works. It continues to advance the boundaries of global and local developments in law, policy, and legal practice by publishing cogent and timely articles, commentaries, and book reviews on a triannual basis.
The focus of the journal is legal studies. Articles submitted to this journal are on contemporary legal discourses in the light of theoretical, doctrinal, multidisciplinary, empirical, and comparative studies.
The scope of the paper submissions includes constitutional and administrative law, corporate law, criminal justice, adat law, Islamic law, law and society, international law, international economic law, human rights law, and intellectual property law.
Open Access. This work is licensed under a Creative Commons Attribution-ShareAlike 4.0 International License, which permits share, copy, and redistribute the material in any medium or format as long as you give appropriate credit to the original author(s) and the source, provide a link to the Creative Commons license. If you remix, transform or build upon the material, you must distribute your contributions under the same license as the original. The licensor cannot revoke these freedoms as long as you follow the license terms. To view a copy of this license, visit this permalink.
The journal is nationally accredited by the Ministry of Research, Technology, and Higher Education. Therefore, the journal is listed in the Science and Technology Index (SINTA), applied from 2017 to 2024. It is valued with SINTA 3 (current score: 67).

LENTERA HUKUM is inviting submissions for its next issue, which will be published in December 2020.
The deadline for submissions for LENTERA HUKUM Vol. 7 Issue 3 (December 2020) is September 1th 2020.
All details about the submission procedure and required formatting are available at Instructions for Authors.
All manuscripts should be submitted online. Please follow this submission link.