Analisis Pengendalian Kualitas Produk Air Minum Dalam Kemasan dengan Menggunakan Statistical Process Control (SPC) dan Kaizen Pada PT. Tujuh Impian Bersama Kabupaten Jember
Marga Area Refangga

Manajemen, Fakultas Ekonomi dan Bisnis, Universitas Jember

Eka Bambang Gusminto

Didik Pudjo Musmedi

Jurusan Manajemen, Fakultas Ekonomi dan Bisnis, Universitas Jember
Abstract
This research aims to analyze the level of damage and identify factors causing damage AMDK 220ml that occurred on March 13 to 11 April 2017 at PT. Tujuh Impian Bersama. The company is engaged in bottled drinking water industry (AMDK) with Al Qodiri brand. This research uses descriptive statistical research model. The analysis used is Statistical Process Control (SPC) and Kaizen. The results of the analysis show that the quality control of the product is beyond the control limits set. The most damage type is dent pack as much as 239pcs. From the causal diagram can be known factors causing damage from the most dominant include machinery, raw materials, humans, and methods. Based on the kaizen implementation tools, the recommendations for improvement are routine maintenance and re-adjustment of production machines, more rigorous selection of suppliers with more stringent standards, and improved human resource performance through supervision and briefing.
Keywords: Bottled Water, Kaizen, Quality Control, Statistical Process Control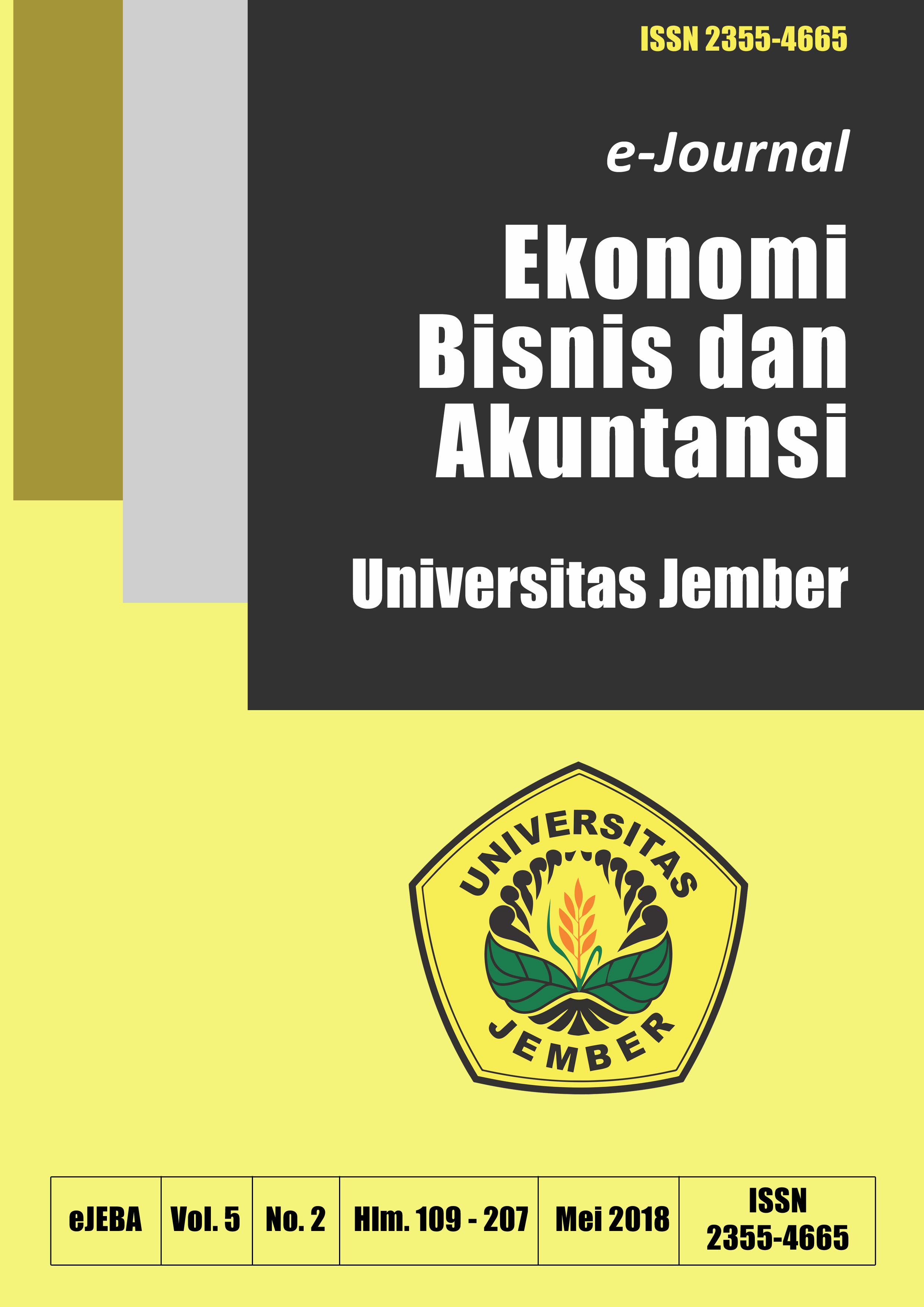 Penulis yang mengusulkan naskahnya untuk dapat diproses penerbitannya pada e-JEBA dianggap telah menyetujui beberapa hal sebagai berikut:
1. Penulis tidak dapat menarik naskah yang telah usulkan untuk diproses hingga mendapat jawaban dari Ketua Dewan Penyunting atas status naskah artikel ilmiahnya (diterima atau ditolak untuk diterbitkan).
2. Penerbit tidak bertanggung jawab terhadap kasus plagiasi atas artikel yang terbit pada e-JEBA.
3. Penerbit tidak bertanggung jawab atas data dan isi dari artikel yang diterbitkan pada e-JEBA, dan sepenuhnya merupakan tanggung jawab penulis.
4. Penulis yang artikelnya diterbitkan pada e-JEBA menyetujui lisensi berikut:

eJEBA by University of Jember is licensed under a Creative Commons Attribution-NonCommercial 4.0 International License.