Pengaruh Pengembangan Karier dan  Penilaian Kinerja terhadap Kepuasan Kerja Melalui Komitmen Kerja Karyawan Koperasi Agrobisnis Tarutama Nusantara Jember
M. Syaharudin

Jurusan Manajemen, Fakultas Ekonomi dan Bisnis, Universitas Jember

Haikal Auzan Syah

Jurusan Manajemen, Fakultas Ekonomi dan Bisnis, Universitas Jember

Budi Nurhardjo

Jurusan Manajemen, Fakultas Ekonomi dan Bisnis, Universitas Jember
Abstract
The articles in this research aims to know the influence of career development and performance assessment against job satisfaction through a work  commitment. The study categorized as  research description (explanatory research).This research is done in cooperative Agribusiness Tarutama Nusantara Jember. The population in this research is the employees remain in the Cooperative Agribusiness Tarutama Nusantara Jember as much as 159 employees. Large samples in this study using multivariate statistics 115 IE rules sample. Data were collected using a questionnaire. Data analysis in this study includes test instruments, test the classical assumptions, test , and an analysis of the Path. The results of the research there is a partial influence and simultaneous development of performance assessment and career I to wards job satisfaction through employee commitment. This suggests that the performance appraisal,job satisfaction and commitment of work has a positive influence to wards the development of a career.
Keywords: Employee Performance, Work Environment, Motivation Work, Work Experience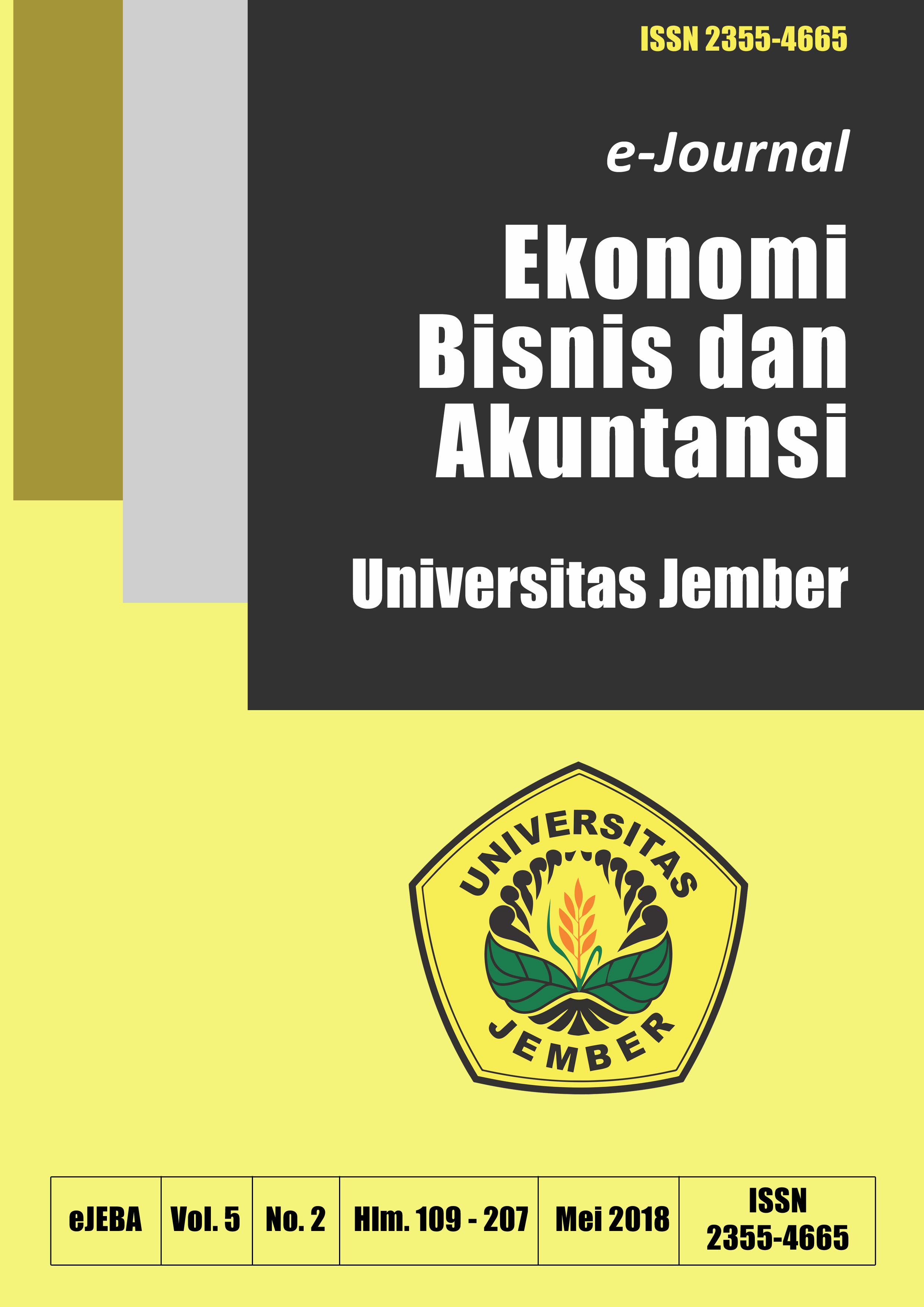 Penulis yang mengusulkan naskahnya untuk dapat diproses penerbitannya pada e-JEBA dianggap telah menyetujui beberapa hal sebagai berikut:
1. Penulis tidak dapat menarik naskah yang telah usulkan untuk diproses hingga mendapat jawaban dari Ketua Dewan Penyunting atas status naskah artikel ilmiahnya (diterima atau ditolak untuk diterbitkan).
2. Penerbit tidak bertanggung jawab terhadap kasus plagiasi atas artikel yang terbit pada e-JEBA.
3. Penerbit tidak bertanggung jawab atas data dan isi dari artikel yang diterbitkan pada e-JEBA, dan sepenuhnya merupakan tanggung jawab penulis.
4. Penulis yang artikelnya diterbitkan pada e-JEBA menyetujui lisensi berikut:

eJEBA by University of Jember is licensed under a Creative Commons Attribution-NonCommercial 4.0 International License.