Eksplorasi Faktor-Faktor Online Marketing Yang Memengaruhi Keputusan Konsumen Dalam Belanja Online Pada Naufal Bag Collection
Nia Purwanti

Jurusan Manajemen, Fakultas Ekonomi dan Bisnis, Universitas Jember

Bambang Irawan

Jurusan Manajemen, Fakultas Ekonomi dan Bisnis, Universitas Jember

Sriono S

Jurusan Manajemen, Fakultas Ekonomi dan Bisnis, Universitas Jember
Abstract
This study aims to explore online marketing factors that influence purchase decisions and analysis of what factors most
dominant influence. This study uses a quantitative approach. The study population is consumers shop Naufal Bag Collection
ever shopped online. Research using purposive sampling size of 125 respondents. Methods of data analysis using factor
analysis. The results showed that the discovered five factors: the process of purchase, price cuts, clarity of information, product
excellence and service excellence that is proven to significantly affect consumer decisions. Naufal product excellence Bag
Collection is the most dominant factor influencing the consumer's decision to shop online.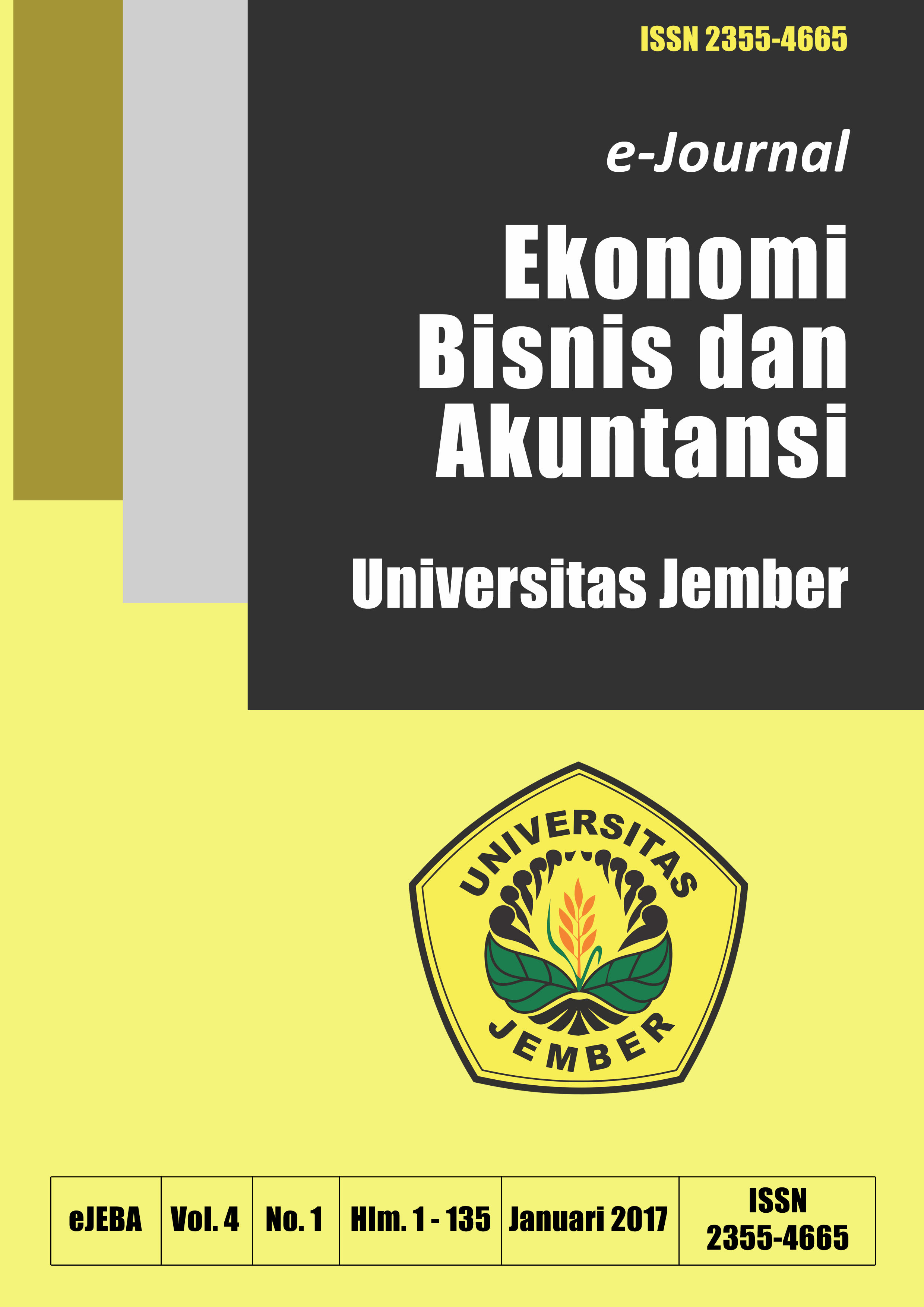 Penulis yang mengusulkan naskahnya untuk dapat diproses penerbitannya pada e-JEBA dianggap telah menyetujui beberapa hal sebagai berikut:
1. Penulis tidak dapat menarik naskah yang telah usulkan untuk diproses hingga mendapat jawaban dari Ketua Dewan Penyunting atas status naskah artikel ilmiahnya (diterima atau ditolak untuk diterbitkan).
2. Penerbit tidak bertanggung jawab terhadap kasus plagiasi atas artikel yang terbit pada e-JEBA.
3. Penerbit tidak bertanggung jawab atas data dan isi dari artikel yang diterbitkan pada e-JEBA, dan sepenuhnya merupakan tanggung jawab penulis.
4. Penulis yang artikelnya diterbitkan pada e-JEBA menyetujui lisensi berikut:

eJEBA by University of Jember is licensed under a Creative Commons Attribution-NonCommercial 4.0 International License.